Welcome to the Shift Number Cruncher. This one goes out to a guy that has been a great influence on some of the biggest names in motocross history – including Ricky Carmichael. In fact, it was Ricky who introduced me to the rider support representative they call, "Stickman." Todd Hicks grew up racing motocross and would have had a solid pro career had he not suffered a badly broken arm. Instead, Hicks went to work at Fox Racing some time ago, and today there aren't many in the professional and amateur ranks that don't know and respect Todd. I worked for the man for a few years as his understudy and we've been boys ever since. One of the many things that make Todd cool is his deep affinity for his racing number. As a man of many tattoos, one of the first ones he wore was his beloved #19. Turns out, nineteen is also one of the coolest numbers that has ever seen action on the motocross track. Enjoy.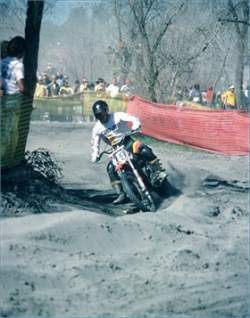 Jim Ellis
photo: Dick Miller Archives
Compared to today, riding gear was hurting in the seventies, but if I was forced to wear an outfit from that era today I would quickly choose the yellow, red, and black Can-Am assemble. Check out
Jimmy Ellis
on the charge at the old
Hangtown
track in 1977. Ellis was a New England legend who won the 1975 AMA Supercross Championship, along with a handful of outdoor national wins. When his career ended, he moved to Australia, where he still lives. But his mom and dad, George and Irene, stayed involved through various roles, from truck driver to AMA officials.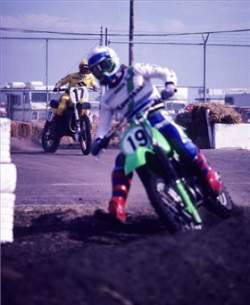 Jeff Ward
photo: Dick Miller Archives
Number nineteen also carries some current events surrounding
Jeff Ward
. Unfortunately, the Scotsman had to hand over his Troy Lee Designs factory ride to David Pingree upon discovering he has skin cancer again. Wardy should be OK, but it's a shame he isn't racing because he is one of the best Supermoto riders ever. Perhaps that is because he's been going dirt-to-pavement since 1977, when he rode the first "Olympiad" at Saddleback Park, which morphed into the ABC Superbikers, and then into Super-Motard in Europe, and finally what is now Supermoto. But in this photo the "Flying Freckle" is participating in the 1980 Daytona Supercross, wearing #19, coming back across pit lane.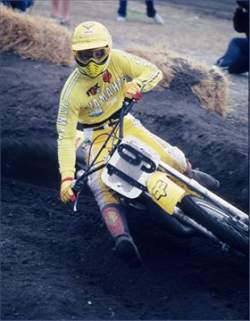 Donnie Cantaloupi
photo: Dick Miller Archives
Like Todd Hicks,
Donnie Cantaloupi
grew up terrorizing the tracks of Northern California as he climbed up the pro ranks. Cantaloupi had some great years as a pro. Here he puts the power down on his Moto-X Fox sponsored #19 ride at the '81 Daytona supercross.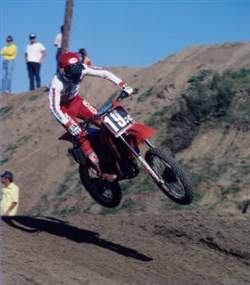 Kenny Keylon
photo: Dick Miller Archives
One of the biggest wins in outdoor national history was put in by
Kenny Keylon
at the 1982 St. Pete National. His performance in the 250 outdoor nationals that year earned him #19 for 1983. Unfortunately, a knee injury would slow his progress in pro motocross. Here the Brooksville, Florida-resident is a long, long way from home wearing the one-nine at a Golden State.
We ran heavy on pictures here so let me just list some other notable guys that ran #19 leading up to 1991:
1984: Goat Brecker
1986: Danny Storbeck
1988: Johnny O'mara
1989: Mike Larocco
1990: Erik Kehoe


I was at the '91 Houston SX when
Tallon Vohland
took the win. Since then, Tallon spent a couple tours in Europe, where he competed for a few world titles, then returned to the nationals, where he was one of the few guys that ever beat
Ricky Carmichael
heads up. Today, Tallon is the man at Acerbis.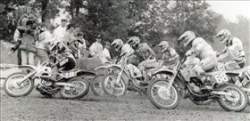 Doug Henry
photo: Racer X Archives
I found a ton of
Henry
#19 shots, but this one was my favorite as I feel it personifies Doug the best. Check him out, backing it into the first turn with the holeshot after holding it on just a little bit longer than Jeff Emig, Ryan Hughes, Larry Ward, Erik Kehoe and Ronnie Tichenor. Nobody held it on as long as Henry. AMA permanent #19 remains with the man that makes us all ask ourselves, "What's stopping you?"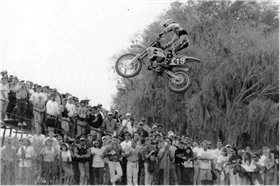 Brian Swink
photo: Racer X Archives
Two of the coolest things in the '90s were
Brian Swink
and the Gatorback National. Here we have "Swinkster" in 1993 skiing it out of the Gator Pit, much to the delight of the capacity crowd.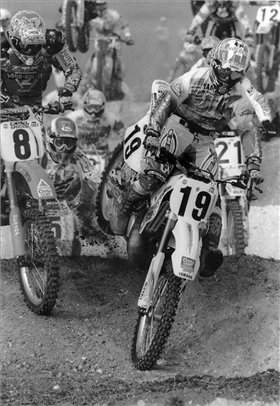 Mike Craig
photo: Racer X Archives
Mike "Sting Ray" Craig
won the 1994 Tampa SX wearing #19. Today it's his son Christian making the big headlines and we just might see him racing supercross in 2009.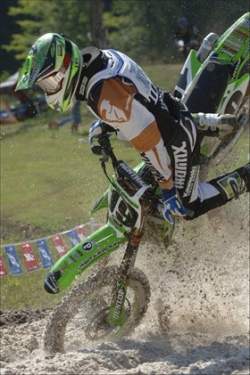 photo: Kinney Jones
I was watching the first class of the week take to the track for the 2006 Loretta Lynn Amateur National Championships when I watched
Matt Boni
launch off the single right in front of the Air Nautiques Beach and land in two feet of sand. Since then, Boni's gone pro and earned a podium, and we run the yellow flags for the first lap of every practice at Loretta's to remind everyone to look closely before they start leaping.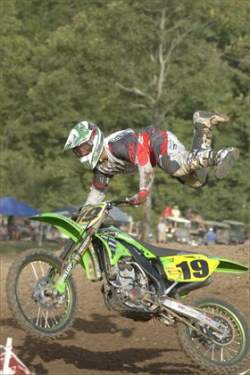 photo: Kinney Jones
Loretta Lynn's 101: Why is
Austin Stroupe
wearing a yellow number plate while performing a textbook Flying W? Answer: All Intermediate racers wear yellow number plates at Loretta Lynn's. Two years later Stroupe wins his first Supercross Lites main event in Houston.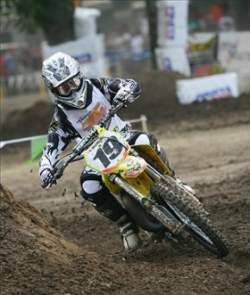 Ian Trettle
photo: Simon Cudby
Ian Trettle
usually runs #119, but there are no three-digit numbers assigned at Loretta Lynn's. Ian and Todd Hicks are great friends so he chooses to run #19 during his missions for amateur titles.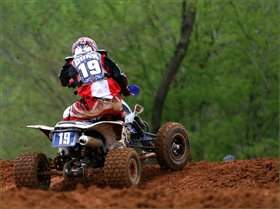 Jason Dunkelberger
photo: Stephani McIntyre
The 2008 ITP Tires/Moose Racing AMA/ATVA Motocross Nationals are four rounds deep and will head to Sunset Ridge in Illinois this weekend to continue the battle. Pennsylvania's
Jason
Dunkelberger
carried the nineteen to his first career podium last time out and will be looking for more.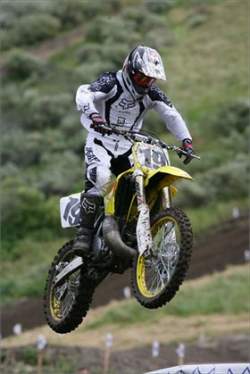 Todd Hicks
photo: Simon Cudby
"Number 19 was given to me at the ripe age of 10-years-old when I started racing MX here in California. It was assigned to me via my first racing organization I started with, which was CMC. The number #19 remained significant with me throughout my racing career and still to this day. I even went as far as having it tattooed on my arm back in the early '90s by a not-so-good tattoo artist in my local town. After all that was done I decided, well, my current tattoo artist, Mika Canlas, decided that if I wanted him to tattoo my arm with the #19 on it, then he would have to cover it up. So that's just what he did. Covered up the bad tattoo and I will save the next number #19 for another spot on my body, someday..."
Aloha,
Todd
And that wraps up the Shift Number Cruncher for this week. Like we've said all along, numbers are very special to motocross racers. They are the marks of the greatest times in our lives, and symbols of the people we are. Every time I see #19, I think of my old pal, Todd Hicks. While for a lot of folks #19 will always belong to the great Doug Henry, I wanted to dedicate this column to Hicks for all of the great things he has done for me. He and Doug are tight too.
If you have any additional #19s send them to me at andy@racerxill.com.