Between the Motos: Tony Gardea
You know when you're watching a Supercross or National and there's some guy that's always in the background just hanging out? Maybe that guy is Tony Gardea, owner of Next Level Sports Management which specializes in PR for the Monster Energy AMA Supercross Series and the AMA Toyota Motocross Championships, and "T-Gar" even has a little time to represent a few riders while he's at it—including East-West Shootout winner Ryan Dungey. Check him out online at www.nextlevelsportsinc.com.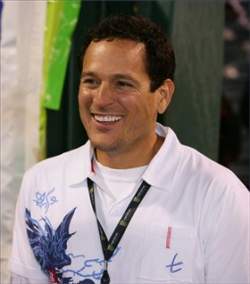 Next Level Sports Management's Tony Gardea

Racer X: Tony, you're a man of many hats and have a lot of things going on; tell the readers what it is that you do?

Tony Gardea: Well, I started Next Level Management four years ago when I started representing
James Stewart
and I've grown that into representing riders. Right now, I represent
Ryan Dungey
,
Travis Preston
, and Dusty Klatt, and I also have a lot of PR work, Live Nation is one account and representing the National Promoters Group (NPG) in motocross is another. I also co-ordinate all of Pirelli's PR, and my company also does Kawasaki's PR. That's a full-time job for sure! I have Tom McGovern for SX/MX and Ashley Little for the road race and amateur MX. She's the daughter of Larry Little, the publisher for
Cycle World
, and his wife Stephanie, so I think she has good heritage. All that comes together with a few more hats and I'm in the position where I have to be able to manage myself with my growth and pick and choose what I do wisely and professionally. I'm starting to hire some people now and that's a fun and challenging part of my deal. I have to maintain my integrity and make sure that I'm helping out all my clients in all that I do.
Speaking of fun, what is the funnest part of your job?

The fun thing for me is the variety of what I do, ultimately it's the sport---I love the sport and the people are all real good. The traveling was probably fun at one point also, but it's not the fun part anymore! Especially when you get delayed and jacked around and your family are at home.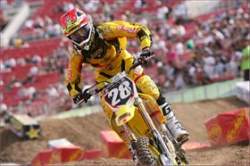 Rockstar/Makita Suzuki's Ryan Dungey is represented by Next Level Sports Management

What is your background before starting Next Level?

I'm a college graduate, believe it or not! It was through baseball mostly. I got a scholarship from Chapman in Orange, California. So I have a sports background and a communications degree. My first job out of school was working for Mickey Thompson doing PR for the supercrosses and the MTEG Off-Road Series. I was an assistant to a PR legend named Bob Russo, who's passed away now. He did the PR stuff for the Indy Car series for years, anyways; he taught me the basics of journalism and press box PR. Got to write the press releases in a traditional motor sports way, to have ethics, the whole thing.
I got into supercross after that more and more because the off road trucks went away, then I went and did PR for Jet Skis and did that for a few years when they mattered. I met Bruce Stjernstrom when he was doing the Jet Skis and then he hired me for Kawasaki's PR in 2000. I've been entrenched in this sport since then and love it.
This year two of your riders are up for new contracts. Is it stressful for you?

Well, (Travis) Preston's deal is up after supercross so that's going on! The heat is on for that one, but he's as much of a low-heat guy there is so… The thing with representing riders is also fun for me. I think I've been on all sides of the deal. I've worked with the teams, I've worked with the promoters and the sponsor side is something I have experience with as well. The three guys I have are three totally different people; you have to morph yourself into each role. Dusty Klatt is a real quiet guy so you have to approach him different then say, a
James Stewart
.
Travis Preston
has seen it all and is kind of relaxed about everything.
Ryan Dungey
's learning it all now so that's cool for me. You have to take different approaches with every guy.
Are you looking for new clients? What's the next step for your agency?

Sometimes guys approach me, I always try to look at what I can do for them as opposed to what I want to do for them. Sometimes if you just want to do everything, and grab it all, you can fail or leave yourself out there for second guessing. I don't want too many racers right now because it's just me, if I were to grow the business into managing racers then I would have to hire someone. And while that's a risk that's out there and could be a liability for me, that's something that's interesting and the next step for me.
How do I grow like that? That's a big deal to me because it's not just a business talking to another business and working it out. It's people and you're getting into people's feelings and lives, you have to be careful.
One of the biggest contracts in our sport's history is going on right now with James Stewart… What would you do if you were still his agent? What's the plan besides hiring Brinks to deliver your paycheck?

That's a good question for sure and a hard question. Everybody wants to be
James Stewart
or
James Stewart
's agent but it's probably the most complex and deepest rooted element of our sport. Like how much are the top guys in our sport worth? James sets the bar, you know? He's ridden that one color bike his whole career, he's worn Fox his whole career… Should he always be with those two companies? Can he do more? Is there more time for him in his week to do more? These are things that people don't think about; they see him win a SX and stand up there with a big fake check and just think it's easy but there's so much going on behind the scenes. That's what's hard and what his people need to figure out.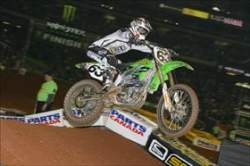 Cernic's Kawasaki's Dusty Klatt

Where do you see this sport in five years?

I see it still growing. People worry about a down economy and bike sales are down but if you look at the attendance for supercross, it's still growing. We've had increases in people coming to watch the races. Television ratings are up and I think we're in this stream right now, kind of just moving along slowly and growing slowly. I also do the PR for the AMA Toyota Motocross Championships and there are some cool things coming to that series, which people will see soon. I know a lot of what's going on behind the scenes and there's growth coming there as well. We need the supercross and motocross people to saddle up together and work towards that X Games-like thing and just launch together. I think in five years we'll see better TV and more international exposure.
What's the biggest problem facing our sport?

Well, the biggest situation—that's agent speak—is that we need to stick together and help grow. Everybody needs each other to go forward here. There's too many of us who want this thing to succeed: teams, riders, AMA, etc. But sometimes we're pulling in different directions. We just need to get somebody to say, "We're going this way!"
Good luck with everything this summer, Tony.

Thanks Steve.