Hello, everyone, and welcome to the Rev Up. It all comes down to this for Chad Reed and Kevin Windham. The 2008 Monster Energy AMA Supercross, an FIM World Championship, had its moments where it looked like Reed was going to run away and hide, but he just couldn't shake Kevin.

As we head towards the neon metropolis of Sin City, there are two things standing between the two title hopefuls and glory: Twenty laps of baked adobe racing, and ten points.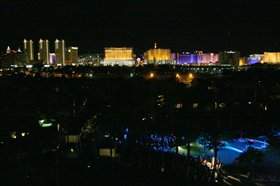 Supercross comes to Sin City
photo: Matt Ware
For Reed, those are ten points that are going to make his weekend go a lot more smoothly. They are the ones he earned in Detroit after soldiering to a lucky twelfth place. Those points aren't as kind to Windham. They are the ones he left on the table in Indianapolis, Minneapolis, Atlanta, and Detroit. If both of them could jump in a time machine and go back two months I bet you they would. But that is what makes supercross racing so incredible. Every race and every position counts. Championships are not given away, they are earned with hard work determination, and a little luck.
This one isn't over yet. The quote that has been said over and over since
Trey Canard
won in St. Louis is, "Nothing is over till it's over. That is the reason we run races."
Well, folks, we have a race on our hands this weekend. The biggest title belt on two wheels will be worn by
Chad Reed
or
Kevin Windham
at the conclusion of Saturday night. And lest you forget about that little dust up we have on our hands in the 2008 Dave Coombs Sr. East/West Shootout. How about one more supercross before we head outdoors? This one's for the big money. Lets shuffle the cards, blow on the dice, and pull the handle on this week's Rev Up.
Dave Coombs Sr. East/West Shootout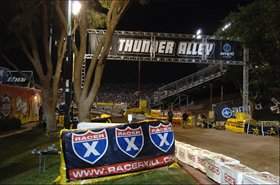 Thunder Alley
photo: Carl Stone
How much does pride matter? In a sport among gladiators such as ours, it goes a long damn ways. It's all about the track walk the following week when all of the riders wander out for that awkward informal gathering and act civil with each other. In that gathering there is always one guy that smiles a little bigger and walks with a little more banter. The championships have been decided and the only thing to race for, besides a little extra cash, is pride.
People talk all year long about what it would be like if the Lites class existed as a single division and one time each year we get to see the boys all throw down in supercross as a single fighting unit. It gives us a small taste of what the AMA Toyota Motocross Championship will be like.
Who is it going to be? I tell you what, the boys that earned those #1 plates have them for a reason and they should be given the benefit of the doubt as the favorites. But how much can you account for revenge and that one last shot to stand on top of the supercross steps? Winning this one is big. And for a racer's pride it goes a long, long ways.
Supercross
The perfect storm began in 2005 with a cackle of thunder and pounding rain. When the checkered flag fell on the first battle it was Kevin Windham's pearly whites sticking out though a mud covered face as the victor. Three years later he rolls into Las Vegas with a chance to finish the game. If he wins the race and Reed gets sixth, Chad gets the title. I wish it would have come down to man against man, but that's why we run a series. Every position counts. As fast as Chad is, he can go down in the first turn and still march his way to the front.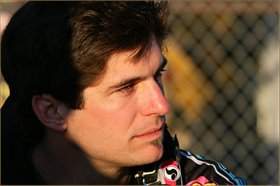 Can K-Dub do it?
photo: Simon Cudby
That said, if he loses the championship it will be because of a series of crashes or a mechanical. Sure there is the "Bradshaw Scenario" where all he had to do was pass Guy Cooper to win the 1992 supercross title. But I just don't see Reed riding around in seventh struggling to pass David Vuillemin or
Josh Summey
. Cobra and Charles are astonishing riders, but The Thunder is truly one of the best we have ever seen.
But hey, if Kevin Windham wins the championship it won't be because of the mechanical failure or string of crashes from Reed. It will be because Reed made mistakes at Minneapolis, Detroit, and Atlanta. Kevin has never won a championship in the premier class and he is reaching the end of the line. How about one more supercross charge before we head to the great outdoors. It's Vegas, baby. Time to crown a new King.
Thanks for reading, see you next week.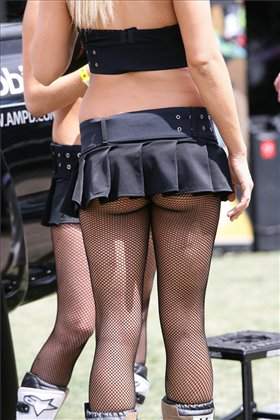 Vegas baby!
photo: Simon Cudby