Bench Racing Ammo: Scenarios
The storm clouds are gathering. Round 16 of the 2008 Monster Energy AMA Supercross, an FIM World Championship, rolls into Seattle this weekend, and all eyes are on Boost Mobile/Yamaha of Troy's Jason Lawrence and Rockstar/Makita Suzuki's Ryan Dungey. The two class standouts have six-points separating themselves heading into what promises to be a dramatic fifteen-lap main event. Let's bench race about how we got to this point.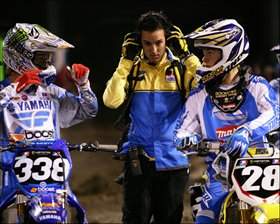 It's J-Law vs. RD28 on Saturday night!
photo: Simon Cudby
Rewind way back to January and it was Dungey who was on fire, winning two of the first three rounds. He finished second place in the race he lost to Torco Racing Fuels Honda's
Jake Weimer
. Round four would move to the historically muddy event at San Francisco and this is where the wheels began to fall off for Dungey, and Lawrence kicked it into high gear.
Dungey rode into The Bay with a 34-point lead over his arch rival Lawrence, who scored the big goose egg the previous weekend at Anaheim two. At the conclusion of the 10-lap main event, Lawrence had picked up his first win of the season and the downward spiral began for Dungey, who finished seventh in the mud and lost eleven championship points to the #338.
Anaheim 3 saw the flood gates open as once again Dungey suffered misfortune, going down early and later landing on
Wil Hahn
. Lawrence won his second straight, while Ryan could only muster ten points. Ah, the plot thickens! What was once a 34-point lead had quickly evaporated to a scant eight-point advantage.
Dungey had to stop the bleeding in San Diego or risk being overtaken by his surging nemesis. It was not to be. Again, Dungey struggled while Lawrence clicked off his series leading third consecutive victory and wraps his fist around the point lead.
You may not agree with my next morsel of bench racing ammo, but I believe the most pivotal round of the series took place at Houston. The biggest monkey wrench of the series isn't that Dungey would crash for the third week in a row, or that Lawrence was able to gain an additional four points. The big kicker here was that
Austin Stroupe
waxed both of them.
As we turn our focus to the championship deciding round at Seattle take a moment to look at the breakdown of AMA points:
1- 25
2- 22
3- 20
4- 18
5- 16
6- 15
7- 14
8- 13
9- 12
10- 11
As you can see the biggest points spread is between first and second at three. After that, the chances a rider has to make up more than one point ends after fifth. If you study recent history there are more than a couple riders that have a chance to get in the middle of the two stars of the class. Motosport Xtreme Team Green's Tommy Hahn was riding well in the West Coast Lites class before moving over the Supercross division and riding even better. Then, take a look at how strong Justin Brayton was in his first seven races in the Lites class, and how fast he was last weekend on the 450. Of course, we all know Dungey has kept busy on his RM-Z450 riding to top fives and podiums.


Then you have team Monster Energy/Pro Circuit Kawasaki. Look, Mitch Payton doesn't like losing, and neither does Kawasaki—the last time they didn't win a 125c or Lites SX title was in 2002 (Factory Connection Honda-mounted
Travis Preston
in the West, Yamaha of Troy's
Chad Reed
in the East). Rest assured Mitch wants nothing less than a win out of these last two supercrosses. His Australian rider,
Brett Metcalfe
, has had the speed all season to crack one open but hasn't had the luck. These may be his last two supercrosses for Mitch and he'll be coming with it. Then we have the aforementioned Stroupe, who has proven he has the speed to win.
Here's yet another scenario. Stroupe currently sits in third with 113 points, followed by his teammate Metcalfe, who has 112. If either of those guys win the main, and both Lawrence and Dungey have DNFs or finishes of 18th or worse, Monster Energy/Pro Circuit Kawasaki can take the title. It's a longshot, but nonetheless, it's still a shot.
If those aren't enough scenarios to get your calculator burning, remember that factory Yamaha's
Broc Hepler
will also be rolling up to Seattle hot off his win at the ESPN Moto X World Championships.
So, we have Stroupe and Hepler coming in fresh off of wins. There is Brayton and Hahn coming in strong from great 450 rides, and Metcalfe looking for his first win. Rain or no rain, Dungey and Lawrence have more to worry about than each other. The storm is coming this weekend in Seattle.