Between the Motos: Paul Gross
MX For Children is an organization of people who do work for various children's hospitals and raises money for these hospitals, to help sick children in need, and the organization's founder, Paul Gross, is working to expand the reach and impact of the organization. This weekend in Seattle will mark the third year in a row that the Seattle Supercross has played host to a number of MX For Children fundraisers. For more information or to purchase raffle tickets, click here.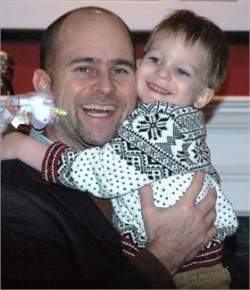 Paul Gross and his son William.

Racer X: As the founder of MX For Children, how long have you been at it, and what was the impetus for starting this organization?
Paul Gross: Well, my three-year-old son, William, was born 10 weeks early with hydrocephalus, and there is very little research to benefit it. The treatments and the surgery include a device that has a very high failure rate. My son has had five brain surgeries, and three of them were emergencies, so kids with hydrocephalus have a lifetime of brain surgeries, so we're looking for a cure.

We do two kinds of events – we do ride events, and we do various kinds of events around supercross. The first ride event was in August of 2005, and the first supercross event was in April of 2006. This weekend in Seattle will be the fifth supercross event that we've done, because we do it at Seattle and Toronto, so far.

How has the turnout been over the last couple of years?
Well, there are three different kinds of events that we do in Seattle, and one of them is the thing that we did this year in Toronto, with the rider meet and greet. The turn out has been pretty consistent, and the numbers have been sort of up and down. The meet and greet is actually called the "Inside Line Experience," which is this thing where we get kids to go out and fundraise for the local children's hospital, and if they race $500 or more, they get a chance to have this total backstage pass, where they get to come to the pre-race press conference and do a meet and greet with the riders that are there, witness a private practice, tour a rig, walk the track, and then, of course, they get seats and pit passes. That event's been growing in awareness, but I wouldn't say that the number of people who participate has taken off. It has raised a growing amount of money each year, though, so it's increasing in that regard.

The other two events that we do have been growing. One is the Suzuki raffle. This is the third year in a row that Suzuki has given us an RM-Z250 to raffle off, and we get an Xbox 360 and an iPod Nano and do a $5 raffle. We raised like $13,000 last year, and I hope to exceed that this year, so that's been growing.
The last thing we do is a silent auction, and we do that in conjunction with the sort of fan-appreciation night and autograph session that happens at our local motorcycle dealer, which is the biggest one in the state – it's got a 70,000-square-foot showroom. So they get a ton of the riders there, and we get a ton of signed gear and original photographs and auction them off. That's been growing each year, too.

So what do you have going on this weekend in Seattle?
The online store for the raffle tickets for this weekend's event closes Wednesday night at midnight Pacific Time. We still sell more after that, because we have this event where we've got about 3000 people at Renton Motorcycles, and we just have a whole bunch of people walking around selling raffle tickets, so we sell a bunch more there. But people don't have to be present to win, and if you live in Iowa or Georgia or something, and you want a chance to win a new Suzuki or an Xbox 360, you can do that online at www.mxforchildren.org until tomorrow night at midnight.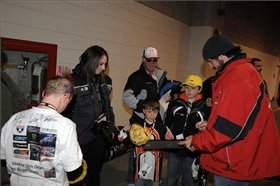 Kevin Windham (right) signs autographs for the MX For Children kids in Toronto.

What do you think it is about motocross in particular that makes for such a great charity base?
It's luck on my part that what I did was I wanted to give back to my children's hospital, and the children's hospitals that we're working with so far are Children's Hospital in Seattle and Sick Kids in Toronto, but their brands are so strong in the community that when we go out, any segment of motocrossers relate to those hospitals, so I think people look at it and realize that they're passionate about this sport, and passionate about the services provided by that hospital, and we create a wide array of experiences for people to participate. It creates a lot of different ways for people to get involved. People are passionate about the hospitals and about motocross, and it ends up working out well.
For more information on MX for Children, visit them online at
www.mxforchildren.org
.