Between the Motos: Brian Deegan
Brian Deegan has achieved notoriety in the sport several times over, from his 1997 SX "ghost ride" over the finish line at the L.A. Coliseum to his involvement with the early freestyle motocross movement. In recent years, through movies, TV shows, his Metal Mulsiha freestyle team, and procuring and developing sponsors, he has become one of the most recognizable figures in the alternative-sports community. We caught up with him this weekend at the ESPN Moto X World Championships.
Racer X: Brian, I've known you for over 10 years. During that time I've also heard you say some pretty outlandish things about various motocross racers. However, since day one, you've always gone out of your way to pay respect to Ricky Carmichael. What did you think about him coming here and taking part in Step Up?
Brian Deegan: He's the best rider in the world. Period. Why wouldn't he be here and be amazingly good at it? I was just stoked to be able to ride with him again, you know? It's been like 10 years. I think the last time I raced against him, I beat him, though [laughs].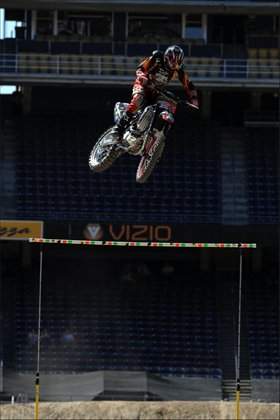 Deegan clears the Step Up bar.

photo: Steve Cox

You seemed to be a man caught between two worlds here at the Moto X World Championships. You placed 10th in Big Trick, but appeared to be multi-tasking responsibilities here.
I had been kind of debating on what to do here as they were really pushing me to do the television, which is fun because it's something new for me. I did TV at Summer X and was up in a booth the whole time and most of the guys I ride with everyday were down on the floor competing and I wanted to tell them things and coach them and try and help them. So I told them I'd do TV here, but I need to be down on the floor. I miss riding. I have to be out there, you know? I still want to compete with them and be in there and battle. I know they were tripping here and didn't want me to get hurt, so I had to look at that. I have a big career ahead of me in TV. So my goal here was to do TV and still try and ride.
What did you think of the Moto X World Championships event as a whole?
I think it was good. I think it might take a few years to catch on and to get more of a crowd showing up. I mean, I think it's so new that people don't know about it yet. I think it's good hype for dirt bikes. Just think about it: We took a chance, broke away from supercross, started freestyle, got it into the X Games and now look what happened. Do you think this is from racing? No. It's from some dudes who quit racing to start freestyle and built this and know we have our own event.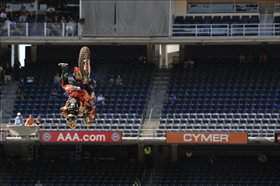 Deegan gets inverted inside Qualcomm Stadium.

photo: Steve Cox

Here we are at an event with upwards of eight hours of live TV on the best sports network in the world, yet the industry as a whole hasn't been super-supportive of it. With the motorcycle industry in a slump right now, wouldn't you think this event would be a great way to promote motorcycles and motorcycle competition?
I don't understand…. I've been blown away since day one that the guys from supercross have not embraced the X Games. I've been blown away the industry and sponsors haven't been as supportive as they could have been. Well, they've missed the boat. Eventually they'll see it and the factories will come in. But you know what? Bikes cost $7,000, so a factory ride means free bikes. Oh well, I got my own bikes and make them all black and do whatever I want with them… You know what I think is the funniest thing? Honda has an all-black bike now. Where did that come from? I do get factory Honda support on parts, which is awesome and I appreciate it, but I think they have a long way to go. I think there should be factory rigs in the pits. This is where the teens are at. Isn't it about selling bikes?
Like Jeremy McGrath, word has it that you'll be competing in the Championship Off-Road Racing series this summer.
Yeah, the truck things came together. I had some interest in it and started putting the word out there through some friends and I got a trail run in a Pro 2 truck in Crandon, Wisconsin two years ago. I tried a little bit. Things didn't work out at the time and I went back to riding. Then, I just got another offer with Rockstar, Makita, and LeDuc to race their Pro Lites truck and I said, "Cool! I'll take it!" It's good. I know there is going to be a big learning curve this year and I'm just going to go out there and learn and, hopefully, next year I'll go out there and start battling.
You have a lot going on with television now, too, correct?
Well, I've been getting my foot more in the door with TV. I've been doing all the commentating for ESPN and then I just signed a deal with MTV to shoot a pilot and if it airs well, it's going straight to series. So it could be the next Rob and Big or whatever.
Do you think one of the defining moments of the beginning of the freestyle movement was when you ghost-rode your bike across the finish line at the Coliseum in 1997?
That's funny you mention it. I was at a press conference the other day and a guy asked a question. He said, "Do you remember that time you ghost-rode your bike? I think that's when freestyle started." I said, "You know what? I think it is too. I don't think it was a freestyle move, but it was a rebellious move. It was a rebellious move against the rules and a punk rock thing to do. And hey, it showed people that there are dudes that ride dirt bikes that are rebels." From there, I think freestyle molded around it.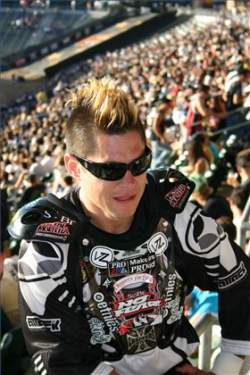 Old-school shot.

photo: Eric Johnson

Where were you at during that point in your life? I remember I had to call around to find you and found out you were living on someone's couch…
[Laughs] I was 21 or 22 and I was living with Sondra Peters. I rented a room for $200 a month. It was a lot of fun and there are a lot of good stories, but in the end, it built me to what I am today. It made me appreciate what I have now. I mean I was basically living on a credit card and had an old pickup truck and a dirt bike. I just built this to what it is today.
Do you ever find yourself getting sentimental and looking back on some of the things you've accomplished?
People ask me about my career highlights, and yeah, there's the supercross win and definitely doing the 360 in the Coliseum, and obviously, I started the sport of freestyle with some other guys, but I just honestly want to be in the Motorcycle Hall of Fame one day. From the chances I've took and the things that I've created with my buddies and team, I'd love to be in the Hall of Fame. That would be one of my final goals. If it happened one day, I think that would be sick. I mean when I look back, what else could I have really done? I think I've done everything I set out to do.