Monday Conversation: Scott Murray
Scott Murray is not your average freestyler. Actually, he'll tell you himself that the average freestyler is far above him as far as skills are concerned. He envies freestyle riders that can jump more that one ramp, or who can do a myriad of tricks. At 31 years of age, you can say Murray is a late bloomer, but at the Navy Moto X World Championships, it all came together for him, as he finally landed his double backflip in competition, off of his own ramp (brought from home), and it was enough to win the gold, despite the fact that Travis Pastrana won X Games Best Trick two years ago with the same feat. We sat down with Murray after his gold-medal performance in San Diego.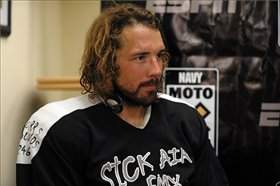 Scott Murray landed the double backflip!

Racer X: Is this a bit of redemption given how close you were last time to actually making your double backflip?
Scott Murray: I don't know. Everybody's bringing such big tricks. I was sitting on the sidelines waiting for a double-grab flip or any one of these things that they're doing to overcome it. The double flip is two years old now, so I honestly didn't know how it was going to work out. I came here to do it, and I wanted to stick it and show everybody in America that I could do it. I did it in Italy. I'm happy to have it over with. It's never a fun thing to sit there and think about it for a week, or three weeks, or six months in this case. I'm definitely glad to get it over with at this place, and hopefully come Summer X, I can dial it in a little bit better and work on something new.
So that's the plan, then? To add something to your double flip?
Absolutely. A lot of people right now think I'm a one-trick wonder because I don't use the other ramps, and it's basically because it's spring time here, and I've been in two feet of snow jumping in my foam pit for the last two months. I haven't rode away from anything since last September. Unlike my counterparts... I mean, I give mad props to guys that can go from one ramp to another and jump. I'm not at that level yet. I've got a lot of work to do, but I do know I'm capable of more than just a double backflip.
How'd you pick the double backflip as your specialty?
Actually, I had a major problem over-rotating into my foam pit. Major problem. The ramp I was using to learn backflips on was very poppy at 70 feet, and I saw Travis [Pastrana] land one in his foam pit in like '04, and it was just in his foam pit on Fuel. I saw him do it, and I was like, "You've got to be kidding me. I think I could do that!" So I went out and I put my super-kicker top on my ramp, and the first ones I was trying were at 70 feet, and I was getting them close, so double backflips at 70 feet aren't out of the question either. Again, I'm not going to say I'm going to do it, but none of this stuff is impossible, as all of these guys are proving. People thought doing backflips repetitively 10 years ago was impossible. So where the sport has gone in a few years is amazing.
Do you feel like a bit of an outsider in the freestyle community?
Not at all. At the X Games I did, because nobody knew who I was, and I was so overwhelmed with the fact that I was hanging around with Brian Deegan and Travis Pastrana and Jeremy Stenberg and all of these huge names in the sport. But the Crusty tour has greatly helped that out. I get to hang out with, and I dare say I'm friends with, Nate Adams, Adam Jones, and I consider all of those guys my friends. Now, everytime we walk around and we see each other, we're joking and we're laughing and having dinner at the end of the day. So I definitely don't feel on the outside anymore. I feel right at home. I do things a little bit unorthodox – I wear a bunch of padding, and I wear a hockey jersey and work gloves.
Just getting on TV is a big thing for any gear manufacturer or companies like that. Somebody would've thought that you'd have been offered a good amount of money to wear someone's gear by now...
I was right before the X Games, but they didn't get me to the point where I was at, and I felt like I would've been giving that away or selling that out far too early. There's something to be said to a lot of young kids out there who are trying to make it. This country in particular has a major thing with becoming sponsored before you can be considered "making it." Well, my whole point with this was to show that you don't need to be sponsored to make it. You don't need the high-dollar sponsors. All you need is a lot of will and a lot of heart and to go out and chase your dream and do what you want to do. That's what I'm trying to say. That's how I'm trying to make my point. I'm not saying that I'm never going to be sponsored. If that happens in the next year or two, great, and if it doesn't, I'll keep right on doing things the way I'm doing them. I'm perfectly content with the way I look and the way I'm doing things. Me having SickAirFMX.com, which is my team, and Little Hubba on my back end, that's my team, and that's me. My dad's nickname in baseball was "Hubba Hubba" and he wore number eight, and since I was a little kid, all of the baseball guys called me "Little Hubba" and I had to have number eight when I played baseball. I'm not going to forget who I am. That's never going to happen.
But a sponsorship would help, wouldn't it?
Yeah, but I'm not doing so bad just earning my living doing shows. Doing the Crusty tour, I'm doing fairly well, and doing what I'm doing, things are getting easier because I'm making more money as I'm going about this. It's definitely a risky proposition to say you're going to do this for 20 years or something, but realistically I'd love to get five or seven more years out of this. I'd love to be that 40-year-old guy who's out here at the top level.
What's your MX background?
I raced District 16, and I got up into the A class, which would probably be considered B class anywhere else – or top C class. There's a few fast kids up there, but there's not a whole lot of people there. It's just not a big, populated area. So I did a lot of that, and then found myself racing a lot of 18-year-old kids, and I'm 25, and I'm working my butt off trying to keep up with them, and I just couldn't do it. I was sitting there looking at myself and realizing that I had to find another line if I wanted to keep doing it. I started doing Nac-Nacs and heel clickers on all of the big jumps, and pretty soon it turned into me doing my own shows at some of the local tracks, and here I am.
Did you wear MX gloves and MX jerseys back then?
Yeah, for a while. I mean, I didn't exactly have the Fox Pawtectors or anything like that, I just went over to Wal-Mart and bought the cheap ones. I couldn't afford that stuff. I had too much trouble keeping clutches and pipes and silencers on my bike, you know what I mean? Money's better spent having your bike running properly than looking cool, as far as I'm concerned. That's where it was at for me, and like I said, I'm not going to change that because I'm at this level. I'm still going to remain who I am.
Have you been offered sponsorships since X?
Not since X. Everybody kind of knew that I wasn't accepting, and it's one of those deals where it's not that I'm not going to accept sponsorship, it would have to be the right sponsorship, and it would have to be under my terms. I'm not going to dress up and look like everyone else in the Monster/Fox Racing gear. A, it won't fit over my gear – I mean, straight up, that's why I wear a hockey jersey, because I wear a full set of hockey pads.
What are you normally listening to in your headphones?
"Game On" by Disciple, usually, every time I'm going to actually jump. I've got a play list that I listen to, but I try to find it before I jump. Sometimes, I'm sitting there messing with the thing when they're telling me to go, and I'm like, "Don't tell me to go yet, I've got to get my music on." It's actually good – a little bit of a distraction.
Would you consider moving out to California or somewhere else that would allow you to ride year-round?
No. Home is home. That's where I live, and that's where I'll always live. I bounce all over the world, and the more I travel, the more I miss home. I've got a great family and friends that stick behind me at all times, and that's why I'm continuing to do what I'm doing – for them.