Monday Conversation II: Chad Reed
What can be said about Chad Reed that hasn't been said already? The San Manuel Yamaha rider has a history of riding through injuries, whether it be his separated shoulder during the 2002 125cc Nationals, or the shoulder injuries he suffered coming into the season two different times in the past. However, it's hard to compare any of them to what he went through last Saturday, when he crashed in practice, not only fracturing his right scapula, but doing enough lung damage that he was coughing up blood and was taken by ambulance to the hospital. The amazing thing is, after all of that, he came back and finished 12th in the main event, losing only 11 points to championship rival Kevin Windham. Even after a weekend like that, he leads the championship by 16 points with only three rounds left to run.

Even Reed knows that it might just get harder from here, but if anyone's ready for it, he is.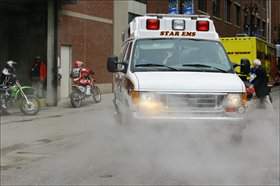 Chad Reed spent most of Saturday in a Detroit Hospital.

Racer X: What was going through your mind when you hit the ground in practice – besides "ouch."
Chad Reed: When I hit the ground, I just thought it was over, and it was tough. It wasn't necessarily the pain – the pain hadn't really set in at that point – but when I hit the ground, I was just laying there trying to get my breath, and when I was trying to get my breath, I was just gurgling blood, and it just kept coming out of my mouth. I was freaking out, you know? Throughout my career, it's not abnormal for me to hit my chest or something and then cough up some blood, but this wasn't coughing up blood, it was actually running out. I couldn't stop it, and it kind of freaked me out. I'm not a guy that really likes to stay on the ground, but it was to the point where I was like, "Dude, I'm going to stay here and I'm going to have these guys take care of me." They put me on a stretcher and then took me to the ambulance, and then [Doctor] Steve Augustine was there, and the one and only thing I said to him was, "Hey, if I go in this ambulance, can I still race tonight?" He said, "Yeah, for sure." So I said, "All right, let's go get my ass checked out and make sure I'm okay."
Otherwise you probably just would've stayed at the track?
Yeah... Well, I mean, it would've been a tough decision to make right then and there, because not only was I hurting, but I was scared for my life a little bit. A lot of blood was coming up, and I was freaking out, and basically I tried to just let the process go – let them take care of me, and make sure I was okay. Probably the only thing where I kind of went against their will was they put me in a neck brace and lay me on a bed, and I was choking on my own blood and I was yelling and screaming telling them that I was going to choke on my own blood if they didn't sit me up.
I mean, they were freaking out about my neck, and obviously I've been around this long enough, and I know if there's something I need to be worried about, and my neck wasn't what I was worried about. I just freaked out and sat up myself, and then they all freaked out, "Oh, you could paralyze yourself," and I'm like, "Hey, at this point, I'm willing to take the risk because I don't want to die!" I was just getting real light-headed, and I was hooked to a bunch of machines, and my vitals started dropping, and the tunnel started closing in. I was freaking out! I was going to pass out. It was a lot of blood, and I rang my bell a little bit, and I was in a lot of pain. It was tough. It was gnarly.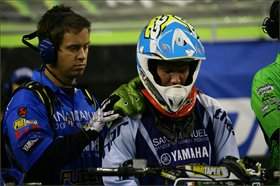 Reed gets iced down prior to the main event.

Obviously, it was probably your game plan to go out there and take off on the start, see how you feel, and then just go get a provisional, wasn't it?
I don't know what people know of the injury or whatever, but it was pretty gnarly just from the fact that I had to go to the hospital, and the process of going to the hospital is one thing, but getting out of the hospital is something else. We got a text message that said that we needed a clearance, and I think people that are close in the title chase were pushing buttons. There's a lot of things that were made difficult. I had to get a clearance to ride, and I found myself begging doctors to let me ride and that kind of stuff. I feel like I'm at the level that I respect my body and I know it, and sure it hurts like hell, but I want to win this title, and I would never put anyone in jeopardy on the track – or myself. When I went out for that Heat race, I was that guy that was putting myself in jeopardy, and everybody else. I was just in way too much pain. I tried taping my shoulder, and the taping that I did didn't work so good, so I basically just pulled off.
I've had a lot of shoulder injuries, unfortunately, and that was the first time where I couldn't just grit it out and do it. That was tough. I went back to the pits and just kind of sat there. I felt like I had just seen the whole thing slip away from me. I just said, "I've got to go for it. I've got to take my provisional and I think I'll get one point, and one point can go a long way these days." It was really weird. In the Last-Chance, I was sitting on the line talking to my mechanic when the 30-second board went up, and I was still talking to him, and I told him, "Hey, this is really weird." I've just never had that feeling of sitting on the start line, but not being ready to go. I'm just sitting there knowing that I was just going to ride over the gate, go to the first turn, and get off the track and go get ready for the main event. The AMA rule is that you have to attempt the race, so I had to leave the start gate.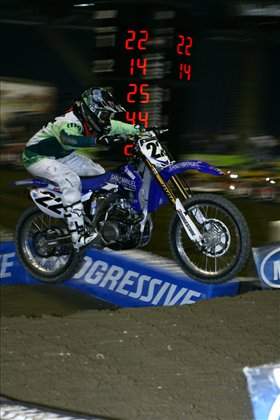 After only three laps of practice, the #22 was on top of the leaderboard with the fastest lap time.
So I did that, and went through that process, and had the last pick on the gate. I knew that was going to be tough, and I went into the first turn and tried to push it in there, and I ran into the back of [Charles] Summey, and basically I was just weak. I had no strength whatsoever, and the bike just went out from underneath me, and I just wasn't strong enough to save it. On a bad weekend, it's not good to crash in the first turn, too. But I knew the track was going to be pretty brutal. It was one of those tracks that right after practice, I said to the guys, "People are going to get messed up tonight, or lose some points," as we saw with [Trey] Canard. I think it was one of those tracks that you really needed to respect. It was probably the toughest one of the year, and here I was going to try and tackle it being injured, and I just tried riding my race and tried to figure out the track and try to get a rhythm that was fast enough to be out there and try to go forward, but then good enough and easy enough on my shoulder. I found that rhythm right around lap six, or maybe eight, and I just started going forward. That was kind of the difference. I just started picking guys off, and a lot of guys made mistakes.
On the last lap, I had my teammate on me, and I was getting a little bit nervous. I was kind of like, "If he passes me, I'm going to be pissed off." Luckily, he was a good guy. Nate Dog's one of my good friends, and he was smart enough to stay behind and give me those extra one or two points.
Nick Wey
wiped himself and a couple guys out on the last lap, so I got 12th. That was awesome. That was like a win for us, for sure.
They say that championships are won on your bad weekends, and this weekend could've easily been a no-point weekend, but instead it was a nine-point weekend.
You know, I think there've been two very, very important weekends this year, and I think I've had two bad weekends – Minneapolis was one, and this past weekend. My competition wasn't good enough to capitalize in either situation. That's what's keeping us kind of smelling like roses at this point. It was a really difficult and tough weekend, but to leave there with still 16 points in the points lead is pretty amazing. I was just looking forward to leaving with maybe a three-point lead.
And last night, on the webcast, you made a comment where you said you know the riders you're up against, and that it was a key word, meaning that they aren't racers...
It's no disrespect, but it's just you know you're leaps and bounds above those guys, and you know it. Even at that level that you're riding, and you're hurt, to be able to still be passing people, it's quite amazing, to be honest. It's crazy.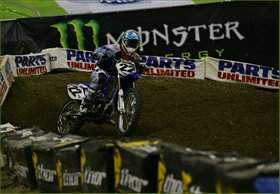 Reed leads Windham by 16 points with three rounds remaining.

Ultimately, though, you've got to believe you're going to be better next weekend, right?
Seven days makes a big difference, you know? I have an open mind to it. I know I have a lot of great doctors around me, and I'm going to get on it this week and definitely try and make a turnaround and try and salvage the next three races and still be the champ. That's the goal. We won't let anything get in the way of that. In previous times [being injured], the second weekend is the toughest weekend – you get a lot of the swelling down, and then the injury has a lot of movement. We'll try to manage that as best we can this week and fight hard at St. Louis.
I would love to get another win, to be honest with you. I really want to get on top of this. It's just unfortunate, because I really felt like I was on a roll, and I was fastest in practice, and we were only two or three laps in. I was feeling good, it was just a bummer that it wasn't even my fault. I just tripled up onto this table-top, and when I went to go off [of the table-top], the bike bogged, and I had no option.
That's what did your shoulder last time, too, wasn't it?
Yeah, right before Anaheim I last year, we had an engine break, and it was the same thing. I was lucky enough not to get knocked out this time, because getting knocked out is not good, and that's one thing that the AMA definitely would've shut me down on. I saved it pretty good. I could see myself getting driven into the ground, and I just tucked my head and tried to keep it from being as bad as it could've been.