Between the Motos: Michael Nasakaitis
There is a new truck in the pits at the east coast rounds this year and it's full of Suzukis. When Cole Gress was looking for someone to step-up and fill in for the now-defunct Rockstar team of last year, the Suzuki City OTSFF Rockstar team was formed and given the opportunity. Michael Nasakaitis is the head of operations so we got him on the phone to find out how things were going so far in 2008.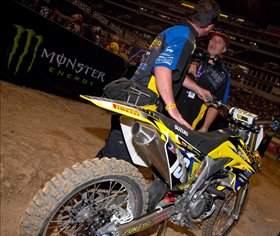 Michael Nasakaitis consults with one of his mechanics.

photo: Jeff Kardas

Racer X: How did you guys end up being Suzuki's east coast support team this year?
Michael Nasakaitis: It kind of came together last minute. I guess they had some troubles with the Rockstar team last year and it fell apart. I originally called Cole to get some support for some of my local amateur guys who were turning pro this year. One thing led to another and it turned into what it is now. Now we have the team, the trailer, and all the riders. There was no shortage of riders this year looking for jobs, as you know. We have five A riders and three B riders. So, we have a huge footprint out there in the pits. We bit off way more than we could chew. But we made a commitment to the guys and I'm going to keep my word to take care of them.
How has the season gone so far?
It was our first year and we didn't have much time to get ready so I've been happy with the way it's gone. We've had three top tens, a fifth and a seventh in Daytona and a fourth. We've had three to five guys in the night show every weekend and one to three guys in the main at every round. So, considering how quickly it all came together I've been thrilled. We didn't have much time for testing and even getting funds put together was last minute. Of course, by the time we were seeking sponsors it was way too late. Most companies had spent their budgets months ago. But we had a few key people step in and really pull things together for us.
Despite that, you guys are planning on racing all the nationals this summer?
Yeah, we will be there. We are going in our own pockets pretty deep to do it but we are going. Rockstar is helping out and Suzuki has been great but the shop is footing a lot of the bill. We just hope that it turns into a great long-term deal and if we keep improving it will grow every year.
One of your sponsors is OTSFF. What is that?
It stands for Ocean Transportation Services Freight Forwarding. It is a trucking and transportation company out of Canada. Our guy up there, Andre Lauren, runs the Canadian Suzuki team. That's how the tie-in worked out. He is a great guy and also one of our biggest sponsors.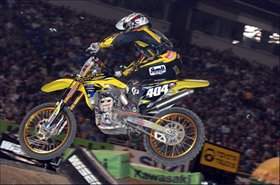 Tyler Medaglia

photo: Carl Stone

Who are all the guys on the team right now?
Willy Browning, Jimmy Albertson, Justin Sipes, Kyle Gills, Tyler Medaglia and Freddy Karrle are our pro guys. Medaglia is more focused on the Canadian national series so he is missing some rounds to get ready for that. We've had some fill-in riders that have done great.
What have been some of the biggest challenges as a first-year team?
I just haven't been able to focus on one thing. There is so much going on that you are constantly doing ten things at once. The guys that we have working with us are so great though, it is never that big of a deal. Our guys just jump on it when a problem comes up and we take care of it. I think as things go on we will just continue to get better and better. I couldn't be any happier with the guys on the team and we are all looking forward to the outdoors.
What companies and people have been supportive of your program?
Andre at OTSFF, Cole at Suzuki, Suzuki City in Biloxi, Mississippi, Rockstar Energy Drink, Scott at Factory Effex, Alpinestars, MS, Pirelli, RG3, MTF, Roger at Answer Racing, Pro Taper, Wiseco, Sunstar, Braking, Cometic, Suzuki Auto, CV4 and Crew Wear have all been amazing companies and people to deal with. Our program could not have come together without them.

For more information, check out www.racelikearockstar.com.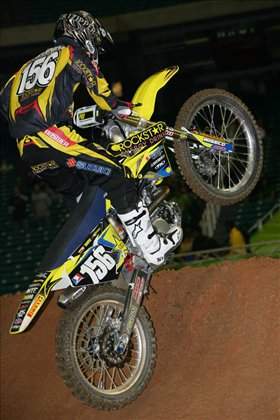 photo: Simon Cudby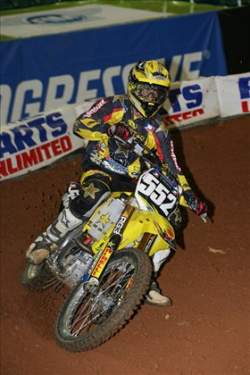 Freddy Karrle
photo: Simon Cudby