Welcome to the Shift Number Cruncher. With the big guy Ken De Dycker winning the opening round of the MX1 World Championships over in Europe and the sidelined Ivan Tedesco designing the track last weekend in Dallas, there could only be one number for this week, and it's a really great number across the board. It's the amount of school days that Ferris Bueller skipped before "Mr. Rooney" pulled his chain. It's the love potion that The Clovers sang about in 1959. It's the amount of 125cc victories John Dowd has. You should have it by now - this week's column goes out to the great #9, and the men from around the world that know it well.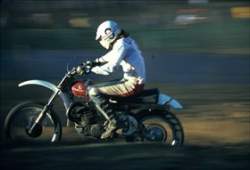 Brad Lackey
photo: Dick Miller Archives
"Bad" Brad Lackey
was the first American badass. He won the first official AMA 500cc National Championship in 1972, then starting going back and forth across the Atlantic Ocean for a few seasons, racing a limited AMA schedule and a full-on Grand Prix deal. This shot was snapped in 1974 when he was AMA #9. Eight years later, he would be world #1. (Check out the field of vision he has between the face mask and his visor. Whoa!)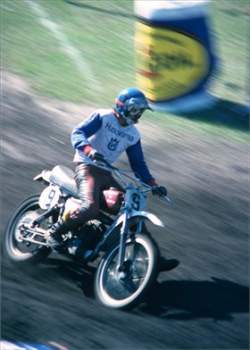 Mike Hartwig
photo: Dick Miller Archives
We've only scratched the surface of the archive pile that sits within the walls here. Sometimes on a lazy Saturday we blow the dust off some ancient slide boxes and catalog some of the diamonds in the rough. One such afternoon of digging found this shot of
Mike Hartwig
pinning it at the 1975 Daytona Supercross. Hartwig is a Michigan motocross folk hero who might have won a bunch of AMA Nationals and titles had he not suffered with chronic back pain from an injury. He went on to become a world-class cross country skier.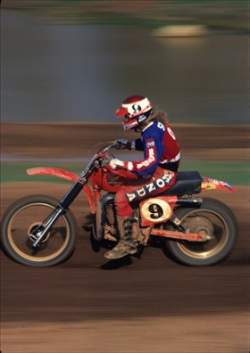 Marty Smith
photo: Dick Miller Archives
Marty Smith
was the one of the "coolest" riders of his, or any, motocross era. He had long, blond hair and was built like one of the Spartan warriors in
300
. He's captured here on the charge in 1977 running the nine on his way to seven race wins that season. This was the season where, after losing the AMA 250 National MX title to Tony DiStefano, he bettered Bob "Hurricane" Hannah for the 500cc outdoor crown.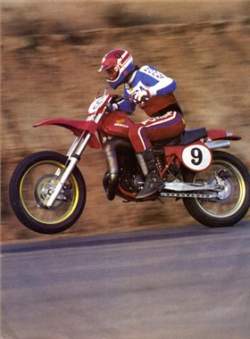 Steve Wise
photo: Courtesy of SteveWise.com
Steve Wise
remains one of the most versatile motorcycle riders in motocross history. He claims wins in motocross, supercross, and was an ABC Superbikers hero. Wise was at Texas Stadium this past weekend, preaching the gospel of both motocross and The Lord.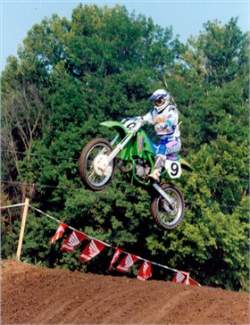 Snookie Tinnerman
photo: Thom Veety
Snookie Tinnerman
stands in a long line of fast Texas women motocross racers with names like Jackie (Hudson) Short, Dee Ann Wood, and Kristy Shealey. Hey, you don't have to be a pro champion to get props in the number cruncher. Qualifying for Loretta Lynn's every year like Miss Tinnerman did will more than suffice. Here she skies the infield table top in 1991.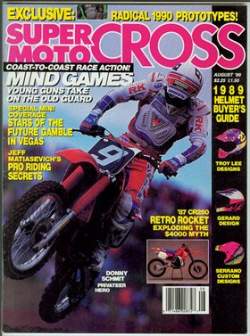 Donny Schmit
The name
Donny Schmit
is one of my favorites to see pop up when we start doing history on a number. If the Lord would have kept him with us I think he would smile big when he saw this cover shot. Donny flew the bird to the factories in 1989 and kicked lots of butts on a privateer CR125. Schmit won seven AMA 125 National and SX victories in his career, but his real successes didn't come until he moved to Europe. There he won two world titles, including a dominant '92 championship run over the likes of Stefan Everts, Trampas Parker, Bob Moore, Mike Healey, James Dobb, Alex Puzar and the rest of the heroes of that season.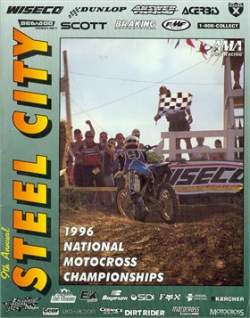 Ryan Hughes
There are some moments in American motocross history that are almost fictitious in their lore. This is one of them.
Ryan Hughes
raced his heart out in the 1995 125cc outdoor nationals and came close to the title. He wasn't going to beat Steve Lamson at
Steel City
but he never gave up. Even when his chain broke coming to the checkered flag on the last lap, there was Ryno, pushing it across the finish line.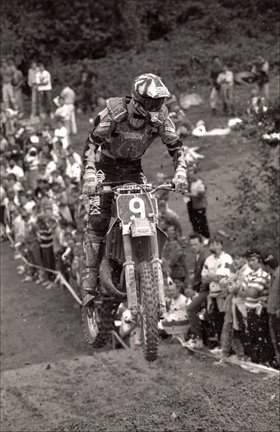 Sebastien Tortelli
photo: DC
DC wanted to add this one: "When Jeff Cernic and I went to the '95 MXoN in Slovakia, we couldn't wait to see Steve Lamson battle Stefan Everts on 125s. Lammy was the AMA 125 champ, Stefan a 250 world champ, and it was Team USA vs. Belgium. But when the racing started, out of the blue comes this French kid in funky gear I had never seen before (Oxbow) and he just smoked both of those guys. Then he went in the second moto and did it again on his #9 Kawasaki KX125. That was the first time I ever saw
Sebastien Tortelli
, who was only 16 at the time. I still tell people 13 years later that it was one of the most impressive rides I have ever seen. Had the injuries not started to add up on him, he would have a lot more titles than his two world crowns."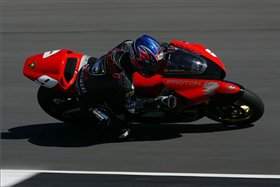 Nobuatsu Aoki
photo: Andrew Northcott
Road Racer X
's Gregg Lowley told us about
Nobuatsu Aoki
who raced the 500cc world championships and was rookie of the year in 1997, finishing third behind Mick Doohan and Tadayuki Okada. Aoki also rode for Team KR (Kenny Roberts' privateer effort) in the 2002-'04 MotoGP World Championships. Since 2005 he's been the official tester of the Rizla Suzuki MotoGP GSV-R for riders Loris Capirossi and Chris Vermeulen.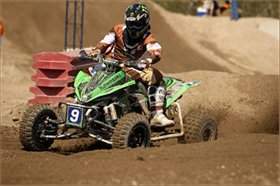 Josh Creamer
photo: ATVmotocross.com
ATV racing was huge in the mid 1980s. Well, it's back in a big way with the ITP/Moose Racing AMA ATV Pro Motocross Nationals. Now in its second year, the series boasts large corporate sponsors, full-factory backed teams, and large purses. Monster Energy Kawasaki's
Josh Creamer
runs the #9 and sits seventh in the points as the series heads to
Ballance MX Park
this weekend for Round 3 this weekend.
Since winning the 2005 Lites national championship and a pair of West Lites SX titles, and helping Team USA win the Motocross of Nations,
Ivan Tedesco
has gone cold. He designed the track last weekend in Dallas and was there looking fit and ready to come back for the nationals to let his mouth for war be heard again. Keep an eye out for the #9 Honda Red Bull Racing rider come May.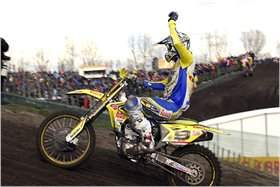 Ken de Dycker
photo: Max Ludwig
I've been keeping an eye on this guy since I saw him ride at the 2007 MXoN at
Budds Creek
.
Ken de Dycker
came by the sweeper with his throttle elbow buried in his rib cage, his leg stuck straight out, and his upper torso completely vertical. Homeboy looked weird, but was straight carrying the mail. He came out swinging for the opening round of the MX1 World Championships and was the true inspiration for this week's column.
Now, grab a knee folks. I realize there is a grand plethora of other #9s that deserve a shout. Far too many to list here. Please send us what you have. Reader feedback has been the best part about this column so e-mail me what you have to andy@racerxill.com.
Thank you, drive through.