Kawasaki/Racer X Race Report
De Dycker and Rattray set early GP pace

In the deep, black, and unmerciful sand of the Eurocircuit in Valkenswaard, Suzuki debutant Ken De Dycker was in no mood to share his bucket-and-spade and firmly kicked the Dutch 'terra firma' in the face of his rivals with a set of comprehensive moto victories that AMA fans will be familiar with having seen a yellow RM-Z450 escape alone a few times over the past couple of seasons.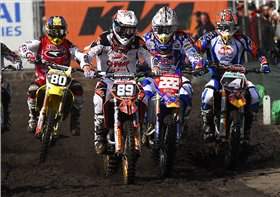 MX 2 Heat 1
The first Grand Prix of the 2008 FIM World Championship predictably produced its fair share of spills and thrills but the results sheets are dwarfed by routs from the lofty De Dycker and a slimmer, rejuvenated
Tyla Rattray
in the MX2 division.
De Dycker's fastest lap in the opening moto was over two seconds faster than any other and both sprints were won within five circulations as he broke free. Encouragingly for his works Suzuki team there was none of the arm-waving and erratic tendency to drastically drop and increase his pace that have characterised his performances in the past two seasons. "It is wonderful to be up here," said the 24 year old. "I did not really have a strategy; I just controlled the gap until the end. There is no big difference for me from last season. I am one year older and life is better."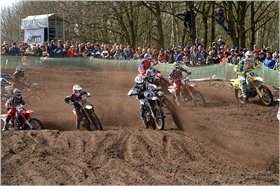 MX1 Heat 2
Rattray faced question marks over his credibility as a championship contender before the Grand Prix due to the fact that he was not in the same speed-league as Cairoli in 2007 and had not trampled the top step of the podium since August 2006. The South African – who had a knee reconstruction after an incident at the same GP that wrecked Josh Coppin's dreams in '07 – certainly had fire in his belly, and a potent growl in the heart of the KTM that assisted him to two decent starts and a full set of 50 points after crashes by teammate
Tommy Searle
, Yamaha's Nico Aubin and a tempered outing by Cairoli gave him breathing room. Cairoli resembled more the 'force of motocross' witnessed twelve months previously in the second moto and closed to within a second of Rattray by the closing stages; it was an exciting finale for the overall win and if the Sicilian had been afforded another lap then it would have produced a grandstand finish.
A liberal coating of rain throughout Saturday ensured that the sand churned itself into rutty form of bedlam, even local hero and MX2 Grand Prix 'Lazarus' (with eight years since his first podium, no other rider in the class has a longer spell of success) Erik Eggens admitted that he had never seen the Valkenswaard terrain so rough. All this of course did not bode well for
Mike Brown
, who showed little evidence of being able to conquer the landscape after an equally off-key performance in 2007. Brown was far from the pace on Saturday, going to the gate 19th and struggled in the motos. He was 12th overall, lapped in the first foray and must have been glad to have chalked off the first of two visits into the kind of ruts rarely seen on the GP schedule.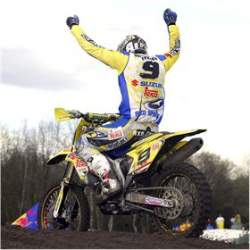 Ken de Dycker
So De Dycker's MX1 authority was unquestioned. He was chased by teammate and world champion Steve Ramon who commented that he was not fully fit after illness earlier in the week, but the Belgian unveiled a consistent if unremarkable outing that typified his campaign to the title in 2007 with third and fourth. Second to De Dycker's taunt to the rest of his rivals was young German Max Nagl. Nagl is one of the smaller riders in the class and is capable of electric starts; this factor helped him to his second career podium and had back-slaps echoing around the paddock from within the realms of the KTM avenue.
Other eye-catching performances came from CAS Honda debutant Billy Mackenzie, who was fourth, and a very decent second place to De Dycker in the second moto. A podium escaped the charismatic Scot after he lost another runner-up place in the first race through arm-pump and a mistake that dumped him from second to tenth. Spaniard and works KTM rider Jonathan Barragan had engine trouble in Moto1 but kept Mackenzie honest and concentrated later in the afternoon by keeping within three seconds of the new Works Honda for most of the duration.
The factory Yamaha team had cause to smile and also grimace. Josh Coppins was lacking race fitness and also using a carbon-fiber protector in his right boot for his mangled toes but was running as high as third until a collision with teammate David Philippaerts relegated him to sixth. Philippaerts was fifth overall in an eventful debut for the Italian squad that saw him lose third spot in Moto1 after getting bulked and then wisely exercised more caution chasing and then passing Coppins in Moto 2 for sixth. Coppins' sixth place was greeted like a podium result within the confines of the team. If the New Zealander is capable of this form with such odds against him then his potential will be scary when he is fully ready to blast.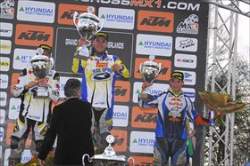 MX1 podium
With press conferences from four manufacturers, a three-year works commitment from Honda to MX1, announcement of the Pro-Am Team World Cup and MX Rookie scheme by Youthstream and a crowd of 26,000 filling the Valkenswaard slopes and paddock, it was a busy weekend.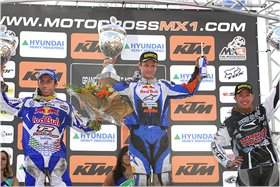 MX 2
So the 51st FIM World Championships are underway. Another fourteen rounds, six months, twelve countries and one more continent awaits. The fast Bellpuig circuit in Catalunya, northern Spain, could not present a more contrasting test with the skill set required in Valkenswaard. For many, the fortnight before the first session commences in southern Europe cannot come quick enough and perhaps the series will alight for the first time after the exceptional circumstances in Holland.