Round 13 of the 2008 Monster Energy AMA Supercross Series, an FIM World Championship, took Chad Reed one step closer to his second AMA Supercross title. In a season that has been largely dominated by the San Manuel/Fusion Energy Yamaha rider, he has had a couple of dips that have allowed Kevin Windham to stay within striking distance in the series points. After Kevin's dramatic Daytona win and Chad's sixth place the following weekend, the series points lead was down to 17. But when the boys came back from the break, Reed's game has been next to perfect. Just as he did last weekend in Toronto, Reed got a good start and put in twenty mistake-free laps to take his second win in a row. While Reed was never challenged, the battle behind him was fast and fierce enough to stay only a couple of seconds behind.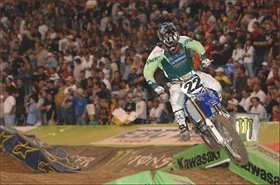 While Chad Reed rode off to another Dallas win...
Team Yamaha's
Josh Hill
has been a revelation in this year's supercross series. He's still working on his consistency, but his runner-up performance Saturday night was another step towards cementing his status as a podium regular.
While the track left a lot to be desired, the Supercross main event delivered solidly. Monster Energy Kawasaki's Travis Preston got things started with a very, very rare holeshot and rode the first two laps on pace with Reed, but eventually handed the lead over to the San Manuel rider and began falling through the pack.


Meanwhile, Windham and Ferry had bad starts and were slicing their way forward. Things got heated with five laps to go as Millsaps began feeling pressure from Windham. When Davi looked back and saw #14, he went on the offensive and started trying to pass Hill. But Hill really dug deep and turned it up even more, refusing to let go of the second place he had ridden in the whole main event. With Windham charging hard, Millsaps tried to make a move to the inside of a dragon back obstacle and collided with Hill, causing both of them to almost crash. Millsaps said, "I don't know how I saved that. I was like, dude, no way." The impact left tire marks on Hill's shoulder but both rode away healthy. Hill's take on the move was, "Man, I just slid out on the face of that jump. I thought he was going to kill me!"
Windham made one last charge coming to the checkers but came up just short on a block pass attempt. It's not that he isn't trying; Reed's just been perfect. The win was Reed's fourth inside Texas stadium, making him the all-time winner of the event. He'll now take a 27-point lead to Detroit and looks to be well on his way to title number two.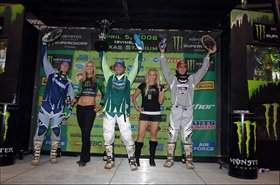 Your top three in Dallas

Results:
1. Chad Reed (Yam)
2. Josh Hill (Yam)
3. Davi Millsaps (Hon)
4. Kevin Windham (Hon)
5. Tim Ferry (Kaw)
6. Andrew Short (Hon)
7. Charles Summey (Yam)
8. Paul Carpenter (Hon)
9. Troy Adams (Hon)
10. Travis Preston (Kaw)
11. Nathan Ramsey (Yam)
12. Heath Voss (Hon)
13. Jason Thomas (Hon)
14. Nick Wey (KTM)
15. Eric Sorby (Hon)
16. Dusty Klatt (Kaw)
17. Antonio Balbi (Hon)
18. Jeff Gibson (Kaw)
19. Bryan Johnson (Hon)
20. Keith R. Johnson (Yam)
21. Tommy Hahn (Kaw)