Birthdays from April 6 - 13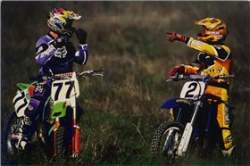 Andy Bowyer (77) with Jeremy McGrath

photo: Bowyer Archives

April 6: Andy Bowyer now divides his time up working for Racer Productions, MX Sports and Racer X Illustrated, but in 1989 he was ripping up amateur motocross as a Kawasaki Team Green rider and won the 65cc Stock (7-11) championship at Loretta Lynn's.

April 6: Leatt-Brace Rider Support rep, Kristin Cunningham.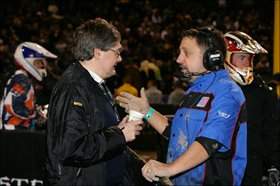 Jay Mitrowitz

photo: Simon Cudby

April 7: The AMA's Jay Mitrowitz is one of the top officials at the racetrack for all of the AMA professional races. He's also a really nice guy as long as you're not breaking any AMA rules.
April 7: EVS Sports' Office Manager, Jamey Turenne.
April 8: There might be a lot of controversy surrounding Yamaha of Troy's Jason Lawrence, but the kid is getting the job done. After a slow start, he has battled his way into the points lead in the Lites West, and with a podium finish in Seattle, he will win his first professional title.
April 8: EVS Sports' Account Sales, Aran Eversman.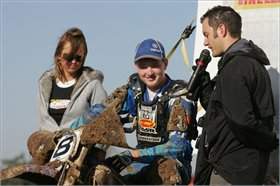 GNCC youth racer AJ Stewart gets interviewed on the podium by The Weege, whose birthday is 3 days after AJ's.

Jason Hooper

April 9: Pennsylvania's AJ Stewart is a top contender for the 2008 GNCC Youth Championship, racing the #8 Yamaha YZ80. Stewart rides and trains with his close neighbor, eight-time GNCC Champion Barry Hawk.
April 10: Loretta Lynn's alumni, Branden Scharer.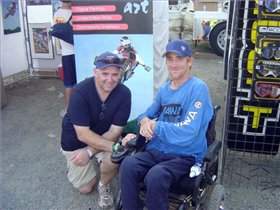 Rob Kinsey (left) with Danny Chandler

April 10: Motocross artist Rob Kinsey. You can check out his work at www.robkinsey.com.

April 11: Racer X's Financial Advisor Jim Manilla.
April 11: Tyler Lenig has climbed steadily through the Can-Am GNCC ATV ranks, and is now a championship contender in the tough XC2 Pro-Am division. Tyler comes from a racing family, as his Aunt, Traci Lenig Cecco, is the Can-Am GNCC Women's Champion.
April 12: DeCal Works Eric Bleed.
April 12: Loretta Lynn's alumni, David Blevins.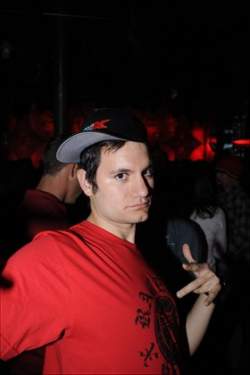 Jason Weigandt

photo: Mike Farber

April 12: If there's one guy who wears a lot of hats in the industry, it has to be Jason Weigandt. Weege has his hands full, but the guy enjoys what he does for a living. This year, he has been the Supercross Live! announcer, handles Public Relations for the Can-Am GNCC Series, is a Cycle News and Racer X contributor, was the Arenacross TV commentator, and the Daytona Supercross announcer. But even with all the hard work, he still likes to go out and have a good time. You can stay up to date with Weege's daily life via his ever-popular blog, www.blogandt.com.
April 13: Chasco Creation's Chuck Coulson.

Have a birthday (or know someone with a birthday) that you would like mentioned on Racer X Online? Send them to mikef@racerxill.com.