Monday Conversation I: Forrest Butler
The DNA Energy/BTO Sports/Butler Bros. Honda team had a heck of a good showing in the frozen north of Toronto, with Lites riders Shaun Skinner, Matt Boni and Kyle Cunningham sweeping the podium in the Lites class, while Kyle Keylon was eighth after a couple of falls, and Jason Thomas was tenth in the 450cc class. The Butler Bros. team was the only regular AMA team to send any of their Lites riders to race in Toronto, and it paid off. We caught up with team owner/manager Forrest Butler to talk about what the weekend meant to them.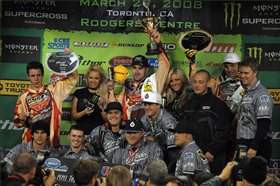 Forrest Butler (far right) celebrates with his team after sweeping the Lites podium in Toronto.

Racer X: Was that the plan? Come up here and sweep the whole thing in the Lites class?
Forrest Butler: The plan wasn't to sweep the whole thing, but it was to hopefully win and to win a Heat race or something. Mainly, we wanted to bring our Lites guys because we were coming, and we wanted them to get some track experience and all of that stuff. But no, we didn't expect to win both Heat races and sweep the main event podium.

Did you expect that it would be Shaun Skinner who was going to pull home the win for you tonight, of all of your riders?
No. [Kyle] Cunningham was the favorite to win it. He was like two seconds a lap faster in practice, but Skinner was actually top five and everybody else was within that second, and he's actually been riding really good. It's funny, because every race, he's been getting better and better this year, but he just hasn't caught that break. But here, he got out front that first lap and he got really excited and just kept riding. He just rode mistake-free and it was pretty cool.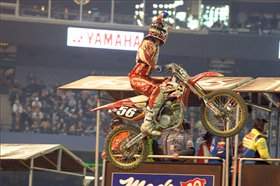 Shaun Skinner rode a fast and steady race, leading every lap on his way to the win.

Kyle Cunningham certainly isn't lacking speed, but he's kind of getting a reputation for crashing just when things are looking good, isn't he?
Yeah, Cunningham's just in that stage where every time he gets on his bike, he's getting faster and faster. It's like a growth spurt for a kid. Any day now, he's going to catch back up to his speed, and it's going to be trouble for everybody else, because he's hauling ass. But he rode a perfect Heat race and in practice he was fastest. He fell in the main, but a lot of good guys fell tonight. It was a really nasty track.

Take us through the season so far for your team.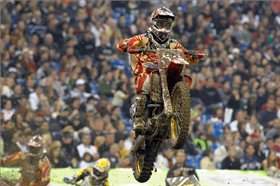 Kyle Cunningham was fastest in practice, won his Heat, and was fastest in the main event, but a fall forced him to come from behind. He was able to fight his way into third by the finish.
It's our first Lites year, so it's been costly – it's been expensive – but I mean, really, we were hoping to maybe get one podium out of the year, and be lucky, realistically, to do that, and [Matt] Boni got the real podium in Daytona, and then we did that tonight. This isn't a full round with everybody here, but it's still cool, and it's still part of the show, and it's going good. It's just another building year.


You guys are doing the outdoors, right?
We're actually doing a partial schedule – we're doing half of the outdoor season this year. Really, just with starting the Lites team and having two semis and everything for supercross, we're just in one of those building years where we need to take some of the summer off just to get grounded and reset for next year, and then hopefully put the whole series back in next year.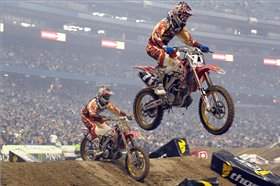 Kyle Keylon (71) and teammate Matt Boni (109) go at it in their Heat. Boni was third in the main, while Keylon was eighth.

As things progress, what is the ultimate goal for your team?
Really, where the 450 team is at, JT [
Jason Thomas
] and [Bryan] Johnson have had some bad luck, like last year, but at the same time, they've been in over 75 percent of the mains, and they're still up there. Really, our point in that class is to keep going there and to focus on the Top Privateer Award – if it ever goes back to a privateer award. It's kind of confusing this year, but I'm sure we'll see some changes next year. In the Lites class, our goal is to do what we're doing and to slowly build over the next two, three, four, five years – however long it takes to get up to a winning and championship team. But, we're realistic, and we're going to be patient and try to keep growing each year, little by little.