I would like to dedicate this column to Donna Dougherty, who passed away last week. Donna was one of the founders of AMA District 3 in New York about 40 years ago. She will be greatly missed; motorcycling in general was lucky to have Donna Dougherty as a friend.
The 2008 Monster Energy AMA Supercross tour is back in action this weekend, at least in the AMA Supercross class, as it doesn't sound like a lot of the top Lites guys are headed north across the border to Canada. But because the race is sanctioned by the AMA and is part of the domestic series, all of the top dogs in the premier class will be there.
Team Kawasaki's Tim Ferry will be back in action after his big practice crash before Daytona, and series points leader Chad Reed is actually flying from Australia, where he spent the Easter break, directly to Toronto. And series runner-up Kevin Windham will be making his Canadian debut, as he rides into the SkyDome on his Torco Racing Fuels Honda.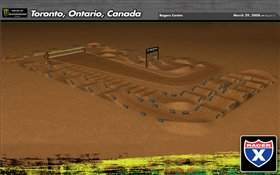 The Toronto SX track


Here's a HUGE trivia question for you: When was the last time the AMA sanctioned a pro motocross race in Canada, and who was the winner? We will give the first person who answer this correctly a set of Simon Cudby's American Motocross Illustrated books! Online@racerxill.com

You can listen to all of the action on www.supercrossonline.com, as well as watch it Sunday at noon on CBS with Ralph Sheheen and Jeff Emig.

And speaking of Fro, I spoke to Jeff this morning and he told me that the track surface is going to be tricky. "Some of the dirt was still frozen when they brought it in, so they are mixing in some cement and stuff to help make it tight," said the '97 AMA Supercross Champ. "Then you have other parts that are really dry, so it's going to be a really tricky track."

More from Emig later. It's been a busy week for an off-week. First, there was the official announcement of something exciting that's been whispered about for weeks: The Thunder Valley AMA Toyota Motocross National, presented by Division 7, is going to be held on Saturday night under the lights! Promoter David Clabaugh and his crew wanted to do something special and this is definitely a unique way to present American motocross. Thunder Valley will be using Musco Lighting, which are the same folks that were able to light up the Daytona SX track—even in that terrible weather.

This is just the first step in a lot of changes to come in the next couple of years for the AMA Toyota Motocross Series. Long before the whole AMA RFP process the promoters were talking to folks throughout the industry and amongst each other ways to improve the series. And with DMG now in control of AMA Pro Racing, everyone is about to grab a higher gear. Southeastern fans, your good news is coming.…

Next, the people at Toyota have been documenting the Monster Energy AMA Supercross Series and have released their first online film in a series called "Toyota: All Access." It's an exclusive interview with Coach Joe Gibbs, the Washington Redskins' Hall of Fame coach (that's American football, Simon) and the owner of the Gibbs Racing NASCAR team, about the new Gibbs Racing MX team and how his family grew up racing motorcycles. Toyota: All Access, produced by Todd Huffman of the Motocross Files, is up right now on www.racerxfilms.com.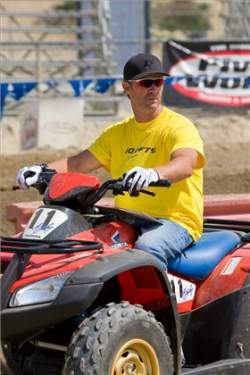 David Bailey watches the action at Glen Helen

photo: Carlos Aguire

Yesterday was another busy at Glen Helen as a lot of West Coast riders were working on their outdoor games. This time, our man Steve Cox
was there, and so was Carlos Aguirre
. So throughout the rest of Racerhead, I will drop some photos in here and there.
Also yesterday, there was another rounds of purges at the AMA. As first reported by Dean Adams in his "Soup" column on www.superbikeplanet.com (which has the really cool tagline "Where racers go to learn they've been sacked") the AMA let several people go yesterday. But it wasn't quite as bad as first reported: technical manager Kevin Crowther and AMA Racing VP Doug Neubauer, were not let go.
However, Steve Whitelock, who had been quietly placed aside for the first few months of 2008, was finally released. Whitelock, a controversial figure over the years—the Windham-in-Phoenix '04 penalty (subsequently overturned), the fuel penalties of '04 (Yamaha) and '05 (Kawasaki), the RC fuel penalty (subsequently changed from 25 points to a fine), the class names—but also a tireless worker for Team USA and every journalist's favorite official (he gave greatoff-the-cuff remarks). Personally, I enjoyed working with Steve, and I really hope he finds another role in the motocross industry.

Next, there was quite a bit of hand-wringing and debate over last Friday's report on Racerhead about West Coast points leader Jason Lawrence getting arrested for fighting at Daytona the previous weekend, where he went to watch the SX race. David Pingree broke the story after we were able to confirm the news with a police report. That wasn't enough for a few folks, who wanted to know who he was fighting, and if he'd ever been in trouble before. When his close friend and training partner Josh Hill went on DMXS Radio, David Izer was criticized for not asking Hill about the incident.
The point of this is that it's not always our business or the fans' business when a rider makes a mistake in life. A lot of people forget these are often teenaged kids, sometimes with a lot of money in their pockets, and they get into trouble just like a football player might, or a wrestler, or a even straight-A student. It's news when it actually happens at a race, or directly affects their racing career.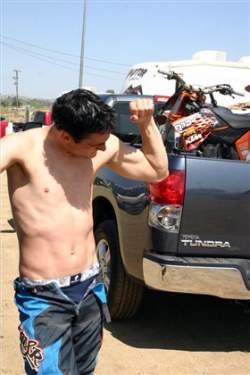 Nick Wey shows off his gun at GH
photo: Ping

Jeff Emig
is a perfect example of this: When he got arrested at Lake Havasu all those years ago, it was news because Kawasaki decided to fire him. Or when Jeremy McGrath
cut his heel on a broken bottle at a Mexican restaurant and had to miss a national. Or when Ron Lechien
got busted at the Tokyo Airport—just like Sir Paul McCartney
. But all three of the above mentioned no doubt got involved in some other situations in life that weren't reported, likely because it didn't affect their racing careers.
That said, Emig told me this morning that he and Buddy Antunez were recently talking about some of today's young riders and how they are suddenly partying like it's the nineties again. The bar scene at Daytona Beach's Razzle's—usually where road racers get punched out, not MXers—was pretty chaotic after the race. What's up with that? Maybe it's because Ricky Carmichael was so serious about training that everyone else had to up their game to have a chance. Now that the big cat's gone, everything seems a little more relaxed, just like it was when Jeremy and Jeff were leading the way a decade ago.
Speaking of Fro, he was a master holeshot artist, and now he's sharing his tips. Check out Jeff Emig's "How To: Starts" video over at www.foxracing.com.
On a related note, Chris Hultner's www.amateurmx.com broke the story that Christian Craig may be headed to the Yamaha of Troy rig soon, which would be another B-rider-straight-to-factory deal if it happens this August. In a Mototalk bench-racer session, I offered my personal opinion that the AMA should look into the idea of raising the minimum age for a pro MX/SX license to 18—a lot of kids just aren't prepared for pro life and while some do just fine, many others do not.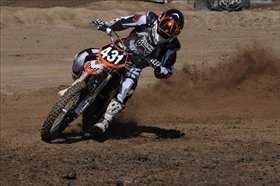 <!--[if !supportEmptyParas]--> That's MDK himself—Mark D. Kvamme—tearing it up at Perris

photo: Steve Cox

Jimmy Button, one of the top prospects of the late 1980s, offered his experiences of going from schoolboy straight to pro in a post:
"In 1989 I rode the 12-15 Schoolboy class at LL's because I was stuck in the middle of that whole age situation. I had rode 12-15 Schoolboy the year before (1988) and also rode the 125 Intermediate class at the Golden State Series, World Mini, etc. But for '89 finding classes to race were hard because I was only 15 (June 14th is my b-day) so I was a bit stuck with the whole Pro situation. Some places would let me ride the Expert class and others would not. It is totally different now. After I won LL's I went to Millville the next week, and got my arse handed to me, but then rebounded the next week with a top ten at Washougal. Remember the days when the top amateur guys actually just went to the race with their amateur bikes to try and impress people and get a ride?
But back to the point of everything, some guys have the ability to go from the B Class straight to the Pro ranks like Ryan [Dungey] did. The big drawback is the fact that the majority of these kids have a hard time handling the pressure and responsibility of what that entails at the young age of 16 to18. A lot of these kids are pushed into it because their parents have mortgaged everything to get them there and they need the money, when the fact is that they are probably doing more harm than good. The mental side of this sport is everything, but people mainly just look at lap times and compare."
JB, now an agent with WMG, summed it this way: "Some kids will pull it off and other will not."
Let's turn this over to Steve Cox:
Rumor has it that Team Solitaire is in the process of landing a new sponsor for the rest of the season, and we should have more on this as it develops. We can say that the sponsor isn't going to be water, like from the toilet.
When I saw Sean Hamblin at Daytona this year, he was hanging out in the Yamaha pits and said he was going to go down with Grant Langston and ride with him. Across the street from Langston lives Josh Grant, and Hamblin has been in Florida riding with them for the past couple of weeks on a Yamaha YZ450F. This led to rumors of him being the third rider on the Joe Gibbs Racing Yamaha team for the AMA Nationals. However, Hamblin told me Wednesday that he doesn't have anything going for the outdoor nationals, even though he has been calling Jeremy Albrecht at Gibbs, along with a few other teams, looking to get something going. After all, one thing Hamblin has proven in the past is his ability to fill in on a team and make an impact, as that's how he got started with Team Suzuki, filling in for Travis Pastrana a few years ago. Somebody needs to help this well-liked veteran out!
I stopped by Perris Raceway yesterday on my way back from picking up a super-trick KTM 990 Adventure for this Sunday's Breathe Easy Ride Against Cystic Fibrosis (www.breatheeasyride.com), and I had my camera with me, which was a good thing because it was practically a who's who of the motocross industry out there, with everyone from DVS's Dano Legere, FMF's Donnie Emler Jr., MDK's Danny Paladino, Transworld's Donn Maeda and Kyle Cowling, 661's Erick "Big E" Bartoldus, and many more.
Here's Ping:
I'll start with some sad and shocking news: Chikeze is out of American Idol. I thought the cowgirl from Washington was going home but it turns out America doesn't care that she can't sing because she is smoking hot. Good call, USA.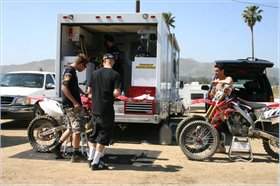 The Torco Racing Fuels Honda
boys at Perris

photo: Ping

The nationals are approaching quickly, and a trip to any local track here in southern California during the week will confirm just that. Wednesday morning at Perris Raceway has become one, big pro practice and testing session and this week it was in full swing. Rick Johnson and Sebastien Tortelli's main guy at Perris Raceway, Jeff, does a great job of keeping the track prepped properly and as a result it has been the best track for riding and testing by far.

This week the Torco Honda guys were dialing bikes in for Dan Reardon. Reardon has already been riding outdoors for the past several weeks and he looks good. Ryan Villopoto was also getting in some laps while the East Region SX Series took a break. Ryan was riding a 450 with his riding and training partner Nick Wey. Matt Goerke and Justin Brayton were also there with the MDK squad preparing for Glen Helen.

The West Region riders definitely have an advantage over the East riders as far as preparing for the motocross series. There is a two-month gap in the West Region series, giving them plenty of time to get things sorted out while the guys on the east will only have this two week break and another two weeks after Vegas leading up to the opener.

I spent last weekend helping out at an American Supercamp school in Azusa, California. If you've never been to one you should find the nearest location and sign up. It is a motorcycle technique school that is taught on Honda 100s and 150s and it is a blast. I've gone every year for the past three years and I still learn every time. Check them out at www.americansupercamp.com.

And then we got this letter this week:

Racer X,
Sorry to bother you, but up here in NY (METRO AREA) we are having a problem with one of the tracks, Island Motocross in Yaphank, Long Island. Someone was hurt while riding there and of course he is suing the place. The case went to court and was going to be thrown out when the guy springs a professional witness on the court to testify for him. The witness testifying turns out to be Rick Johnson! Yeah, that Rick Johnson; You know, our hero "Too Hip," "Bad Boy," track-owner Rick Johnson! Word is the guy paid RJ $6000 plus a weekend in NYC to testify for him. Now it is looking bad for the track and they may be closing! This is devastating because we have so few tracks up here as it is. RJ was always one of my heroes growing up! With him being a part owner in a track why would he do something like this? He's gotta know how everyone is sue-happy these days when they get hurt… All for $6000??? I know you can see both sides of things and have many connections so could you look into this? I don't want to hate RJ but, come on, help the sport out don't hurt it. Thank you for your time and I look forward to hearing from you. Scott Coombs

Well, Scott (and DC says "not related"), I spoke with Jeff out at Perris Raceway about it and he said it didn't go down like that. Apparently, Rick got a call from an anonymous guy asking if he let quads on his track with bikes. He told them that he would never do that because it is dangerous and it ruins the track for the bikes (and quads). The conversation was short and RJ just thought the guy was asking for advice for a track of his own. And then he got a subpoena to appear in that trial as a professional witness. They paid his expenses to get there, obviously, but they didn't know anything about the $6,000 payment. Ricky was just giving his opinion to this guy, and it is a plausible opinion, and he ended up getting put in a situation that he didn't want to be in. So don't blame this on Ricky Johnson. While I can't stand the crapbags that frivolously sue track owners when they get injured, I also can't stand it when a track owner puts quads on a motocross track with bikes. My opinion is also that it isn't safe. No matter, let's hope the Long Island track makes it through this ordeal and learns a lesson from it.

Any privateers out there looking for a place to practice prior to the Seattle SX? Check out this email we got from Alex Schiffman.

I have a full on supercross track in Bremerton, WA, about an hour away from Seattle and a lot of the local privateers like Greg Crater, Ryan Abrigo, Jerry Lymburner and off-roaders like Jason Raines and Ricky Dietrich come out and practice. I was wondering if you could post something on your website letting privateers now that if they want to come up a week earlier they can have a place to practice. Here is a video clip of Greg Crater getting ready for SX.

For more information, email Alex at alexschiffman@hotmail.com.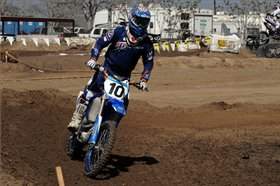 And that's Donn "Swap" Maeda
photo: Steve Cox

Speaking of finding places to practice, you aren't going to believe what happened to a father and son that crashed together while practicing on a landfill near Cape Cod.

Okay, time for more Travis-having-more-fun-than-anyone news.

Also, Guy B. at VitalMX.com posted some very interesting Leatt-Brace news: a cheaper version--$195—is on the way.

And Mark Deering hooked us up with this Jake Marsack interview on MXreplay.com.

Carlos Aguirre had a chance to talk to Greg Schnell this week at Starwest. He has been rehabbing a meniscus injury and has been riding once a week at about 70%. He said he is going to have his knee scoped. He said he has committed to a Supercross series in Australia that Chad Reed is trying to get going in October.

Also, check this out. That's the home for the "Super X" series that Chad Reed is putting together for October and November later this year. Check the site out for updates as they are available, though right here there's this tentative schedule:

4th October 2008 Perth
18th October 2008 Adelaide
25th October 2008 Melbourne
8th November 2008 Sydney
15th November 2008 Wollongong
22nd November 2008 Townsville
29th November 2008 Brisbane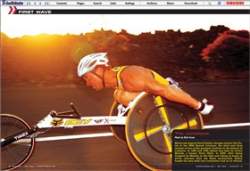 David Bailey

Jason Hooper says: I just received a link to the May digital edition of Triathlete magazine which is they're 25th anniversary issue. In it, there's a spread of the "Icon" himself, David Bailey, from his 2000 Ironman Hawaii victory. The issue also features a feature story on Bailey and Carlos Modela's battles in 1998, 1999, and 2000 which have been called the most fierce in the history of triathlon. Pretty cool!
Drew Broadley sent us this note: The Junior FIM World championships are confirmed for 2009 in Taupo NZ. Also, there's a heads up on a large international event (like the last time Everts rode in NZ in 2006) heading to Taupo this year. No names confirmed yet.
Charlie Williams, National Affairs Editor for Trail Rider Magazine, will be racing in two classes at the Inter Am this weekend in Boise, Idaho. After hiding in the woods for 20 years, Williams is coming back to the motocross track. He will be riding a Can Am 400 of questionable heritage. His trusty steed is most renowned for the record number of separations, contusions, amputations, fractures, compound fractures, de-glovings, hyper-extensions, crushings, mashings, smashings, crampings, tearings, rippings, dislocations, blood-lettings, transfusions, rackings, smackings, bone-jarrings, vision-blurrings, nose-bleedings, and diarrhea that it has caused. To this claim, Williams responds: "Oh, I didn't remember all of that." Visit www.siegecraftnw.com/X8 for more information.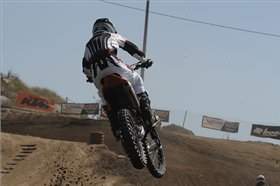 Danny Paladino from MDK gets in some laps Thursday

photo: Steve Cox

In other news…
199 Lives, featuring Travis Pastrana, will premiere on April 16 & 17 in more than 400 select movie theaters nationwide. Travis hooked us up with some tickets, and last week we asked you some Travis Trivia and hooked up one lucky winner with a set of tickets. That winner was Brent Pierce of Lima, Ohio, who correctly answered the question, which was: Name the year and location of Travis Pastrana's first 125cc SX win. The answer: 1999 Pasadena SX.
We have another question for you this week, but first you'll need to check the list of theaters to make sure there is one near you.
Next, answer the following question:
What number did Travis Pastrana use in his one and only Motocross of Nations appearance?
Email your answers (along with your name and address) to online@racerxill.com. Good luck!
Andy Bowyer posted an excellent RC interview for the Wednesday Between the Motos where RC discussed his new ride with Kenny Scrader's team in a higher series. You can watch some of his races too—check out the schedule.
Check out this story about Josh Hill winning with the GoPro.com helmet cam on at the Minneapolis SX.
Finally, give this old gem a look. That's required viewing for any American motocross fan who still thinks of David Thorpe as "world's fastest novice." A Mototalker posted this link, and it's from the '85 Motocross des Nations in West Germany, when Sir David put the screws to the Americans in winning the individual overall, though Team USA did win their fifth straight that year, with eight more to go in their record streak. But on this day, it was all Thorpey!
By the way, Denny Stephenson
's first weekend on the new job with Connexions Sports & Entertainment will have him on the ground in Jerez, Spain, site of the 1996 Motocross of Nations, as well as one of Spain's many great MotoGP tracks. (If you've never been to a MotoGP, it's a must—and you get two chances in America this year with Laguna Seca and Indianapolis.)
Thank you for reading Racerhead. See you at the races!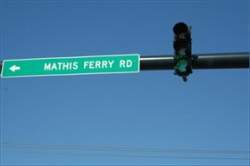 For Steve Matthes, this street is heaven on earth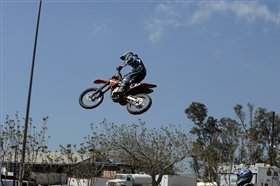 Factory Phil still on the gas
photo: Steve Cox