Hello everyone, and welcome to the Rev Up. The 2008 Monster Energy AMA Supercross Series heads North to Toronto, Canada, for Round 12 of what's been a stellar season. It'll only be the premiere class racing for championship points this weekend, but those boys have quite the clash going on. And lest you forget the last time we raced AMA Supercross in Toronto, things got really, really wild! The dirt they use in Toronto isn't as kooky as the Vancouver glacier till, but it ruts up and makes the rhythm sections sketchy.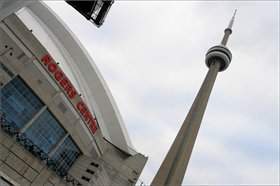 Monster Energy SX heads North.
photo: Matt Ware
This weekend's race will be a change of pace from the previous rounds, the national anthem and flag flying above the stadium will be different, the race could prove to be a deciding factor in the dogfight between
Chad Reed
and
Kevin Windham
. Chad and Kevin won't only be fighting the diverse surroundings, they have new trouble in the form of a couple of young lions that have been shouldering their way to the front of the pack. These two have been working hard to establish themselves as consistent podium finishers and win contenders. I'm speaking of Rockstar/Makita Suzuki's
Ryan Dungey
and Factory Yamaha's
Josh Hill
, of course. Dungey almost won his home state supercross two weeks ago, but didn't have the firepower to fight Hill back.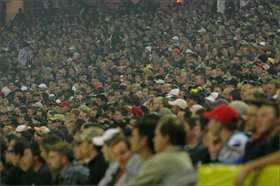 The house will be packed on Saturday night.
photo: Matt Ware
Meanwhile the big red brigade has fallen off the charge a bit in the past few rounds. Yes, Kevin won the Daytona Supercross by Honda, but his boys,
Davi Millsaps
and
Andrew Short
, haven't been sticking a fender in for the lead like they were in the middle portion of the season. Now is the time for the Honda Red Bull Racing duo to turn up the heat and bang their way to some wins. Speaking along those lines, I don't think we've seen everything that
Andrew Short
has to offer. Short has always been a strong supercross racer, but he seems to have gotten stuck on top of a long plateau and flattened out. Shorty's one of those riders that can bust out and win by 10 seconds like we saw at
Freestone
last year. As I look at the list of contenders for race wins before the season closes out, I have #29 circled.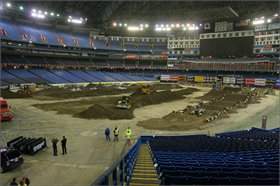 Can Tim Ferry return and win on a track he designed?
photo: Matt Ware
If that wasn't enough to get you pumped up for the race, we also have Monster Energy Kawasaki's
Timmy Ferry
returning to action after breaking his tailbone. (Deep breath, Matthes!) It'll only take a few laps to see if
Red Dog
has been, ahem, laying on his butt, or if he is ready to contend for a win like he was when he got hurt. Timmy is a gamer. He'll be a major player in the scheme of things even if he isn't 100 percent.
So, what else, guys? There is a lot of action going on all over the map this weekend! We have six Loretta Lynn Area Qualifiers that will see amateur families from West Virginia, Kentucky, Missouri, Texas, Arizona, and California take their first step towards the Big Dance. Throw on two more wheels and we've got round two of the ITP/Moose Racing AMA Pro ATV Motocross Nationals taking place at Millcreek in Pell City, Alabama. Throw on some bark busters and turn your attention to the gladiators busting through the trees at the second round of the 2008 Can-Am GNCC Series down in North Carolina.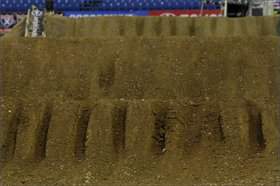 Who will dig deepest on Saturday night?
photo: Matt Ware
Then a little closer to home I have my beloved Kansas Jayhawks facing off tomorrow night against the Villanova Wildcats in the
Sweet 16. You know, an ole boy's heart is only big enough to be in so many places at the same time. But hey, it ain't no step for a stepper. We all dig hard during the week to dig even harder on the weekend. That's what the damn shifter is for! Put on a thousand-yard stare, duct tape that pig wide open and grab gears till you see Elvis. Get motivated. Spring is here. It's time to start sweating off the winter fat and hardening the hell up. Big weekend folks.
Thanks for reading, see you next week.