Privateer Profile: Trainer Robb Beams
Training has become as important in the sport of motocross as gasoline, and that means that finding a trainer to help you in your quest to improve your fitness is as important as finding a good Sherpa to guide you to the top of Mount Everest. For those in the Orlando, Florida area, and anywhere with internet and phone service, Robb Beams is there to help. Robb's passion for the sport combined with his education on physical fitness culminate at his company, Athletic Endurance Masters Association, and more specifically at the branch in that office geared towards motocross known as Moto Endurance. We talked with Robb Beams, who is most widely known as the official trainer for Toyota TMX amateur racing program, about fitness, motocross, and ice cream.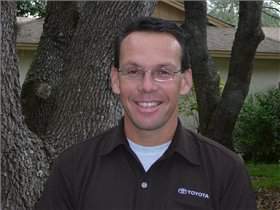 Robb Beams

photo: Courtesy of Beams

Racer X: Explain to us what you do in the industry and how you came to do it.
Robb Beams: I've been involved with motocross since 1977, believe it or not. I've grown up riding and even racing for years until I got into racing BMX professionally. I started the human performance business when I was in college and went on to get my degree in exercise physiology and massage therapy. I finished school there and started a masters program in exercise physiology. We got involved with the three different components of endurance training and strength training for triathletes for motocross racers and then we got into a speed and agility division for baseball players and athletes of that nature. The motocross division is a passion of mine; I've always run it exclusively. We've been involved on a full-time basis for the last two years obviously getting a jump start with the Toyota TMX program last season.
That is how I originally heard your name; through the TMX program. How did that come about?
We got a call from Kevin and Scotty at Podium Marketing and they were looking for a trainer that could accommodate their program. After about six months of going back and forth we got the nod to go ahead. That happened right about the time they announced the TMX moving forward program at Loretta Lynn's Amateur National Championship with Sean Hackley.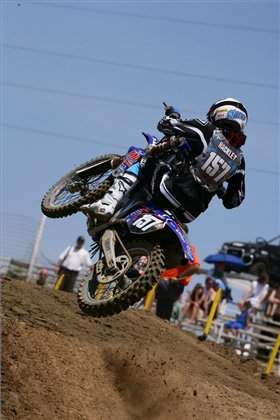 Sean Hackley at Hangtown in 2007.

photo: Simon Cudby

How has it been working with that program?
It's been great. It was an incredible opportunity to jump right into the pro racing scene. Sean has had some injuries but I've also been working with Kyle Chisholm, Matt Lemoine, and Alisa Nix. I'm still working with Kyle [Chisholm] on a full-time basis. I was also contacted by Matt Boni to work with him as well. So, I have Kyle Keylon, Boni, and Chisholm on a full-time basis in the pro ranks. Ashley Fiolek also just started on our program, so I'm anxious to get started with her.
Where are you based out of?
We're in Orlando, Florida.
Is most of your training hands-on with the guys or do you work out their programs over the phone and through email?
With the pros, it's hands-on. I'm with Boni four days a week, one-on-one. I'm also with Kyle and Kenny one day per week. Each rider's program is different. The amateur side of things is more of an email and phone call program because I obviously can't fly everywhere all over the country. I have been getting out quite a bit and helping my riders in different parts of the country as much as I can, though.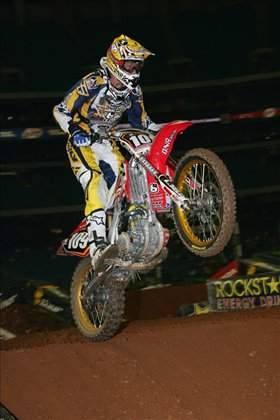 Matt Boni is trained by Beams.

photo: Simon Cudby

What is the biggest misconception about training?
I think people underestimate the value of a large aerobic capacity and strength. People think that if they lift weights they are going to get big and burly and not be able to ride a motorcycle. That isn't going to happen. People have a lack of aerobic fitness and a lack of muscular strength. Some guys can go fast for two laps and then they blow up. Others can go forever but they go slowly. We like to train your weaknesses and raise your strengths. You are only as good as your biggest weakness. Everything we do is on an individual basis. We re-test our riders every five to six weeks and re-evaluate their programs.
What is your recommendation for amateur racers that don't have a good trainer but still want to get in better shape?
The most important part is being consistent. Training one day out of seven isn't going to make you any more fit. We design our programs for each individual. If I have a guy that can only find three hours per week to train then we will maximize that time and design it for him. I would recommend two days of strength training and two days of cardio each week. I think they are equally important and each one needs the other. If you have an hour to work out then use thirty minutes to do cardio and thirty minutes to strength train. Eating habits are also a big deal.
So, what do you say to a guy like me that can't stop eating ice cream?
It's funny; I think ice cream should be a staple in every rider's diet. Life is too short to cut out ice cream. Cut out the empty calories like soda and fried food but you have to live a little.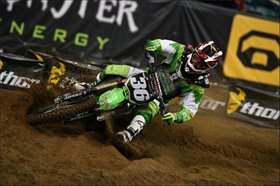 Kyle Chisholm is another top rider using Robb Beams for training advice.

photo: Simon Cudby

Where do you guys see yourselves in this industry down the road?
Our goal is to become a resource for all riders. People will call us up and ask us what we think about this product or this nutritional product. That's why we don't accept any sponsorship from any outside companies because we want people to trust us when they ask us a question about a product. It doesn't matter if you are a pro or a weekend warrior; we want people to come to us and ask questions about diet, training, injuries, and everything that comes with motocross. Each person has their own issues with certain areas and we would love to help.
How can people get in touch with you?
They can email us at robb3@earthlink.net or check our website at www.motoendurance.net or just call my cell at 407-701-7586.
Anyone in particular you want to mention?
The guys at Concept 2 and Rob over at Tranformx are doing a great job. These guys are actually developing reasonably priced products for motocross riders that work. Scotty LaLonde at Podium Marketing has also been a huge help to me, so I want to thank him. Also, you guys at Racer X have become the pulse of the sport and you guys do a great job of giving everyone an inside look at the sport. So, thank you.