Monday Conversation: Kevin Johnson
Beginning his pro career back in 2001, Albuquerque, New Mexico's Kevin Johnson has raced motocross, supercross, and most recently, Arenacross. He has even dabbled in freestyle. Now 25 and a married father, Kevin took his Team Faith Yamaha to fifth in the 2008 Toyota AMA Arenacross Championship. Along the way, he hoped to help many other riders, race crew, and fans find Christ. Recently, Kevin was kind enough to share his thoughts on what's next in store him.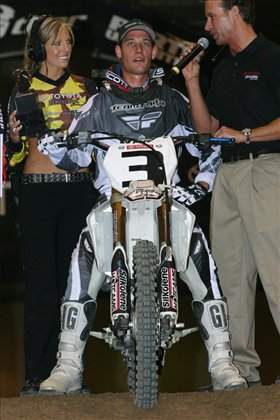 Kevin Johnson

photo: Trent Howie

Racer X: Kevin, what are your feelings on the 2008 Toyota AMA Arenacross series?
Kevin Johnson: Well, it didn't go exactly the way I would've liked it to go. I took a couple wins and felt that I was riding well, but there's a lot of competition – fast guys like Chad [Johnson], Kelly [Smith], Brock [Sellards], and my brother, Keith. I think we had about nine different winners this year, so we've had awesome racing every weekend. One weekend you win, the next weekend you're fifth – and you're going the same speed! Much of it is the starts, and consistency. But it's been a fun year; I'm stoked to be racing for Team Faith, and happy being able to make a living riding a motorcycle – any year that I can do that, I'm happy. But yeah, I would have liked to have done a little better than fifth.
As you mentioned, you took a couple wins this year. What does it take to win an Arenacross main?
A huge, huge part of winning a main is getting the holeshot. The two that I won, I got the holeshot and went for it. Along with that, it's a lot to do with bike setup and getting comfortable quickly on the track. If you can get out by yourself and get comfortable, it's a lot easier than having to battle with people.
I'm very intrigued by Team Faith, and the ideas behind it. Tell us about it.
Team Faith was originally founded by Brian O'Rourke, who just wanted to come to the races and do a chapel service. Then he decided he'd buy a truck and trailer, which led to hauling bikes for some of the guys – and that evolved into an actual team. This is my fourth year riding for them. I feel honored and privileged to be with such a great group of guys. We're a Christian race team. We do the chapel service for Arenacross, and do some Freestyle shows over the summer at churches and Christian outreach events. Everything we do has a Christian ministry involved with it. I want to beat these guys, but I'm here for more than just racing – and that's to glorify my Lord and Savior Jesus Christ. Absolutely we want to win, but it's not the end of the world if we don't. Here, it's a completely different atmosphere from any other team. It's perfect for me, and I love it. Everyone on the team will do whatever they're asked. I'm the racer, but I also do chapel sometimes if I get the opportunity to. This year, we've been fortunate enough with sponsorship to where every Friday night we brought dinner in and fed all the riders, mechanics, and crew – whoever wanted to come. We'd do a church service after. If you want to stay, great. If not, no biggie. To be honest with you, we're a bunch of dorks who ride motorcycles, and for some reason God's called us to do this. We're humbled, incredibly privileged, and thankful to have this lifestyle.
With Arenacross over let's hear about your upcoming plans.
Well, we're going to finish out in supercross. I already did San Diego where I wasn't really sure what was going to happen. But I got good starts, put it in the main, and ended up twelfth, so that beat my expectations. I feel comfortable on a 450, and feel that I ride the big bikes better. I'm excited to get back on the big tracks with a little more room to pass. Also, I'm invited to do the X Games in April for a new sport called Speed 'n' Style where they're going to combine lap times and freestyle tricks – I think I'm the only full-time racer invited for that! I'll likely get smoked at the tricks, but maybe I can set the fastest lap time. It will be fun. I enjoy doing freestyle anytime I'm on the bike. At Team Faith, we're not the best freestylers by any means, but we try hard, and we use it as a tool to glorify our Lord. Later this summer, we have a few freestyle shows with Team Faith booked. Also, a friend of mine up in Canada, Josh Schneider, is trying to get a Team Faith chapter going there. So I might be up north doing the Canadian Nationals. We'll see if sponsorship comes in. I'd love to just keep racing – it's my passion.
You and your wife recently had a daughter, right?
Yes. We were blessed with a beautiful, healthy baby girl, and it's been awesome. My wife, Seana, is incredible. She is a wonderful mother. I probably wouldn't be able to have as much freedom to race as I do without her being so good at it. It's definitely been a little harder to leave home so much, but racing is what I feel God has called me to do, so I'm going to keep riding as long as I'm called to do it – it just makes being home a little sweeter. Fatherhood has blown me away, and given me more appreciation for my parents and all that they sacrificed for me.
What else is in your future?
Right now, I don't have any real ideas of what's going to happen next year. At some point before I'm done racing, I want to race the Supercross class full time for the entire season. Also, I would really like to get back out and do another year of the outdoor nationals. I want to put my head down, work my butt off, and try to see what I can do there. I feel like my training and my riding is better than ever. It would be wonderful if Team Faith could find the funding to start a second team, but we all know that will take an act of God because there's not much money out there right now for teams.
Wrapping up Kevin, who all has helped you get to this point?
I've got to give credit to Team Faith: my mechanic Chad, our team founder Brian O'Rourke, and everybody involved with it. We have excellent sponsors with Western Power Sports and Fly Racing. Craig Shoemaker has helped us beyond what we could ever ask for – he helped us before Team Faith had good finishes because he saw what we stood for. Then a big thanks to all of our other sponsors, including Michelin, Pivot Works, Silkolene, CV4, Tag Metals, Bobby J's, HotCams, Enzo, K&N, Pro Circuit, RK, Wiseco, UFO, QTM, and JJW designs. We're a nonprofit ministry, so we have money that comes in from people who just feel like they want to help us. Obviously, I have to thank my parents who took me racing as a kid, and gave up so much of their lives to benefit mine. To come from such an awesome family where my grandparents, aunts, uncles, and everybody was involved. My favorite memories are getting together with the family and going riding. I may never win a Supercross, and I may never win a Championship – and I'm all right with that. I see just how I'm blessed, and how much people have done for me. It's amazing to see, and it humbles me to know that so many people really care, and have worked so hard for me.

For more on Team Faith, you can check them out at www.teamfaithracing.com.