Hello, everyone, and welcome to the Rev Up. With the off weekend upon us I wanted to use this week to do a synopsis of the supercross season thus far. As I glance over at the scoreboard, I have to say that the standings look a whole lot different than my preseason expectations. Sadly, there been several misfortunes such as injuries, mud races, and failed expectations. But on the bright side, there's been some amazing revelations and dark horse surprises.

I suppose things have reached a pretty even keel in the grand scheme of things, with the needle leaning towards the positive at a respectable angle. The television broadcasts have been solid, the racing action has exceeded expectation, and even as we sit mired in a stubborn economy, attendance has been great. Those three aspects are the lifeblood to a sport's growth and we should all be grateful. After losing the greatest rider of all-time to retirement, and suffering another absence of his predecessor, we still have our feet planted in the concrete as the second largest motorsport on earth. That means job security for everyone reading this, and an even brighter light at the end of the tunnel for the upcoming racers. So, let's take a moment and do a quick review about what's kept us all revved up thus far in 2008.
Lites West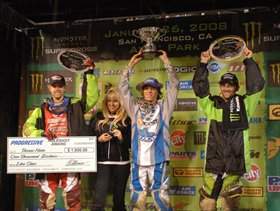 The momentum changed for J-Law at San Francisco.
After producing four different winners in seven rounds, and an intense new rivalry, it's safe to say that the West Coast Lites class has more than delivered. It began with
Ryan Dungey
riding and winning like he was going to ride off with the title, but as they enter the break he found himself staring at the back of
Jason Lawrence
and a six-point deficit. There's been some spicy smack talk in the middle of it which will make the championship-deciding round in Seattle one for the ages.
Other big moments included first time main event wins from Jake Weimer and Austin Stroupe, a couple surprise podium performances by Justin Brayton and Bobby Kiniry, and the hard charging Hahn brothers finishing in the top ten several times. There has also been some heartache as Zach Osborne got hurt just before the first round, then Broc Hepler hurt himself halfway through. Another thing to look at as Seattle approaches is that Brett Metcalfe is only 22-points behind. With that race holding a 80 percent probability of being a mud race, his title hopes still have life.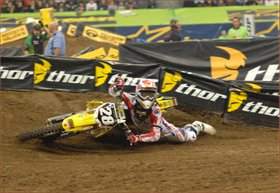 Things were slipping away from Dungey in Houston.
Meanwhile, lightning struck in the division that
Ryan Villopoto
was supposed to run away with. The 2007 AMA Horizon winner,
Trey Canard
, led the first 40 laps of his career as he reeled off three wins in a row without so much as busting a sweat. After one of the most astonishing rookie debuts in history, Trey finally let someone else win last weekend in Minneapolis where
Josh Grant
got his first podium of the season and Villopoto took his first win. As exciting as this division has been, imagine how crazy it would have been had
Christophe Pourcel
and Ben Townley not gotten injured?
Some other asterisks with these boys stand beside the names of Dominic Izzi, Ryan Sipes, and Matt Boni, who have put in great rides. The bummers have been Ryan Morais, who almost won the title a year ago, Kyle Chisholm, who took a handlebar to the nads at Indy, and Matt Goerke, who missed the main event at Atlanta and just hasn't gotten rolling. With four more races to go, Trey Canard is in the driver's seat and just needs to be consistent to win his first pro title.
Supercross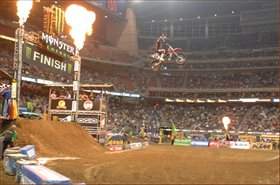 Can Kevin do it?
The Lites classes have been great, but in order for our sport to grow, the premiere division has to be strong. Losing
James Stewart
is bad for everyone, but damn, the series has been absolutely smoldering in his absence! We've seen five different winners, two of which were hometown masterpieces put forth by
Kevin Windham
and
Davi Millsaps
. We were close to having three hometown winners last weekend when
Ryan Dungey
yanked the holeshot at the Metrodome and rode to second place. He came close to what would have been one of the biggest wins in supercross history. Instead, something else just as special occurred when Oregon's
Josh Hill
took the checkers.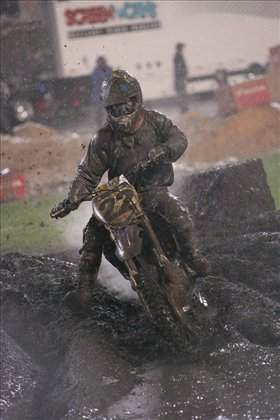 It hasn't been easy for Reed in 2008.
On the downside, there has been some major disappointments with this bunch, mostly injury related. The beat down includes
Mike Alessi
,
Michael Byrne
,
Ivan Tedesco
,
Grant Langston
,
James Stewart
, and most recently,
Timmy Ferry
. I truly believe
Red Dog
was on his way to a win when he got hurt. He is riding better than ever and I would keep an eye out for him to finish the last couple supercrosses strong, then be a house of fire in the nationals.
It's been an incredible first quarter of the 2008 season. All three supercross divisions have seen multiple winners, Cinderella stories, and all three championships are still up for grabs. Can Chad Reed hold on? Will it be Dungey or Lawrence? Does Trey have the consistency to be a champion? Let's keep it rolling!
Thanks for reading, see you next week.