Privateer Profile: Travis Sewell
If you scroll down through the Lites class main event results from Minneapolis, you'll notice Travis Sewell in thirteenth. You may be wondering who Travis Sewell is: Well, he's a 20-year-old who calls home Westville, Indiana, and he has a brother, Shane, that also races professionally. He's sponsored by MD Racing USA, WB Racing Suzuki, Pro Grip, Airoh, TCX, Vortex, and Dunlop. But that's all you can learn from the website. We decided to give Travis a call for today's Sponsorhouse.com Privateer Profile to learn more.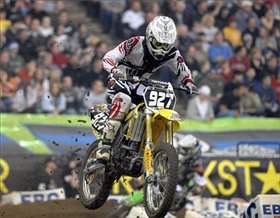 Westville, Indiana's Travis Sewell.

photo: Steve Cox

Racer X: Travis, what's going on?
Travis Sewell: Not much, just getting ready to do a little practicing.
Where are you at?
I'm at the Georgia Practice Facility. I've been here since probably January!
Well, judging from your finish in Minneapolis, it looks like it's paying off for you.
Yeah, I've had two thirteenths so far this season, but I'm hoping for a top-ten in Dallas.
Thirteen seems to be your lucky number.
[Laughs] Yeah, I was actually number 13 in Arenacross because that's where I finished in points last year!
I think I read somewhere that you recently got a new sponsor, is that correct?
Yeah, I just signed with the Toshiba/MD Racing Suzuki team.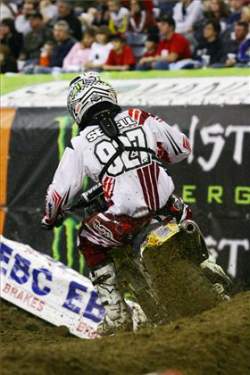 Travis finished 13th in the Lites class in Indianapolis and Minneapolis.

photo: Matt Ware

Congratulations! How did that deal come up?
Daniel Sani was riding for them, but he got hurt and they were in need of a replacement rider, so Cole Gress from Suzuki called up Jim Chamberlain, the manager, and I ended up getting the ride.
Who were you riding for prior to that?
I was riding for Pro Source out of Illinois.
You're from Indiana, so that's pretty close to home, right?
Yeah, it's only like an hour and a half from my house.
Well, give us some background about your racing career. How and when did you get started?
I started riding when I was nine and just rode for fun until I was about 15. I started taking it a little more serious, got homeschooled, and then when I turned 17, we started coming down South during the winters and that's when stuff started working out for us. Now I'm just trying to make a name for myself.
You really didn't race too much amateur stuff, did you?
Not really, I was hurt a lot of my amateur career, and I wasn't up to speed until like 2005. I had a third at Lake Whitney that year in the Four-Stroke class, and I won a couple motos in the Mini Olympics.
Did you pick up some support after that?
Not as much as I thought I would've. Most of my sponsors this year came from riding supercross last year.
What was your best finish in supercross last year?
I made three Lites main events and my best finish was a fourteenth in Orlando.
Red Bud's Amy Ritchie is always telling us about you. She's one of your biggest supporters!
Yeah, we live 40 minutes from Red Bud and we've always ridden and raced there. My mom works at the track sometimes and we've just become really good friends. Amy and everyone at Red Bud actually sponsored us a few times last year, which was really cool. Everything helps out!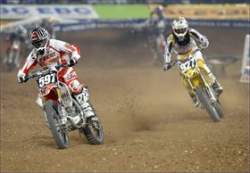 Travis was recently picked up by the Toshiba Suzuki/MD Racing team.

photo: Steve Cox

You also have a brother, Shane, that races professionally as well, right?
Yeah, he's one year younger than I am.
Who's faster?
Right now, I think we're both about the same speed; I don't want to start any wars there! [Laughs] But we ride together quite a bit.
He's on Kawasakis, though, right?
Yeah, he was riding for Babbitt's Kawasaki in Arenacross, and I think they're going to continue helping him out for the rest of the season.
Well, what's the plan for the rest of the season?
I'm working my butt off right now and I want to be in the top 10 in the next three races. I know I'm right there. I just have to pick up like a half-second a lap.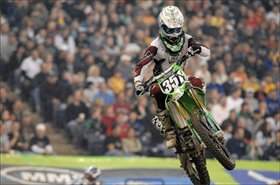 This is Travis's brother, Shane.

photo: Steve Cox

Are you racing the outdoor nationals for the Toshiba Suzuki team?
That's actually up in the air right now, I think it's supercross-only, but they may be working something out for the nationals. If not, I'll just be doing them on my own, I guess.
If that ride doesn't work out, I'm sure someone would be willing to pick you up. Who do you want to thank for getting you this far, Travis?
First of all I'd like to thank my parents for being behind me the whole time—without them I wouldn't be where I'm at today. Rusty out at Pro Source, he's helped us out for quite a while and without him we wouldn't have bikes. Jim Chamberlain at WB Racing Suzuki for giving the opportunity to ride for him, and the rest of my sponsors and family for all of the support.