Between the Motos: Bob Weber
Bob Weber is Troy Lee Designs' vice president of operations and has worked alongside the famous helmet painter and gear manufacturer for more than five years now. He has also been intimately involved with the development and management of TLD's racing enterprises over the course of his half-decade-plus working at Troy Lee. He's a passionate man who knows his stuff, and he fills us in on the TLD team's plans for the remainder of 2008, and on.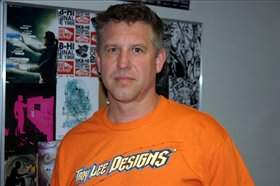 Bob Weber is the VP of operations at Troy Lee Designs.

Racer X: We recently saw a press release come out announcing the Troy Lee Designs Supermoto team will have Jeff Ward and Cassidy Anderson on it this year. Ward was going to be retired after last year. Has that changed?
Bob Weber: Jeff has re-evaluated his situation, and the series is only eight races this year, and two of those are in combination with X Games [ESPN events], and he decided he was going to make another effort at doing the whole series. He feels strongly that last year could've gone a little different if he wouldn't have had the DNF with a failed gearbox, and he wants to try and win that thing one more time. Jeff is all about putting a program together this year that will allow him to hopefully capture the 450cc Supermoto Championship.

When I talked to him at A Day in the Dirt, he mentioned that he was looking forward to teaching Chris Gosselaar about setting up Supermoto bikes and racing them. So it looks like that's not really going to be necessary, with Chris not racing Supermoto.

We met as a group probably 45 or 60 days ago just to discuss the Supermoto season when the Supermoto season was still very much up in the air, with the evolution of the AMA's interest in finding a commercial partner to help promote the series. Most people are aware that Chris was injured about a week before the first Anaheim. He broke a bone in his hand and separated his shoulder. Basically, Chris was not healthy through the whole west-coast series, and in fact, he sat out Houston and San Diego because he wasn't doing himself any favors riding the bike or trying to ride the bike injured. At that point, Chris felt that if he didn't get some kind of results going this year, he would have a difficult time finding a ride for next year. Our team never had any intention on riding any east-coast supercross rounds. We put the west-coast Lites team together with three riders, and we're really proud of our results.
Gavin Gracyk
is tenth in points despite missing two main events and he's really looking forward to racing Seattle and the East/West Shootout. Justin Keeney has been very fast at the test track but has struggled at the races on the weekends, and he's not in a position he'd like to be in, so he'd like to improve on that and hopefully participate in the East/West Shootout as well in Las Vegas. Chris, I believe, will stay on the 450. When the rules were changed to allow the guys on the west coast to ride 450s back east, Chris immediately rounded up a couple of CRF450s that he bought himself and made the effort to get back east and get to the races, which he's been doing under the Wonder Warthog tent for the east-coast events.

It's been pretty well known that Chris was planning to race a 450 for the rest of the year, which may be part of what fueled the rumors that the team may not return for Seattle and Vegas – especially seeing that he wouldn't be racing Supermoto for the team, and wasn't running the team graphics back east.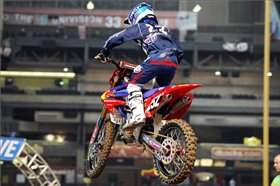 TLD/Red Bull Honda's Justin Keeney.
The thing of it is, all of the sponsors that are involved with Team Troy Lee Designs have been with the team for many years. As you know, we've been racing in some capacity for five years now, and this is our first effort into Supercross. It's an expensive endeavor, and all of our sponsors know exactly what we were doing. Our plan was not to race on the east coast. Gavin also wanted to ride a 450 back east, and we tried to get a motorcycle to him in time for Daytona, which proved challenging... Long story short, that may have ended up being a blessing with how Daytona turned out. Gavin had an accident where he hurt some teeth, too, and he had to get that squared away, but I believe he's planning on racing Toronto, but don't hold me to it.

There are also rumors of your team considering going full-time supercross and motocross racing. Is that something that may yet be on the horizon for your team?
I don't know where that rumor's coming from. Our agreement with American Honda is that we're their Supermoto program for American Supermoto, and that is what we'll do this summer. If this Supermoto series continues to be healthy in the future, I see us continuing in that vein. That being said, obviously we have discussed what the future might evolve to if for any reason there are challenges on the Supermoto side. We've developed quite an enterprise and a race facility and a core group of technicians, a race staff, a semi, a truck drive and all of the resources that go along with that. Obviously, we want to keep that program alive and going, so motocross and supercross may at some point be more of the equation, but right now, our plan is what it always has been for this year, which is supercross for the west-coast Lites and Supermoto in the summer time, and then bridge that back to Supercross Lites for the west coast, at the very least, for 2009. But we don't have a plan decided for what 2009 will hold for the team.

And a lot of that will probably have to do with what happens with the Supermoto series, right?
Exactly. Gavin Trippe's been working very hard to help manage and develop the Supermoto program. He's gotten two events tied into X Games that are AMA Nationals – or should be. There's some question with the first one just because of the timing of the whole DMG [Daytona Motorsports Group] situation. But Gavin Trippe has worked very hard to get a series put together and he's worked hard with the promoters and the individual tracks, race teams, manufacturers, the AMA and now also DMG, so the work that Gavin's done on behalf of Supermoto – and Troy [Lee] for that matter – along with all of the other interested parties shows that they're very active in making sure that we have a good season this year. I think there are exciting things happening in Supermoto for this season, in particular with the great exposure that we're getting from X Games – there's two of them this year. All of that stuff bodes well for Supermoto this year. Obviously, we did enjoy being at the west coast supercross events. That's our core business – motocross – and I can venture to say that you'll see us out there for the long term in some capacity in supercross.