Let's begin with the Daytona Supercross by Honda. Although it was one of the worst quagmires in recent history, it was good for Big Red as five of the six podium positions were occupied by Honda-mounted riders, including both winners, Kevin Windham and Trey Canard, of the Torco Racing Fuels Honda team. There were also two first-time podium finishers, as BBMX's Matt Boni landed in third in the Lites class and Bad Boy Energy Drink's Jake Marsack finished third in the AMA Supercross class. Well done, guys!
But that brings us to Round 11 of the 2008 Monster Energy AMA Supercross, an FIM World Championship, which is taking place inside Minneapolis's HHH Metrodome, a venue which hasn't seen a dirt bike since 2004. San Manuel Yamaha's Chad Reed is taking a 23-point lead into Minnesota over Windham, and Canard has a 24-point cushion over MDK KTM's Ryan Sipes in the Eastern Regional Lites division.
The big topic of discussion following the Daytona Supercross was the off-track excursions by Chad Reed during the main event, which ultimately led to him being penalized one position. We've received a ton of emails regarding Reed's sixth-place (now seventh) finish at Daytona, including this one from Randy Webber:
How can Chad Reed score any points when he DNF'd? He didn't make it to the checkered flag! Not to take anything away from him on the ride cause he was the dominant rider out there, but I always thought you had to finish the race! Has the rules changed?
P.S. I also I heard Ping was going to come ride the Racer X vintage weekend in Idaho. Is that true?

Reed completed 11 laps, plus most of the next lap, which put him ahead of everyone who only finished 11 laps total. Since there were only five other riders on the lead lap, he finished sixth. Which was later made to be seventh due to the penalty. In short, his 11 7/8 laps beats everyone else who only completed 11 laps.
And yes, David Pingree will be competing in the Boise round of the Racer X Inter-Am series on Mar. 29-30. David will be riding a 1974 YZ250 on Saturday and a 1981 Maico 490 on Sunday. Another rumor has it that former National star Tom Benolkin might race as well. Here's hoping Idaho residents Bob Hannah, Darryl Schultz, and Damon Bradshaw also attend.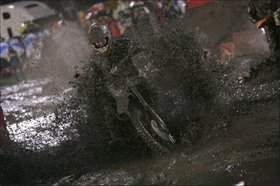 Chad Reed was a hot topic this week.

photo: Simon Cudby

Another Reed question from Todd Gibson:

How did the AMA decide on the 3 1⁄2 minute penalty for 22? Shouldn't he have been docked a lap or DQ'ed for the pass he put on K-dub in the left hander? I thought the video clearly showed he was off the track, accelerated forward past several Tuff blocks to 'gain an advantage,' and pulled even with Kevin to make the pass. Not a 22 hater. Just an inquiring mind.

The answer to that one has to do with the rulebook stating that it's either a five-second penalty or a penalty which results in at least one position loss, whichever is greater. The next person behind him was 3:30 back, so that's how much time they had to penalize him in order for him to lose a position.

So what's your take on the Chad Reed situation? We asked our online readers earlier this week in our Racer X Online Poll, and after more than 6,300 votes, 34 percent of Racer X Online readers agree with the AMA's ruling at Daytona.

Here's another reader's email we've received, and we hope someone out there can help him:

I'm moving to Okinawa Japan for three years (military – obviously). I was planning on taking my bike, but I also thought about selling mine in the states and buying a new one over there once we have a house (pronounced, "apartment with no chance of a garage") & a place to keep it. I tried looking for a way to contact one of the American marketing organizations for the manufacturers but came up with nothing. Can you give me some information or at least a place to look (please)? Thanks in advance for any help you can provide!
David. Oklahoma City, OK

Can anyone help? Email us at online@racerxill.com.

Steve Cox helped answer those Reed questions, so let's turn it over to him: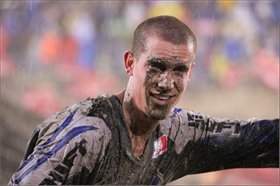 No wonder Billy Payne needed eye care!

photo: Simon Cudby

Exactly how gnarly was the mud in Daytona? Obviously, you've all seen the videos and photos, but when I talked to resurgent Lites contender Billy Payne earlier in the week, he said he had to go to urgent care for his eyes after the race in Daytona. So think about that. How many riders had goggles on by the end of that race? It might have been best for them to be using scuba goggles or something. No amount of foam is going to keep out that amount of water and mud. Payne said his secret to success at Daytona (he finished 10th, and on the lead lap after a dead-last start) was that he went out and had fun. He now sits seventh in points, in front of Branden Jesseman, Tyler Bowers and Jake Moss, and two points behind Martin Davalos. Not too bad for a guy that was working construction at this time last year (and for four years previous), huh?

Wil Hahn interviewed Josh Grant for us after the race in Daytona. See if you can pick up on the sarcasm.

Wil Hahn: Josh, you know, it was slightly muddy out there – a little more than tacky. I couldn't tell from the stands, because it was a little foggy from the smoke and stuff blowing from the starting gate, but I just wanted to know how your night went, starting in practice and going forward.
Josh Grant: Well, Wil, my season is pretty much on a roller-coaster ride that never ends. The first drop actually goes underground, because it's so far down right now. But you know, the track was super-tacky, as you can tell. I was just getting so much traction out there that I just didn't know what to do with my bike. Overall, if I would've had a snorkel, I think I could've done a lot better. I think that I might just show up next weekend with a fan boat and try to do the best I can with that.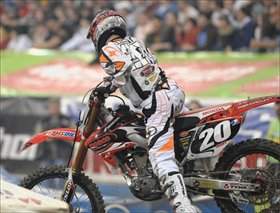 Josh Grant is on a roller coaster ride this year.

photo: Steve Cox

I was chatting with Dennis Jonon the other day, and he had some news. On Tuesday, March 11, he went in for a total-hip arthroplasty on his damaged leg. Jonon has been making a go of it in the pros for the past few years despite one of his legs being quite a big shorter than the other, from a crash when he was an amateur and still growing that halted the growth of his leg. He says his goal is the be back for the West Coast Lites SX series next year, and then go on to race the Nationals after that. He says he should be back on the bike in just two or three months, but he's going to take his time to get healthy and ready for 2009.

"I am so excited to get this done," Jonon said. "I haven't been 100 percent for almost eight years, and back then I was beating guys like Mike Alessi and Ryan Villopoto. I will be coming back 200 percent after this. I would love to get a chance for a try out at a test track with a big team to prove I have speed on good equipment, so hopefully something like that will come my way." If you're putting together a team for 2009, you can get in touch with Jonon at 913-980-1012 or via email at dennisjononmx@aol.com.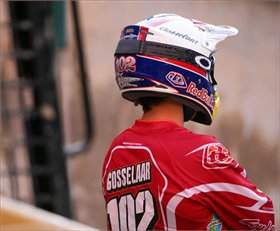 Goose may be looking for a ride this summer.

photo: Simon Cudby

You may have noticed that Chris Gosselaar is racing a 450 on the East Coast. However, you may not have noticed that Gosselaar's 450 is not adorned in the Red Bull/TLD colors of his West Coast 250F. You may have also noticed the recent press release announcing the 2008 TLD Supermoto team, and that it didn't include Gavin Gracyk, Gosselaar or Justin Keeney in the lineup. The original idea was that some of – or possibly all of – the SX-team riders would race Supermoto for the team over the summer. Well, I ran into Gosselaar at Daytona, and he said his Supermoto plans are now a no-go. He'll be spending the summer at home unless something else pops up. So, beings that Gosselaar isn't running his team graphics back East, will the team even bother returning for Seattle and Vegas?

Paul Carpenter read, with interest, the story in the April 2008 issue of Racer X entitled "The Team," where Mitch Payton talked about all of his riders. Payton said Carpenter liked to "smash things," and his training partner – also from New York – Bobby Kiniry likes to smash things as well. Carpenter responded at Daytona: "I guess it's just a New York thing," he said. "We don't really go around the bump that's in front of us, we'll go through it, and I guess that's where the term smash came from. But I don't want to smash everything or smash everybody, I just want to ride, and at the end of the day, I want to go home too. I've got a lot of stuff to look forward to, and that's not my deal. I read that thing where Mitch said, 'Pauly wanted to smash this and smash that,' and he can think what he wants to think – he gave me a great job and he had an awesome team to ride for – but it's not like that. I put a lot of work in, and some people don't understand me. I want to do really good, and sometimes I'm not able to. I don't know if it's mental or what, but I work really hard to be ready, and Mitch and other people misunderstand me when I say 'smash'. I just want to frickin' do it. If there's a better word for it, then tell me."

Rockstar/Makita Suzuki's Ryan Dungey will be racing his first home-state supercross, as there hasn't been a Minneapolis SX since 2004. After finishing a strong fourth in his debut, and then running third in the muck of Daytona before finally succumbing to the elements, will he be inspired by his home race? Or will it just provide added pressure? One thing we know is that he's showing up with a pretty cool new sponsor. To read more about it, click here.

I don't know if any of you caught the season premiere of Beauty and the Geek this week on the CW network, but it prominently featured the one and only Leticia Cline. It became obvious quite early that she's the brains of the beauty-queen side of the house, but that's honestly not saying much. Not that Leticia isn't smart, but the rest of the girls are really, really stupid. One girl in the beginning of the show said she got her exotic good looks from her mom, who is from Egypt, which is "in South Africa." This year's series is about the Beauties versus the Geeks, so it's girls vs. boys this time. It seems likely that Leticia will stay on the show for the long haul, as she's the brains of the outfit – that is, unless the other girls figure that out, which seems unlikely. So check her out in the coming weeks. You probably have plenty of time to do so.

DC added this: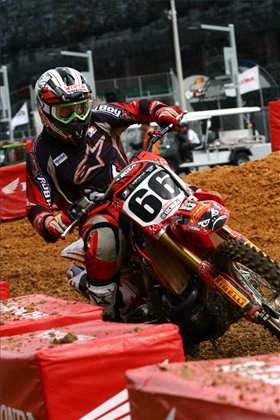 Jake Marsack gave Alpinestars gear their first AMA Supercross class podium finish last Friday.

photo: Matt Ware

I spoke to Jake Marsack this week and found out something interesting: the third-place finisher actually got lapped! The mud master also saw the white flag twice. What happened? After a terrible start—dead last!—Marsack was doing his best to work his way up through the pack, but he was no match for the series points leader. But after Reed lapped Marsack, the Michigan rider went with him.

"I saw him come around and I was just trying to keep my eye open for where I was and just wanted to make sure I didn't get in his way," he told us. "I think he actually lapped me, but then I followed him through the pack, and once I saw him go down…

"So I got the white flag twice. I actually pulled over and stopped and looked back and said, 'I think they threw the white flag again.' I really didn't want to do another lap, but I did and I'm glad I did. I think the second turn after that, I figured it out that I was in good position." No doubt about that! Marsack spent the week in Georgia at the GPF, riding with MDK/KTM's Ryan Sipes, Justin Sipes, Dave Ginolfi and some others. And yes, he is riding the same bike this week as he rode Friday night in Daytona, though his Rick Ware Racing/Bad Boy Energy Drink team tore it down and rebuilt it, sending him pictures along the way.

One more thing: Was Marsack's third-place finish Pirelli's first podium in AMA Supercross? Here's another: Was this Alpinestars' first podium in the AMA Supercross class as a riding gear manufacturer?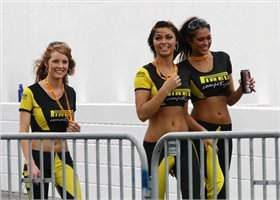 Pirelli made the podium at Daytona with Marsack as well.

photo: Matt Ware

Just a note on the big announcement out of Aurora, Illinois: In a story first reported on Superbikeplanet.com, longtime Live Nation exec Roy Janson left the company this week. There was some confusion at first, as it was thought that Janson was retiring to Ohio to spend more time with some of his grandchildren there. Turns out Roy is headed for Columbus to hit the "pause" button for a little while, but he may yet end up where a lot of folks think he will end up: with old friend Roger Edmondson, whose Daytona Motorsports Group is in the process of acquiring AMA Pro Racing. Janson goes way back with Edmondson, and he's also one of the most experienced, versatile event/series managers in the entire sport. Roy is still a huge racing enthusiast, so this opportunity to be involved in the most momentous change in the history of American motorcycle racing might be too much for him to stay on the sidelines long.

One other thing: Janson was the AMA MX/SX director through the early nineties, then left in 1994 when the SX promoters briefly considered running their own sanction body, dubbed AIR. A peaceful resolution between the AMA and the promoters worked out, but Roy stayed on the promoters' side of the table. For the past dozen years he has played a huge role in helping shape what is now the Monster Energy AMA Supercross Series, and has worked with the likes of Charlie Mancuso, Gary Becker, Bill West, C.E. Altman, Eric Peronnard and more. In other words, he's seen the business of event and series organization from both sides of the table in the last two decades.

The new issue of Racer X Illustrated—the first of our second decade—just landed in our laps and I spotted this quote someone pulled out of Noise. "If you're Trey Canard, call it quits. Leave on top, undefeated." That's from none other than Jason Weigandt, on the Supercross Live! webcast right after the Atlanta main event. Funny thing is, Trey didn't stop right there, and he's still undefeated! Wow, even the real experts get it wrong sometimes… But not as wrong as others.

199 Lives, featuring Travis Pastrana, will premiere on April 16 & 17 in more than 400 select movie theaters nationwide. Travis hooked us up with some tickets, so for the next three weeks we will be playing Travis Trivia in Racerhead.

To enter, you'll need to check the list of theaters to make sure there is one near you, and then correctly answer our Travis Trivia question. We will randomly choose one winner and send them off to the movies.

Name the year that Travis Pastrana won his first Loretta Lynn's championship, and the class.

Email your answers to online@racerxill.com.

There are still several riders on the sidelines, including Honda Red Bull Racing's Ben Townley, but we just found out that he is finally back on the bike. He was hanging out in the Honda rig at Daytona, along with a bunch of other folks dodging the rain: Jeff Stanton and his father, Erwin, Erik Kehoe, EnduroCross founder Eric Peronnard, Fred Bramblett, Andrew Short's father-in-law, Tom Hudson, and a few others, enjoying an all-time bench racing session. Townley is riding his CRF450R again while also undergoing some therapy on his foot. You can read an update on BT101 —a full-on student of motocross history, by the way—on his website right here: www.bentownleymx.com.

Also, look for Ben's BT101 column to make a return soon to Racer X, but with one condition: He wants his monthly check for the column to go directly to Red Bull's Wings for Life program. (And Fubar, he wants his new Racer X rider sticker to have Honda colors!)

Throughout the afternoon, I kept trying to talk Stanton into putting on the gear and heading out there. I'm sure someone at KTM was thinking the same of David Knight. Like Bramblett said, it's a shame that KTM couldn't enter Knighter at the last minute, because he may be the best mud rider on the planet right now—he even topped Stefan Everts a couple years ago at the wet, muddy Weston Super-Mare Beach Race in England—and would have had an excellent shot at getting KTM its first AMA Supercross win.

Here's a few additions from Steve Matthes:

I have a Tim Ferry update. He rode this week and will try to race, at least it's 90 percent for sure. Scratch that... Just talked to Ferry and he's out, had two good days of riding but now is pretty sore. Ferry out for Minny.

For hard hitting journalism at it's finest check out Matthes' podcast with Jeff Stanton here.

And yet even more knee-slapping humor, here's his Observations from Daytona before he got wet and left before the mains.

Speaking of Observations, here's some fan mail for you, Matthes:

Hey Steve your column is the best moto related column in cyberspace. But wussing out at Mudtona kinda sucks, a REAL man would have stuck it out. Thanks for all the great stuff you write and see you at the Humpty Dome this weekend (if you make it)
Doug LaRock

Tickets to Daytona: $35
Umbrella, raincoat, galoshes: $48
Getting called out by Mike LaRocco's distant cousin: Priceless.

And this is from Mototalk: "I got a call back from the AMA after OBS posted but Hansen got DQ'd because he was cutting the track blatantly. JT also confirmed this to me as he said Hanny blew by him on the grass one lap. I will now duck while the CR-track cutting-why-Hanny-and-not-Reed talk begins."

Let's turn this over to Ping: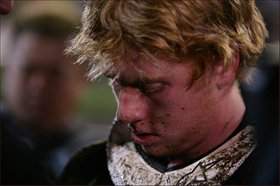 RV is due for a W.

photo: Simon Cudby

I called Grant Langston to get an injury update on him and the Factory Yamaha rider is still recovering. His vision is improving slightly but it is a slow process. He still doesn't have a lot of clarity when he is approaching jump faces or ruts. He also had some work done on one of his wrists since he was going to be out healing his eye anyway. The wrist is healing quickly and GL said that he even rode a little bit at his track in Florida this week. "I just went out and kind of cruised around. I'm not to the point where I can start pushing because I can't see all that well, but I just wanted to ride a little bit to stay on the bike. I worked on some flat turns and just kind of had some fun. I have to make sure that all the jumps on my outdoors track have perfectly smooth take-offs because I can't tell if there is a rain rut or something like that. It's kind of sketchy but I just want to get back on the bike." Grant is hoping for a return at Glen Helen for the start of the outdoor nationals.

If I was in the Villopoto camp I would be pretty bummed out with the broadcast crew from Daytona. During the race they repeatedly talked about how Canard had "gotten in Ryan's head" and that's why he hadn't won a race yet and why he didn't look like himself in the mud at Daytona. But it would have done them some good to find out about the injury to Ryan's wrist before the series got started. RV had two different surgeries to his right wrist during the off season to address an old injury to his scaphoid, or navicular bone. Anyone that has had surgery knows that those things don't heal overnight and the fact that he had two operations tells you a little something about the situation. He admitted that he only started riding just a week or two before the season opener in Atlanta, knowing that he would probably have to race his way back into form. His altercation and subsequent DNF in Georgia didn't do his wrist, confidence or title hopes and good. And after talking to the Pro Circuit camp this week about Ryan's ride in Daytona, it turns out he didn't have any brakes after the second or third lap. When he ran into the barriers by the mechanics area and fell over it was because he couldn't slow down. So, for him to get a second under those circumstances is respectable.

After talking to a few other guys about the Daytona mudder, it sounds like there were lots of guys having trouble with their brakes. They speculated that the fine, sandy soil mixed with that much water was like liquid sand paper and it simply ground their brake pads down to nothing in a matter of minutes. And that wasn't the only problem. I did a bicycle ride with Ryan Morais this week who told me that he had his share of problems last weekend.

"I was running third or fourth for the first couple laps and I actually felt pretty comfortable out there. My bike started popping and spitting a little bit on the opening lap from going through the puddles." Then, like many other bikes that night, Morais's steed just quit running. He says that when they took the seat off back in the pits the airbox was filled halfway up the filter with muddy goop that, understandably, went straight through the motor.

And what about Trey Canard? I didn't think it was actually possible to give 200% effort but this kid is doing it. Even in the mud he looked smooth, fast and completely in control. I'm pumped for him because he is genuinely a nice kid; and he's got a sense of humor. I mean, anyone that likes the movie Anchorman as much as I do can't be all that bad. I'll bet you that even if he has to bump up his effort to 250% to win the championship Trey will make it happen.

Thanks, Ping.

Moving on, the 2008 amateur motocross season kicked off in a big way this week in Whitney, Texas, at the Parts Unlimited Spring Classic at Lake Whitney Motocross Park. Wes Williams and the boys over at www.vurbmoto.com are keeping everyone up to date with videos and results posted daily, as well as Chris Hultner on www.amateurmx.com. For live scoring and results, click here. You can also check out daily films posted by Wes at www.racerxfilms.com.


Last week, Jim Kimball did a Privateer Profile interview with Michigan native Josh Woods, who we haven't seen on the track for a while. Josh is doing really well, and he's staying busy riding at the Georgia Practice Facility (GPF). After we posted the interview, Josh sent us this:

"Thanks for posting the interview! It's really good press for GPF and for myself, seeing how I have been MIA for a while. Anyways, I have a kid staying here at GPF who has been making some films and trying to get his own productions thing going. I'm sure you guys get tons of people wanting to post vids but I told them I would send you guys the links to check them out on YouTube and if you're interested you could possibly get them on the Racer X Films site. Check them out and let me know what you think. Also, if you ever need clips from anyone down here, like Millsaps or Davalos, he would be a good guy for it. Thanks a lot."

http://ca.youtube.com/watch?v=SKes91Og2kQ

http://ca.youtube.com/watch?v=xAe_FlnygAY

Here's an update on injured rider Hayden Justice from Kevin Boyle:

"I just spoke with a real good friend of the Justices. Jay had surgery for his C-6 vertebra. The surgery went great he'll be in a hard neck brace for 8 weeks. Hayden's left the hospital two days after the accident and is at home with grandpa doing great."

That's great news, Kevin. Thanks.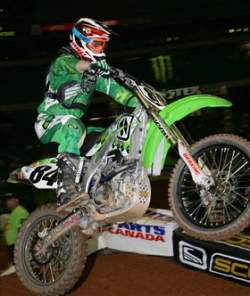 Chris Whitcraft needs some help!

photo: Simon Cudby

Live in Ohio and looking for something to do tomorrow? We got this from Rupert X:

Where: Roosters, Lancaster OHIO. On Rt.33. Stoplight City.
When: Saturday, March 15 From 2-4 PM (1400-1600 Hrs)
Why: Besides Suffering Multiple MX-Related Injuries Throughout His Career, Chris Whitcraft Recently Had His Van, Toolboxes and Bikes Stolen At The Atlanta Supercross.
What: We're Going To Party And Chip In To Help CHRIS. That' s What We do.'Cause Chris Is All About Motocross And So Are We.
Dress-Code: Normal Relaxed MX'r Attire. Black hat backwards, etc….

If You can't attend, but yet want to help, click here.

Sports Illustrated posted a four-part column about steroid and other PED use in America, where it is made evident that such things are not just for athletes, but that many people in Hollywood, in the music industry, and others, are very likely taking HGH and the like. It's called "Steroids in America: The Real Dope," by Jack McCallum. It's a very interesting read.

Autographed Roger DeCoster Team Honda pit shirt on eBay.

Coming in fall 2008 A new movie on Motorcycle racing The Indian Wrecking Crew here's a trailer.

2008 Pre-MXoN Report by David Bulmer over on Vurbmoto.com.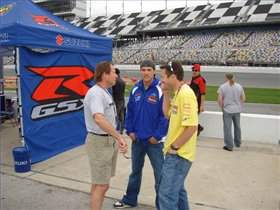 photo: Scott Wallenberg

Roger DeCoster dispensing advice to Ben Spies before his Superbike race in Daytona.
Check out this Evel Knievel memorabilia Don Hachmeister found in between beers on Main Street in Daytona Sunday afternoon:



That should do it for this week. Thanks for reading, and we'll see you at the races.