Bench Racing Ammo: SX Rookies
Thus far in his career as a professional supercross racer, Trey Canard is perfect. The Torco Racing Fuels Honda pilot has won each heat race and main event that he's been in so far, making him a perfect six-for-six—and he has led all but one lap of the three main events. (MDK/KTM's Ryan Sipes has led this kid the most, and that was in a heat race in Atlanta.)
So for this installment of Motosport Outlet Bench Racing Ammo, let's talk about some of the other company that Canard joins for having such an impressive rookie debut in AMA Supercross Lites racing.
In 1989 Damon Bradshaw opened up the Eastern Regional Lites series by winning the first three main events before having his streak halted by Mike LaRocco in Houston. Back then they had a few East/West races, and that was one of them. Bradshaw then strung together three more wins later in the season to guide him to the championship over Mike Kiedrowski by one point (217-216)! Surprisingly, that would be the only championship Damon Bradshaw would win as a professional motocross racer.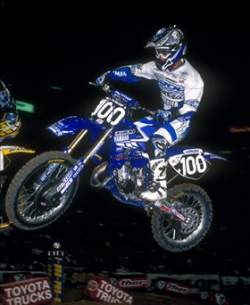 Ernesto Fonseca has one of the most impressive rookie SX seasons.
photo: Karl Ockert
The most impressive debut by a rookie in supercross came in 1999 when Yamaha of Troy's Ernesto Fonseca won the first four rounds of the Eastern Regional series aboard the #100 YZ125. Ohio's Brock Sellards put a stop to the Costa Rican's win streak in Pontiac, Michigan, but Fonseca resumed his winning ways the very next weekend and totaled six wins on his way to the championship.
Chad Reed had another impressive Lites debut here in the States, as he won the first six races in the 2002 series aboard a Yamaha of Troy YZ250F. Many people consider his one of the best rookie debuts, but Chad really wasn't a rookie. He was coming off a second-place overall in the 2001 World MX Championships and he even raced the first three supercrosses that season aboard a YZ250 and finished 6-5-8. Regardless, it's an impressive feat, and only an upset win by then-Suzuki-mounted Branden Jesseman at Pontiac kept him from racking up what would have been only the second perfect SX season in 125cc SX history—RC's perfect '98 sophomore season remains the standard.
Canard can match Fonseca's 4-for-4 start and he still has a shot at a perfect season, but with Ryan Villopoto absolutely overdue for a win (not to mention Josh Grant), both marks will be a tough chore, even for a red-hot rider like Trey Canard!
And finally, a nod to Marty Tripes, who just a week past his 16th birthday, won the first-ever supercross race at the Los Angeles Coliseum in July of 1972, though that was not an actual AMA Supercross race, but rather a round of the old Inter-Am Series.
Any other SX rookie upsets you can think of? If so, drop us a line at online@racerxill.com.