Kawasaki/Racer X Race Report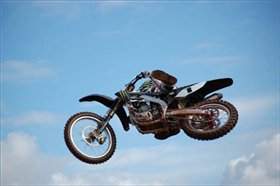 Billy Mackenzie just ran away and hid in the MX1 class.
The two brightest stars in British motocross ruled the roost at Donington on Sunday. For
Tommy Searle
, it's just another step on the road to America whilst Billy Mackenzie started the campaign to regain his title exactly how he means to go on...
The first MX2 moto soon became a three-horse race as Shaun Simpson and Searle queued in second and third behind Pascal Leuret's Suzuki. Within a handful of laps, Simpson and Searle were through into first and second – it was Simpson who led before Tommy battled past Shaun. Simpson made a decent fist of bringing the fight back to the number two KTM of Searle, but then he hit troubles of his own, first slowing to let Leuret by, then withdrawing altogether. Further back, Gareth Swanepoel came from behind to pass his Molson Kawasaki teammate Stephen Sword as they both charged through the front of the field, but the experienced Sword, showing great form after a terrible couple of seasons recovering from injury, regrouped and re-passed the young South African on the last lap to snatch third. Reigning champion Mike Brown stalled his CAS Honda and struggled to restart it. Circulating a lap down, he eventually brought it home 21st.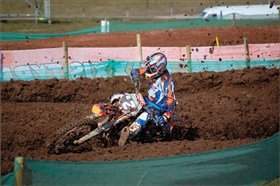 Tommy Searle isn't scheduled to compete in the whole championship, but on current form, he would have to be a favorite!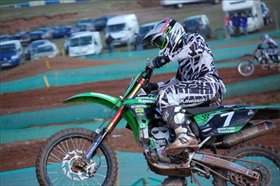 Stephen Sword is showing signs of returning to his brilliant best after two years lost following horrendous leg injuries.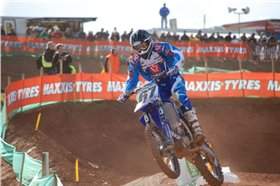 Kenneth Gundersen made a bright start to the campaign after less than ten hours on a bike following surgery.
In MX2 moto two, Swordy managed to get away with Searle, Simpson and Leuret, and the battle quickly shaped up between the three Britons, with Leuret holding a watching brief. Sword led, but Simpson soon came by – when Searle also made a pass, it looked as though Molson's Grand Prix veteran would fall back. But the Scot regrouped and went to work, staying with the battle and repassing Simpson after Tommy made his move for the lead. For a short while, it looked like the number seven of Sword might challenge Searle, but the KTM star slowly eked out a lead for his second win of the day. With Searle effectively withdrawing from the series (with this currently the only round he's scheduled to compete in) on today's form it looks like the battle will most likely between Sword and Simpson for the race to take Brown's crown.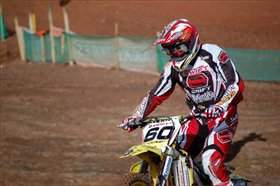 Bad Brad Anderson got a great podium after a typically spirited fightback through the pack in moto one.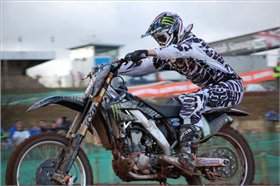 Brownie's bid to retain his crown suffered a slow start - after a small crash, restart problems put him a lap down in the first moto.
In contrast, the smart money has to be on Billy Mackenzie's number one plate staying firmly where it is. Reigning MX1 champion Billy Mac barely put a wheel wrong to win both motos. Holeshotting moto one, the Scot motored out to a comfy lead and just brought it home whilst behind him, Tom Church made a fine debut in the MX1 class, running a comfy second until Kenneth Gundersen, making a great recovery from surgery, came slowly creeping up. Gundersen made a pass with just over a lap to go - TC had nothing left to respond with, but making the third step on his MX1 debut is admirable.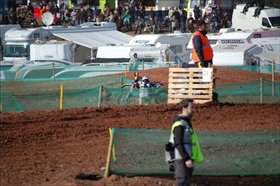 Shaun Simpson was the man to challenge Searle at Hawkstone, and he was the closest on pace at Donington. However, his day was marred by a DNF in moto one.
As the weather threatened to turn nasty, Billy Mac motored calmly away again in MX1 moto two with Church second once more – this time; however, the Molson Kawasaki star had Gundersen, James Noble and Brad Anderson for company right from the start. Church was soon dropped into a fifth place he would hold until the end, but the places between Gundersen, Noble and Ando seemed to change lap on lap. As the silky smooth Norwegian also began to slip back, Noble and Anderson went to war, with the KTM-mounted Noble getting uncharacteristically aggressive at times. Ultimately, Noble's attempts to fight back would cost him as he made a mistake that dropped him out of the battle and behind Gundersen once more, where he would finish. Anderson sealed an excellent third overall, after a typically spirited fightback from a bad start in moto one.
ACU Maxxis British Motocross Championship
Round one, Donington - MX1
1. Billy MacKenzie
2. Kenneth Gundersen
3. Brad Anderson
4. James Noble
5. Tom Church
6. Mark Jones
7. Wayne Smith
8. Micheal Phillips
9. Mark Hucklebridge
10. Bryan MacKenzie
11. Jamie Lewis
12. Mark Eastwood
13. David Willet
14. Alex Rach
15. Glen Phillips
16. Jim Murro
17. Jordan Rose
18. Danny Smyth
19. Richard Lawson
20. Richard McKeown

ACU Maxxis British Motocross Championship
Round One, Donington - MX2
1. Tommy Searle
2. Stephen Sword
3. Pascal Leuret
4. Martin Barr
5. Carlos Campano
6. Gareth Swanepoel
7. Neville Bradshaw
8. Elliot Banks-Browne
9. Shaun Simpson
10. Kristen Whatley
11. Alex Snow
12. Mike Brown
13. Carl Nunn
14. Mel Pocock
15. Marcus Norlan
16. Scott Probert
17. Alex Butler
18. Daniel Arnold
19. Kjetil Gunderson
20. Jonathan Pettitt