Hello, everyone, and welcome to the Rev Up. There are few places in the world that omit a vibe that kisses your skin the second you step out of your car. In my life, I've felt this sensation in places like Allen Field House, Loretta Lynn's, and Arlington National Cemetery. Those are three very different places, but they have a common ability of channeling their history into you. Daytona somehow accomplishes this better than any place I've been to. The majestic confines have hosted some of the most incredible moments in sports history and commands respect. All NASCAR lore aside, the Daytona Supercross is a race that every prolific motocross racer in the history of the sport has either won, or laid in bed awake at night wishing they would have won.
Ricky Carmichael
won his first supercross race there. Jeff Stanton and he tied with four consecutive wins, while RC has five total. They were able to win at Daytona because they were strong. Who is going to have the strength to capture victory tomorrow night? Let's get Revved Up about Daytona.
Lites
Can anyone stop Trey Canard? The Oklahoma-born Torco Racing Fuels Honda rider is off to one of the most impressive rookie seasons we've ever seen. However, he faces his biggest challenge yet, as he tries to make it three in a row against Ryan Villopoto. There is a full gate of other riders that he also has to beat, but RV2 will be bringing the heat in a big way. I'm not sure if anyone will be able to stop him this time around. Beyond those two, there is a huge gaggle fighting for the podium. Nico Izzi has been consistent, and Branden Jessemen has shown some renewed speed. Some other guys to watch out for are local boys Matt Goerke and Kyle Chisholm. Ryan Sipes and Martin Davalos have also been riding strong aboard their MDK KTMs and will be looking to put some orange on the podium.
And what the heck is going on with
Josh Grant
? With this being a Honda-sponsored event, there will be some added pressure for him to win. He has had a tough go of it the past two weeks but he can make it all better in 15 laps. He has finished second at Daytona twice - in 2005 and 2006.
Supercross
Chad Reed crushed any signs of weakness last weekend in Indy. Just when it seemed like the Honda boys were closing in on him, he went out and laid wood big time. He is going to be really tough tomorrow night as well. But like I mentioned above, this is a Honda event and Davi Millsaps, Andrew Short, and Kevin Windham will be riding with a little extra motivation. They better, because Ryan Dungey and Josh Hill are riding well enough to block the Red Riders from the podium. Hill is really coming into his own and with this being more of an outdoor track, I think he'll surprise some folks.
It's going to be a gnarly race no matter how you slice it. Twenty laps of chopped-out, rutty, sandy supercross typically has the riders' tongues in the spokes by lap 10. Only the hard and the strong win at Daytona.
Thanks for reading, see you next week.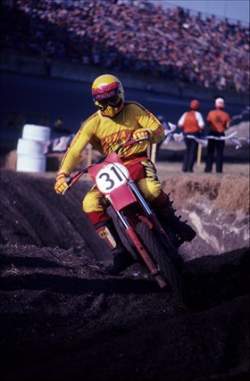 Old-school Daytona.
photo: Dick Miller Archives