Between the Motos: Kenny Watson
I've known Kenny Watson for 11 years. When I was first starting out as a mechanic with Ty Birdwell, he was the Moto XXX team manager. He's certainly done a lot in the industry as a mechanic, team manager, goggle guy, freestyle tour manager, and now back to team manager with Rockstar/Hart and Huntington Honda. He's also probably responsible for former AMA referee Duke Finch's early retirement! A polarizing figure in the industry and one that's never afraid to speak his mind, I sat down with the colorful character at Indianapolis for this interview.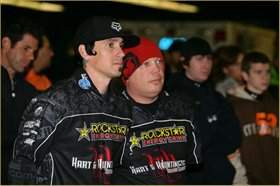 Carey Hart and Kenny Watson

photo: Simon Cudby

Racer X: So we're just past halfway in the SX series, how are things going?
Kenny Watson: Not bad, we've had our ups and downs but it's a new team, new year and that's what to expect. We started out having Josh Demuth and Troy Adams but Demuth got hurt before the season and that bumped Troy up to being the man on our team. Troy had high expectations and you saw how good he was riding before the season, and he's been riding good but when he gets to the races he's had his issues with other riders and issues with himself. But besides that his speed is good and he's getting it down. We hired Cole Siebler to take Josh's ride and he's been up and down as well. Sometimes he looks like he's a 2x4 out there – real stiff. He's got some talent, though, and he's getting better. My expectations were high going into the season with this team, just like when I started Moto XXX. We wanted to have a pit presence, and with our owner being Carey Hart, it's been great.

When is The Sheriff coming back and how does that affect Cole?
I think Dallas is what we're shooting for with Josh and as far as Siebler is concerned, that's still up in the air. We're going to work that out shortly.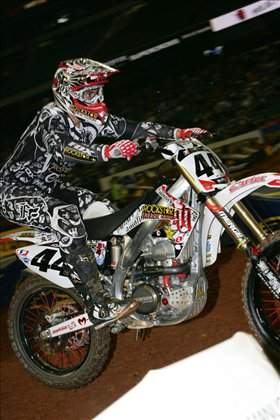 Troy Adams is currently Hart & Huntington's main rider.

photo: Simon Cudby

You've been there for the beginning of both teams, Moto XXX and Hart and Huntington, and both are real similar. Can you compare them?
First of all, the whole XXX thing was kind of a joke that we talked about. Then, at the end of 1996, I worked for Scott Sheak and he got a factory Honda ride, I was trying to be his mechanic and we were shooting the first Moto XXX video at the time and it came to the end at Honda between me and one other guy. I really didn't feel that I was the Honda type. They were telling me I couldn't color my hair and I had to wear a belt and I just felt that I couldn't fit in over there. Then, the day after my interview with Honda, I got a call from Erik Sandin, Kurt Haller and Jordan Burns saying that they were really going to start a team and wanted me to manage it. They said I could have complete control and pick the riders and everything. I thought about it, and that's where it started. I was everything for two years with them – truck driver, manager, mechanic; you name it. They're still around, the longest privateer team, and I started it! Allan Brown took it over and is doing a phenomenal job with it.
But anyways, to answer your question, [laughs] they are real similar in style and substance and I do a lot of the same things. It's just on a bigger scale and I guess I don't do everything anymore!

How many day-to-day things does celebrity owner Carey Hart do for the team?
I go through Carey for all the big issues. It's his team and he's the ultimate boss. Obviously, when I order air filters, tires – things like that – I don't consult Carey, but signings and financial issues he keeps a pretty tight leash on. This is the first team I've been on where it's a business. People look at me, Carey and Josh and all our guys on our program and we're all tattooed up and they think we're party guys. At the end of the day, we want to make our sponsors happy. We're here to promote Rockstar Energy Drink and all our sponsors. It's not fun and games with this team. We're not drinking beer and going to strip clubs all night. We're here to race and do well. At the end of the night, when we have our team meeting, it's all business.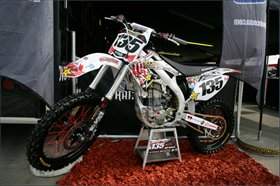 Josh Demuth may return to the track in Dallas.

photo: Simon Cudby

You've certainly been around the block. You were even out of the industry for a couple of years. What's been the most rewarding thing for you?
You know, I've had a lot of ups and downs over the years, so that's a good question. I got involved with this whole industry after I screwed up my baseball career. Kyle Lewis was my friend and brought me to a race in 1990, and I've been doing that ever since. That first year at Moto XXX was pretty amazing; we went out and won pretty much our first race with Brian Deegan at the Coliseum. Everybody knows what he did – the whole ghost-riding thing, and there was some controversy there. I remember Robbie Reynard's dad trying to protest us because he said that the rider has to be on the bike across the finish. We almost got into a fist fight!
Working for Scott Sheak in '96 was pretty cool. He wasn't expected to do much and we went out and had some good races. That was pretty cool, helping him get a factory ride. But I really think hands down, this program right now has to be my best opportunity and best job I've had. I've been friends with Carey for a long time, I've seen his career go up and down when I was working on the Nationals and he was just a three digit guy trying to make it. He met a few people back then that would say, "Oh, he's just a three-digit guy," and wouldn't want anything to do with him. Some of those people are still in the industry and he remembers that kind of thing. He even reminded someone of that a while ago, saying, "Not bad for a three-digit guy, huh?"
This industry is funny that way. I remember when I was the team manager of Plano Honda and when I left there I was managing the Vans Warped Tour – really not doing much. I came back to the scene as a mechanic when one of my Plano riders, Travis Elliot, decided to come back as a privateer. He called me and I said, "Yeah, that would be fun." So I'm walking through the pits and I'm not going to name any names but here was this guy that was absolutely jocking me when I was a manager and I said hi to him and he just turned his head and completely ignored me!


The Rockstar/Hart and Huntington Honda team is a welcomed presence in the SX pits.

photo: Simon Cudby

Who's been the most entertaining rider you've ever managed or worked for?
I'd have to say Brian Deegan. I worked for him in '95 and then also in '97 at XXX. In 1995, I lived in Omaha, Nebraska, at Denny Stephenson's house because that's also where Brian was from as well. He lived at home with his dad and his getaway was driving across the United States with me in a box van, racing. He kind of came out of his shell then and became the Brian Deegan we know today. We had quite a few funny things happen to us, also. We were at Troy, Ohio, and Brian was running an illegal bike at the time. We also had like seventh gate pick, but Brian knew he could pull the start from the outside with this bike so he lined up at the last gate. I had yellow hair and Deegan had purple hair and there were these guys right against the fence just calling us names – just vulgar names, really. So anyways, he goes out for the parade lap and when he comes back, I'm holding his bike when he just walks over to the guy and gives him his goggles! The look on the guys face was so funny. He couldn't believe it! When we came back for the second moto, one guy had a sign that said, "Deegan rules!" It was funny.

All right, thanks, Kenny.
Thanks, Matthes.