Privateer Profile: Jiri Dostal
February 28, 2008 12:32pm
Jiri Dostal is a privateer in the truest sense of the word. The WWR rider put together his own deal with a local shop to get his bikes just weeks before the opening round of Supercross and assembled his list of sponsors in the same amount of time. Jiri has only made one main event so far this season—the third round in Anaheim—but he plans on making more.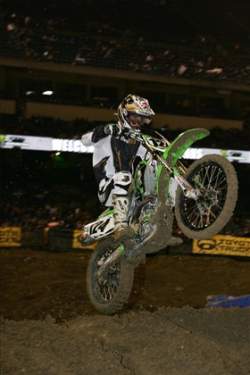 Jiri Dostal

photo: Simon Cudby

Racer X: What are your thoughts about your season so far?
Jiri Dostal: It could always be better. For everything being so last-minute this year it isn't that bad. It has been frustrating missing the main events by one spot; that has happened three times this year. The last race in Houston I got into a pile-up and broke my bike. Things are really close this year. If you look at the lap times from tenth to twenty fifth everyone is within a second of each other. So, it's all about getting a start and not making mistakes. My starts haven't been that great so I'm working on that. There's nine rounds left so I'm just looking forward and focusing on putting it in the show.
How is life under the Wonder Warthog tent?
It's good. It might look a little chaotic from the outside because there are so many guys under there but it actually runs pretty smoothly. If you have any issues though, those guys take care of it right away. I really can't complain especially since I put everything together at the last minute.
You've had some injuries the last couple years too.
Yeah, last year, mainly. After my return to Supercross in 2005 I made it through that whole season injury-free. The next year was good but last year I had four broken bones and pretty much blew out my leg from the knee down right at the start of the Supercross season. After that I broke my hand and sprained my neck. Then I broke my foot and then broke my finger in two separate crashes. So, really, the last year and a half has been tough. But I'm healed up fine now and none of that bothers me. I just need a little more luck and little better starts and a few good breaks.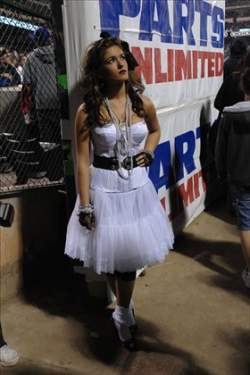 Dostal finished 18th at Anaheim 3.

photo: Steve Cox

Are you comfortable on the tracks as we head back east?
I would say I'm more of a west coast guy but it's been muddy out here the whole time. I do like the dirt back there and I don't mind going back there at all.
You got your one and only 125 Supercross podium in St. Louis in 1999 so you must like something back there. Maybe it's the greasy Waffle House breakfasts.
Yeah, that might be it. I likes me some waffles and chocolate milk. We were teammates that year. We're getting old.
Yeah, we are. How old are you now?
28. I'm not too bad yet.
What are your summer plans?
I'll probably do the first couple outdoor rounds just for fun… if you can call it fun. They are just so close I might as well do them. The guy that has been helping me a lot this year, Manny Ornelius, or Manny Fresh as I call him, is all gung-ho and he's working on putting something together for me. I'm also looking to do some international Supercross races and maybe the Supercross series that is going on down in Australia. I just want to keep racing. I might even try a supermoto race or something. I just want to keep racing. I think I have a few good years left in me so I want to go after it.
It's nice to know you have something to fall back on when you are done racing. (Ed note: Jiri graduated from the Fire Academy and has worked as an EMT and fire fighter.)
Yeah, I have that to fall back on. I'm just not ready to give up yet. I feel like I'm still having fun and making a decent living racing bikes so I'm going to give it some more time.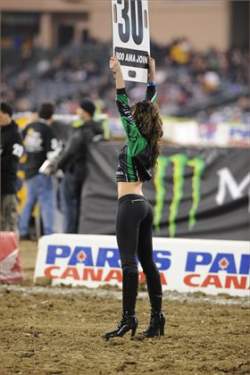 Jiri Dostal has been having trouble getting off the line.

photo: Steve Cox

I'll give you until you are thirty and then I'm going to smack you on the back of the head and tell you to get back to fire fighting. What other schooling do you need?
I could get hired on right now because I have a firefighter 1 certificate from the academy. But the smart thing would be to get my paramedic license. It's better pay and you get hired quicker.
Last question: Are you going to vote and who for?
I just got citizenship a couple years ago so I am voting for sure. I will probably vote for John McCain. He's the only republican candidate with a shot at actually getting into office.

Who are the people helping you with your racing this year?
Wonder Warthog was really great and they made room for me with just a few weeks to go until the opener. Callaway Motorsports has been great and they really worked with me on the bikes. Manny has been like my team manager this year and just helping out a lot. Also, Josh Hurley has been helping with my bikes. He's a good friend and he has done a lot for me. Ron Joynt form Decal Works has been a big supporter. Enzo has been helping with suspension, Mike Fedoro has been helping with tires; Dunlop takes care of me. Also, Dr D. Racing, Dragon, O'neal, Sidi and ONE helmets.