Number Cruncher: Oklahoma
Welcome to the Shift Number Cruncher. Choosing this week's number was a no-brainer. Trey Canard's victory in the Supercross Lites class was among the most heartwarming tales in recent motocross history. And it's motocross history, instead of Trey's #48, that we dedicate this week's column to. We'll throw a full-blown #48 cruncher for Trey's next win, because there is a whole slew of cool ones in the archive stack. But for now, let's focus on the fact that Canard's dominating win was the first if it's kind by an Oklahoman. And check out this stat: The scoreboard in the Red River Rivalry between Oklahoma and Texas now reads 1-0. That is a pretty amazing stat when you consider the astonishing amount of talent that Texas and the Sooner State have produced. So, let's build on more than just Trey's number, and pump up the fact that he did what all of these cats failed to do – in his first attempt.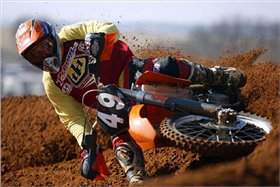 Guy Cooper
photo: Courtesy of Marshalls Racing
Another Cruncher, and yet another call to
Coop
. "Airtime" has 16 125 wins on his resume, none of them in a supercross.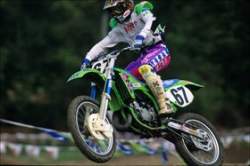 Robbie Reynard
photo: Fran Kuhn
The world was waiting for big, big things from #67 when this shot was snapped of
Robbie Reynard
during his final appearance at Loretta Lynn's in 1992. He delivered with a win the next year at
Steel City
and hopped into AMA Supercross in 1994 as one of the favorites to win the title. Sadly, he got injured right off the bat and failed to win a supercross that year, or any thereafter. He did nail down five outdoor 125 victories, though, and remains one of the very, very few guys on the planet that can say they've beaten
Ricky Carmichael
heads-up on an outdoor track. Three words,
Unadilla
-ninety-eight.
Cliff Palmer is one of the most underrated riders to ever come out of the Midwest. "Hot-Rod," as Robby Floyd called him during the early Arenacross days, was a tall, silky smooth rider from Del City, Oklahoma, that had the ability to run top five in the Nationals in the mid '90s. Cliff would reach factory status by joining team KTM for a short span then returned to his familiar Suzuki's to close out his career. Cliff won a bunch of arenacross main events, but failed to win a supercross.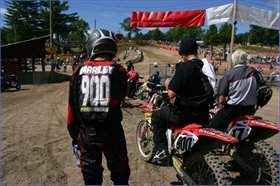 Johnny Marley
photo: Simon Cudby
At one time,
Johnny Marley
was one of the most highly touted mini-cycle riders in the country. Johnny left Loretta Lynn's with three titles, his last one coming in the 125 A class. He had a ton of potential, but ran into some personal problems. Marley rebounded and showed up at Anaheim on Hondas a few years ago and was running at the front, but got injured and was on the sidelines again. Johnny is back at it today, running #900 on Yamahas and dusting up the local Oklahoma Pro classes.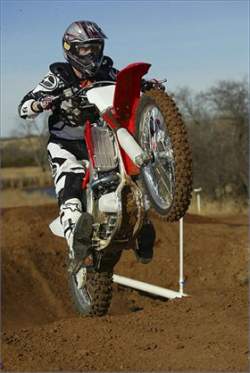 Jake Martin
photo: Courtesy of Free Nissan
Jake Martin
is another super-fast Oklahoma rider. He won a title at Loretta Lynn's in the 250B Modified class in 1997, and then went on to ride supercrosses. He made several mains, but never posted a win. I used to race minis against him. He used to be #139 and had "Chuckie" painted on the back of his helmet. Seriously, he was a mega-fast Oklahoman.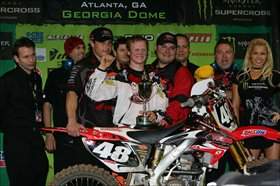 photo: Simon Cudby
As previously mentioned, we have a big Number Cruncher in the works with a dozen or so of the biggest names to ever race with the number, but
Trey
's win was so big and so special that this week's column just had to be this way. He's the first AMA Horizon award winner to win his first supercross in his first attempt. He is also the first and only rider from Oklahoma, or Texas, to win a supercross. Trey's win was as big as any in the history of 125 Supercross.
In preparation for the coming #48 cruncher, feel free to send in #48 suggestions to insure the best cruncher possible.