450 Words: Atlanta SX
February 25, 2008 12:52pm
Team Honda still holds a mythical place in the sport. The first-class reputation for the team extends beyond its win record—which thanks to dominance in the 1980s and 1990s is the biggest in the sport's history. Honda's motocross rep goes beyond wins; it goes deeper into what Honda does in every sport it competes in, and every business it builds products for.

Based on those standards, Honda's recent motocross and supercross fortunes at the very top pro racing level have been grim. At one point Team Honda reeled off an astounding nine-straight AMA Supercross titles, but that was over a decade ago, and save for Ricky Carmichael winning on red just like he had on green (and yellow soon after), Team Honda hasn't quite been able to say "follow the leader" in a long time.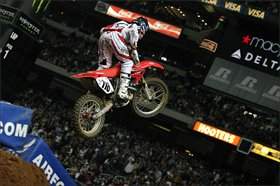 Millsaps gave Honda Red Bull their first win since RC in 2003.
When Honda didn't land one of the big fish (Carmichael,
James Stewart
,
Chad Reed
) in the off-season bidding war leading up to the 2005 season, some insiders saw it as a change in priorities for the team. Honda sells plenty of CRF250Rs and 450s anyway, so maybe they didn't even feel the need to win anymore. If they're selling without winning, why spend the money on the racers?
Well, apparently Honda hasn't given up on grabbing the brass ring again. They didn't get RC, CR, or JS a few years ago, but they did invest in Lites riders
Davi Millsaps
and
Andrew Short
, and now the investment is paying off. Millsaps is a prodigious talent along the lines of past greats like McGrath—one who could change the game and add a whole new speed limit to the sport. Short is out of their other mold. Like Jeff Stanton, he's a workhorse who may just develop into a national champion.
Plus, Honda kept the wheels rolling on the Factory Connection satellite team. Two years ago that squad won a bidding war for
Trey Canard
, and after a full year grooming him as an amateur, he has won the very first supercross race he ever entered.
Kevin Windham
, who has spent eight of his pro seasons riding red, is back in the Supercross Championship hunt. It all resulted in a Honda podium sweep with Millsaps, Windham, and Short Saturday night in Atlanta, plus a Lites win with Canard. Millsaps' victory was the first for Team Honda in Supercross since Carmichael won Daytona back in 2003.
It took some perseverance for this latest Honda gang to get here. Certainly after the three finished fifth, seventh, and eighth at Anaheim 1, no one was thinking a Honda sweep was coming anytime soon. But the squad has made progress each week, and now they're riding a wave of confidence and momentum. To be sure, there are no predictions of dominance beyond that one race yet.
Chad Reed
is still well in control of the series and should be more fired up than ever to put his Yamaha back ahead.
Tim Ferry
remains a consistent thorn in everyone's side each weekend. But the Red Riders are doing their part to help the whole series. When Stewart went out with an injury, it would have been easy to predict a Reed runaway. The rejuvenated Honda squad is doing its part to keep the series interesting.

Supercross Results
1. Davi Millsaps (Hon)
2. Kevin Windham (Hon)
3. Andrew Short (Hon)
4. Tim Ferry (Kaw)
5. Nathan Ramsey (Yam)
6. Chad Reed (Yam)
7. Charles Summey (Yam)
8. Paul Carpenter (Hon)
9. David Vuillemin (Suz)
10. Jason Thomas (Hon)
11. Ryan Clark (Hon)
12. Heath Voss (Hon)
13. Bryan Johnson (Hon)
14. Nick Wey (KTM)
15. Jake Marsack (Hon)
16. Cole Siebler (Hon)
17. Jeff Gibson (Kaw)
18. Josh Hansen (Yam)
19. Josh Hill (Yam)
20. Troy Adams (Hon)