Privateer Profile: Ryan Clark
Most privateers try to go racing on a small scale. They use a small van or truck, throw in a few spare parts, pack a little cooler, throw in their skinny girlfriend and set out to make a tiny bit of money. Ryan Clark came at it from another angle. He formed his own team, uses a semi to get to the races, hired a Lites-class teammate for each coast and he is has set his sights high. And although the 2008 season hasn't started the way he would have hoped, Ryan's twelfth place finish in Houston will hopefully get things rolling for Team Solitaire.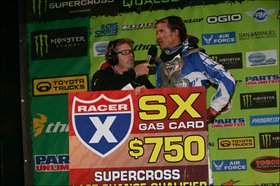 Ryan Clark barely missed making a few mains this year.

Racer X: The California swing has been rough for you, hasn't it?
Ryan Clark: Yeah, it's been a horrible start for me. I don't think it was a lack of speed or motivation or desire or anything on my part. I think I had some mental things that were keeping me from performing at the top of my capabilities. A couple times I just threw it away when I was easily in qualifying position. I feel like I have had good speed but the pieces just weren't coming together. Houston was the first main event I made this year and I finished 12th. Hopefully that got the monkey off my back and I can continue to improve from here on out.
San Diego had to be a boost for your team with Kiniry getting on the podium, right?
Yes. Having Bob on the team has been a big motivator for me. I want to be putting in results like he is. He definitely carried us through that west coast swing. He stepped up and I need to do the same now and get some results. I was getting pretty frustrated but I think I'm past that now and I just want to finish the Supercross series strong and carry that momentum right into the nationals. I used to be better at Supercross than motocross, but now I think it's turned around and I'm a little better outdoors. So, I'm looking forward to outdoors but I want to be in the top ten in both series.
How much has the sport changed in the decade or so that you've been racing?
It's gotten a lot less technical. It used to be a thinking mans discipline. Now, you just pin it. There are technical sections but the whole track used to be slowed and you had to be methodical in choosing your lines. Now, there is usually one fast way to get through a section and everyone goes the same speed in the pack. Obviously the cream rises to the top always, so it doesn't matter to the very best guys, but for me it has been a tough adjustment.
The tracks were dumbed-down to make the racing tighter and better. The thought was that riders had to think about the track so much that they couldn't race with one another. Also they thought that injuries would be less frequent. Do you think that has backfired on them?
I agree that racing is tighter. Riders aren't spread out as much because we all run the same pace. But when you make the track easier the speeds get higher and when you crash at a higher speed you get hurt easier. The riders aren't really in charge though, so it doesn't really matter what we think. I feel fortunate to be making a living riding motorcycles so I'm not going to complain too much. I just need to adapt to the tracks as they are and go do the best I can.

What's new with your team?
Well, this weekend we've got Kyle Partidge coming out on the east coast. He's another very talented rider that needed a little structure to his program. I really think that he's going to replicate the podium performance that Kiniry had and keep it up there consistently. Also, working with Mike Battista and MB1 has really elevated our team. He has taken the technical side of our team to a whole new level and it's been great. So, we're looking forward to getting better and better and becoming a championship level team in the next few years.
When you do decide to quit racing yourself are you planning on running the team still?
Absolutely. I have a lot of things I'm looking at when I finish racing. Right now I have Mike Battista and Jesse Black that really help with the program. When I'm not racing and I have more time I will probably fall into the team manager position more and focus on improving the program. I think our team is on par with some of the best teams out there. I think it will just continue to grow.
You recently had another baby. How is that going?
My daughter Audrey is just over five months and she is amazing. My son had his mommy and he didn't really need me for anything for a long time. But my girl is already smiling at me and she's a daddy's girl. I've just been enjoying that. My son, Everett, is two and a half so he's getting to be a lot of fun. I just spend all my free time at home watching my kids grow. It's my favorite thing to do.
I've been asking everyone if they are planning on voting and, if so, which guy, or, person, are you voting for?
I'm definitely going to vote but I'm not sure who I will vote for yet. It kind of depends on what happens with the democratic candidate. Right now I'm leaning towards Barack Obama.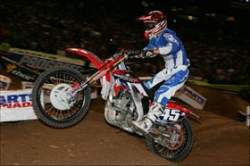 Bobby Kiniry put his Team Solitaire/MB1 Honda on the Lites podium in San Diego.