Between the Motos: Sean Hamblin
After a forgettable year with Rockstar Suzuki in 2006, Sean Hamblin packed his gearbags to tour the world as part of the Grand Prix tour. The Californian finished 21st overall, reaching the top 10 in the Italian Grand Prix. Despite what he called an excellent life experience, he desperately missed home and decided to return to the States to see if he could rekindle his U.S. career. We spoke with him for this week's Suzuki Between the Motos.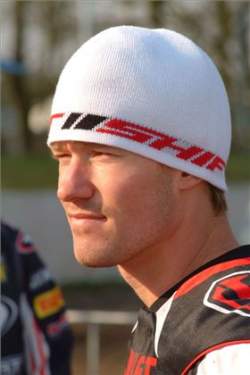 After a year on the Grand Prix circuit, Sean Hamblin is back in America.

photo: Max Ludwig

Racer X: Sean, we ran into you at Anaheim 3. Before that encounter, I don't think I had seen you in over a year. What's been going on?
Sean Hamblin: Not much. I got back from Europe at the end of September. Then I went to Canada to my wife's parents' place and basically kind of hung out on the farm and was kind of a normal guy for two months. I got home to California finally at about the end of November and just started to get my life underway again. I had a good time in Europe, but this is where I've always wanted to be and where I feel I should be. My desire and my heart is in a whole new place after being in Europe as long as I was. I realized that, obviously, being away from my friends and family was the biggest thing, and being away from everyone at the races that I'm so used to seeing. Overall, everybody in Europe embraced me pretty well I felt. Nothing against them, but this is where home is and this is where I want to be.
How was your 2007 Grand Prix season in Europe?
You know what? I actually felt Europe was good for me. It got me away from all the bullshit, really, in California and somewhat on this side of the pond. I'd had two really bad years, and I felt getting away may have been the best thing for me. Overall, I think my result may not have been where I wanted them to be—good or bad—but I felt like I turned over a new leaf and I found what got me here in the beginning: my heart and my desire and my will to do well and just gong out and actually having fun on the bike. That was the biggest thing. So now we are here in February, and I just rode last week on an outdoor track, and I honestly felt the best I have in about four years.
Really?
Yeah, just certain things. You're able to take a little bit of time off and you're able to step away and evaluate a lot of things and find out what life would be like without racing. You think about what life would be like with racing. I'm married now and definitely want to start looking forward to having a family and everything.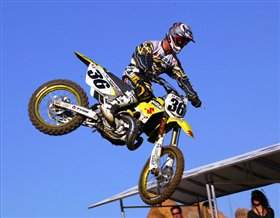 Hamblin rode for Team Suzuki in 2003 and '04.

photo: Frank Hoppen

What happened to you here in America? Did you get too caught up in things?
No, you know what's funny? Two thousand four, I felt, was actually a really good year. That was obviously my last year with Suzuki and Roger [DeCoster] and everybody. Unfortunately, I wasn't re-signed. I think a lot of it had to do with me getting hurt. I got hurt at Budds Creek and dislocated my elbow, but before that point I was fourth in points and one of the top two-strokes and things were definitely looking up. I was riding well and everything was on path. Obviously, you're then out a few races and you get bumped back both mentally and physically. And then I did my own thing in 2005. Some things worked and some things didn't. Unfortunately, they didn't work out the way I had planned. Then I tried turning over a whole new leaf with the whole Rockstar deal. And not to put any more damper on what happened there, but a lot of people already know. So I won't go into that. So that was when I decided that I needed to go to Europe. Overall, I don't think that I got caught up in it too much. I still was the same person, and I still felt that I was the same rider. Luck just didn't come my way when I needed it.
What was the racing like in Europe? With all the different tracks and nations, was it a bit of a shock for you?
You know, it wasn't too big of a shock, but it was big enough that it took me a while to get my stride. Overall, the biggest thing that killed me was Fast Lap. We'd never done that here, obviously. Last year was the first year that we did it in the U.S., and my starts … I probably haven't started that horribly since I was an amateur. So every GP I was coming anywhere from 25th to 28th and there were 30 guys on the line. And they were 30 guys that definitely belonged there and that were the quickest. Coming through all those guys and trying to get up into the top 10 sometimes worked and sometimes didn't.
For you, how was the atmosphere within the Grand Prix paddock?
I didn't talk to very many of the riders until up to Japan [in late May]. There, everybody almost has to get together and we're all one big happy family. It was cool and it brought everybody together. Overall, I had a blast in Europe. Like I said, everybody there embraced me pretty well. I had a lot of good fans in England and throughout Europe, which was cool. But, man, nothing compares to Italy when [Antonio] Cairoli was out there. When we went to Mantova, it was mad. There were about 50,000 to 60,000 fans there and it was just packed. It was pretty insane. We felt like soccer stars or football stars.
Is he as good as people say he is?
I think he is as good as what people say he is over there right now. I think he definitely had some bad luck at the des Nations. And not to take anything away from Villopoto, but Budds Creek was Ryan's track. When I was in England and Europe everybody was asking me what was going to happen at the des Nations and I told them flat out that Ryan was going to be head and shoulders above the rest.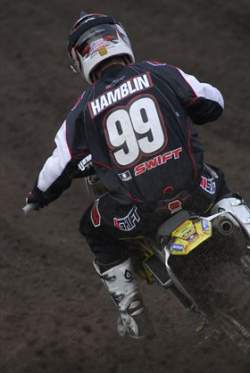 Swift Suzuki supported Hamblin in Europe.

photo: Max Ludwig

When did you decide to leave Europe?
I had a personal sponsor that was there that wanted to keep me and was going to put quite a bit more money to let me stay. Suzuki of Great Britain was awesome for me, and they also stepped up. I also had a good thing with Fox Europe and they also wanted me to stay. Overall, I still had an opportunity, but I didn't want to be somewhere where I didn't want to be. Needless to say, I told my wife that we were going to go home. I told her, "Whether if I have to go get a regular job or if I have to put my nose to the grindstone, it's going to happen." You know, I still have some of my stuff in England. I still have clothes and bedding and all that junk that is still there, but this is home.
How was the team you rode for?
Hats off to the team. They did an amazing job and I lived with an amazing family who had an awesome racing background. They have a really good program that they're running and overall I have no complaints whatsoever. Like I said, it was the experience of a lifetime.
Do you think being in Europe and traveling the world made you a better person?
Yeah, definitely. It's never a bad thing when you can go to another country you've never been to before. I'd never really traveled that much before that point anyways. The furthest I had been before that was Bercy [in Paris, France]. It was all awesome. Belgium and stuff like that were all pretty much in the same realm, but then you'd go to places like Bulgaria. That was insane. Japan was insane. The home GP for me was Great Britain and it was awesome. Overall, all of it was great.
A few days before Christmas I went into Pro Circuit to see Mitch Payton. I had heard about this "Gong Show" he was having to try and find a rider to fill in for the injured Christophe Pourcel, and I asked him about you, and you were one of the riders he was considering for the vacancy. Mitch wasn't being disrespectful or anything, but he pretty much said he wasn't quite sure what to make of you. What played out with all of that?
It's funny because you have a guy like Mitch, who is amazing. He's gotten what he's accomplished because of how hard he works. Everybody sees that. There's no denying it. I don't know how I ever got labeled as somewhat of a partier or anything. I guess you could say that in my younger days I definitely threw parties or whatever, but never once the one that was the belle of the ball, I guess. Yeah, I did go off, and being young and having the money that I did, but all in all, age makes a person grow and mature, and I think I've done a lot of it. I walked in to see Mitch and laid it all down on the line for him and basically told him I was willing to make whatever sacrifice needed in order to be a part of his team. That was another thing that opened the door for me. It allowed me to know full well that I could go in and talk to anybody. There are only pretty much two people in this world who make me nervous, and it's Mitch and Roger DeCoster. And to this day it still happens. Every time I go in there it happens. When I went to see Mitch I said, "You know, this is probably one of the hardest things that I'm ever going to do in my life, but you have to understand, you make me so nervous." But after all was said and done, you can't blame him for giving the deal to [Branden] Jesseman because he's proven and he's won before. Overall, hats off to him, and now it's time for me to get cracking and get on with racing.
So the big question: What do you have going right now?
There are things here and there. I've been offered things that if I want to go back to Canada, I can. Obviously, that's not where I totally want to be. I definitely want to be here, and that's why I came home. But also, at the end of the day, I have to start thinking about paying bills. I have a mortgage and everything else. Overall, I want to get something together maybe for the East Coast, if not, I want to start busting my ass and getting ready for the outdoors.
Has the motocross industry been receptive to taking your phone calls?
In a sense, they have and they have not. A lot of people kind of write me off. You know what? I've been around this road before. Obviously, when we set down in 2002, basically I was Sean Hamblin that came from nowhere. I just have to reestablish myself again and come from nowhere again. I need to remake myself all over again.
So is there hope?
There's always hope, as far as I'm concerned. I feel like I've turned over a new leaf. I feel I'm more dedicated and willing to put a lot more heart into it. Now I know you need to go out and go racing and you get what you get because of what you put in during the week. I feel grateful for everything that's happened, but now it's time to get back to business.
What type an offer would you take? Would you take an offer from a smaller team?
I've always said you need a good bike in order to get results. You definitely need a good team behind you and a good foundation. Nothing against anybody that's out here on lesser equipment, but unfortunately you can only do so good in a sense with the stuff that's given to you, so overall, if I can get on a good team for the East Coast, I'll do it. If not, I can put my head down and get ready for the outdoors and hopefully open some eyes before 2002 started.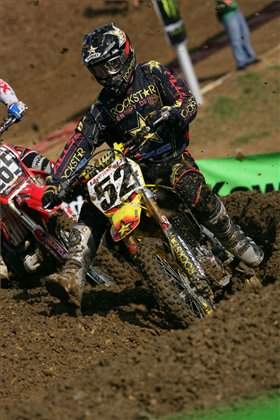 Sean rode for the upstart Rockstar Suzuki team in 2005.

photo: Simon Cudby

As far as outdoors, will you go racing no matter what? Even if you have to put your own deal together?
I think so. Obviously, Glen Helen is only 40 minutes from my house and I've always done well there, so no reason not to do that, at least. Hopefully, I can get the ball rolling from there.
Hypothetically, if you received a good 250F ride for the East Coast, how do you think you could do? Could you get in the top five?
I think so. You set the goal where it's feasible for the first round and then just build off of that. Being able to ride with good guys every day would be a plus, and just being able to train and work and put your head down would really help. Being around the right people always puts your mind in the right place.
So right now you're on the outside looking in and you just want another shot?
Yeah, definitely. That's what got me here in the first place. Roger and Suzuki went out on a limb for me, and obviously it's kind of hard to keep asking for these opportunities, but it's only happened once--it's not like I've been around begging and begging and begging. Like I said, I went to got to Europe, got my head straight, and I feel that me being back here is the best thing for me.
So if anyone wanted to get a hold of you, can they contact Racer X?
Yeah, whatever works. You guys are always out there helping everybody that you can, and I appreciate what you guys do for me and for the industry and the sport itself.

If you're interested in contacting Sean Hamblin, feel free to e-mail us at online@racerxill.com.