450 Words: Houston SX
February 19, 2008 11:50am
Last week we discussed how although
Chad Reed
has been on quite a streak—chalking up five wins in the first six races—he hasn't been decimating the field as one would imagine. In fact, the 450 class racing has actually been pretty tight. In San Diego Red Bull Honda's
Davi Millsaps
was all over the San Manuel Yamaha rider, even passing him early in the race, and it seemed that it was only a matter of time before Reed would falter. But who would dethrone the 2004 champion? Would it be Millsaps or Short? Or Windham? Or would the veteran
Tim Ferry
get his first-ever premier class victory to stop Reed's dominance?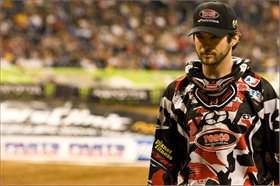 Houston marked Windham's 13th career AMA Supercross victory.
Well, as you already know, it was the veteran
Kevin Windham
putting a stop to the Yamaha rider's dominance this past weekend in Houston aboard his Torco Racing Fuels Honda CRF450R. Coincidentally, the Houston track was the first of the year that was designed by a rider. Which rider?
Kevin Windham
. Although it does seem suspicious, Windham said in yesterday's Alpinestars
Monday Conversation
, "Believe it or not, I'd love to have someone come look at my practice track right now, because I don't have a section of that track on my track at home, and I was thinking when I got here, "Man, I screwed up. I should've built this track like my track at home – like every single jump." So if it wasn't an unfair advantage, what was it that enabled Windham to win—his first since Anaheim 1 in 2005?
It was a couple things; but mostly it was the fact that Windham was just plain fast. In fact, in the second practice session Windham logged the fastest lap time with a 47.437, narrowly edging out Reed's 47.467. And when it came down to the main event, Windham—who won his heat race—nailed a near perfect start and grabbed the Progressive Direct Holeshot while Reed got a poor jump and was mired in the middle of the pack. By the time the #22 got into second place, Windham had over a seven-second cushion and was long gone. It was a flawless performance by
Kevin Windham
, who calls Houston his hometown race. It kind of reminds you of when
Mike LaRocco
got his final win in his hometown of Indianapolis in 2004, and Windham recognizes the fact that this could possibly be his last.
"If I've got to wait another three years for my next win, it might not ever happen," he said. "You never know, and you've got to play it year by year. Right now, I just want to take tonight for what it is, and enjoy it, and keep the same program."
Houston Results
:
1.
Kevin Windham
(Hon)
2.
Chad Reed
(Yam)
3.
Tim Ferry
(Kaw)
4.
Josh Hill
(Yam)
5.
Andrew Short
(Hon)
6.
Nathan Ramsey
(Yam)
7.
Charles Summey
(Yam)
8.
Davi Millsaps
(Hon)
9.
Nick Wey
(KTM)
10. David Vuillemin (Suz)
11.
Paul Carpenter
(Hon)
12.
Ryan Clark
(Hon)
13.
Jeff Gibson
(Kaw)
14.
Jacob Marsack
(Hon)
15.
Jason Thomas
(Hon)
16. Dusty Klatt (Kaw)
17. Bryan Johnson (Hon)
18.
Antonio Balbi
(Hon)
19.
Josh Hansen
(Yam)
20.
Travis Preston
(Kaw)