Privateer Profile: Kyle Beaton
I first met Kyle Beaton when I was a mechanic for Tim Ferry and we went to the World Supercross round in Vancouver. We got a bike from Yamaha Canada and they asked if we could give it to Kyle at the end of the night. I met his dad and struck up a conversation and he told me that Kyle could only race if he kept up his grades and that he had to graduate high school before racing full time. Me being the crusty old guy that I am, I thought that was admirable. Then I paid attention to Kyle in the Lites class and it was obvious he had talent. Him and I have become buddies since then and when he came down to contest some Supercrosses, I tracked him down for this interview.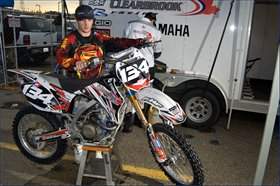 Kyle Beaton

Racer X: Good job on your Supercross adventure so far Kyle. How old are you and where are you from?
Kyle Beaton: I'm nineteen years old and from Surrey, British Columbia, Canada.

How come everybody calls you K D Beets?
Actually that's just you, nobody else calls me that.

So what have your results been so far?
I've raced four AMA supercrosses and made two main events. I finished 19th and 20th in those races. I fell in the mud in San Francisco but was running top ten for a bit. At Anaheim 3, I fell in the first turn and kind of rode by myself to a 19th place finish. This weekend I crashed in my heat and kind of hit my head, I went out for second practice but didn't feel quite myself. I was seeing double and didn't have a good time. I was 42nd and they take 40 so that's a bummer.

Was supercross been what you've expected? Any surprises?
It was way different than I expected, a way different atmosphere. You really just have to go wide open from the start of the first practice, you have to get the track down fast and learn it. It's a pretty steep learning curve for sure

How did you do up in Canada last year?
I had a little bit of a slow start last year in the MX2 west series. I got docked at the first round for jumping on a yellow…

So you cheated?
Yeah, I guess if you wanna call it that! [laughs] Anyways, I finished third in the series, just a few points out of the lead. I won the Nanaimo, British Columbia, round which was my first ever national win. I hope this year with the elimination of the East/West thing and just making it a nine round national series will play to my advantage. I have been getting better every year; last year I won my first moto and overall of my career.

What's going on with you now, any races?
I'm heading to England on Feb 23rd to race a Supercross as part of the Future West series. After that, I will be home for a while and start getting ready for the Canadian outdoors. In between I will race the Seattle SX and also Toronto, as it's an open race with no coasts.

Are you driving out there? That's a gnarly drive.
No, I'm not driving out there; we're trying to work a deal out where my mechanic and I fly out to Toronto and get a bike. We don't have that lined up yet, so if there's a shop that wants to supply me with a YZ250F for that race, I'm all over it! After that my training program will kick into gear and I will just focus on the Canadian series. That's mine and Yamaha's goal this year.

Do you want to race down in the USA at some point in your career?
Yeah, for sure. Hopefully I can do some outdoor races later in the summer, which would be fun. My long term goal is to come down here full time and race for a team. This is where you gotta be to race the world's best.

Who's helping you out this year?
Yamaha Canada, Clearbrook Yamaha, Shift Racing, Dunlop down in the US and Bridgestone tires in Canada, 661, Gaerne, Sunline, Enzo suspension, Pro Circuit, DC shoes, Oakley, Ogio, Ride Industries, MXforum.com and Evolved MX.

What about the mechanic? No love for him?
Yes, for sure. Mike Smith is doing a great job and I appreciate him.