Welcome to the Shift Number Cruncher. The sport has changed so much, so fast. It wasn't that long ago that riders would show up to the Supercrosses in box vans with 200 thousand miles on them, pull on open faced helmets, and send blue smoke billowing into the air from their premix burning, air hammers. Today we live in an era where around a dozen 18-wheelers drive home early because they didn't make the main event. How did we get to this point? The ball has been rolling that way since John Penton started organizing big trailers and box vans for his riders in the early 1970s.

When a picture of Tom Benolkin's 1980 #194 CR125 came across our desk it took about two seconds to decide to dedicate it to this week's column. Its images like this that helped breathe life into the Number Cruncher. Motocrossers are a tight brotherhood. The danger element of our trade locks our memories in our heads forever. We all remember what year, what bike, and what number we earned those memories with. This one's for you, Tom.
This is Tom's story about this old-school shot that was taken in front of the original Fox building in Campbell, Ca. That's Tom's brother, Steve Benolkin, standing by the bike
.
"This machine was one of two 1980 CR125 Hondas given to me from American Honda Motors (AHM). It sported a hand built chromoly swingarm my brother Steve made, and a T&M radial head from a blank '77 CR125 casting he had machined. Honda's budget was already set for the 1980 race season by the time that they contacted me in March.
"Steve and I had just come off of a great Florida Winter-AM Series where I had taken his heavily modified '79 CR125 and crushed everyone, including back-to-back moto wins against Broc Glover at Cocoa Beach on January 18.
"AHM had given us a support ride with two bikes and all the parts needed, making us good for racing, but pretty hungry from race to race. By the time we hit Washougal in June they were getting twitchy because we were running down their national riders Ron Sun's and Rich Coon's lap times each week but usually recovering from poor starts being out-horsepowered. We felt the 1980 production bike was a slug (heavier and slower) and wished we could race with Steve's '79.
"By mid-season Honda had accumulated enough spare parts to completely assemble a full RC125 to give me for Mid-Ohio and the remaining two nationals!"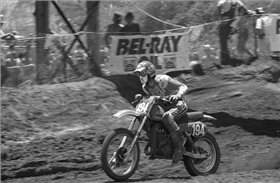 Tom Benolkin
photo: Dick Miller Archives
We also found this action shot of Tom getting it done at the 1980 USGP at Carlsbad. This was the infamous race that the late Marty Moates shocked the world by winning on the #23 LOP Yamaha.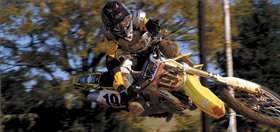 Ryan Grantom

photo: John Willis
Now, #194 isn't one of the most popular numbers in the motocross history books but we did find a couple others. This is a super cool shot of the Lone Star State's
Ryan Grantom
throwing a mean scrub over the step up at Tyler, TX. We haven't seen him around much lately? Does anyone have an update on this fast Texan?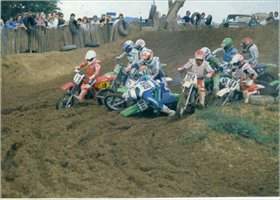 Mike Bear
photo: Rob Harris
Rob Harris came through again and hooked us up with this old shot of Pennsylvania's
Mike Bear
. Mike owns several central PA motorcycle shops. Also in this picture is #5, Jeff Yentzer.
Ok, here is your trivia assignment for this week. Maryland's Jason Conlon raced the nationals with #194 during the 1994 and '95 seasons. We'll send a new Racer X mouse pad and a T-shirt to whoever can send me a picture of him racing. We're keeping it short and sweet this week, but if you have any other #194s send them to me and we'll do it Redux style.