Monday Conversation II: Davi Millsaps
In his first full season of 450cc supercross racing, Davi Millsaps has already had a lot of ups and downs. His first three rounds of racing were just short of disastrous, with a seventh, a 14th and a 19th. However, the last three rounds have seen Millsaps not only grab three podiums, but lead a significant portion of the mains. It seems it's only a matter of time before Millsaps grabs his first 450cc win.

Racer X: We know your arm has been bothering you for the last couple of races. How is it now?
Davi Millsaps: It's all right. It's getting better. It's not 100%, for sure. I'd say it's probably 70% of where it needs to be, but it's going to take a couple of weeks to get it back to 100%.

You had that issue with your stomach cramping up again. What's going on with that?
Honestly, I don't know. I'm trying to get it figured out. I honestly think I just need to take a big dump or something. Give me some Ex-Lax and I'll get it out before the main (laughs).

It's a gas problem, right?
Yeah, it's gas.

Is it because you have to hold it in around your girlfriend Brittney all the time, for fear that she'll get mad at you?
No, I don't care. I do it in front of her all the time. It's definitely not that. When you're riding and stuff, your blood's not going to your stomach, and it's sitting there and pounding and pounding and pounding, and when you get a little bit of gas built up, and you keep pounding, it won't come out, so it just starts to build up. I don't know what the problem is. Maybe I need some Gas-X. I don't know. I'm just pulling stuff out of my butt right now trying to figure it out.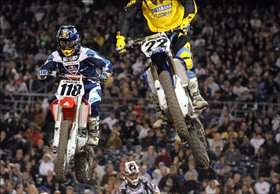 Millsaps (118) traded the lead with points leader Chad Reed (22) multiple times last Saturday night.

If you did that, you might actually get better!
I did! I've done colonics three times now, and nothing's working. I don't know what the problem is.

You got the holeshot tonight, which was new for you. Can you take us through that?
The first couple of laps were really good, with me and [Chad] Reed going back and forth. He had the stronger hand, and he started pulling away a little bit, but then he made a mistake and fell over. I got back by him, but I saw him getting going again, so I knew he wouldn't be far behind me, and I knew it wouldn't take him long to catch back up, being that I could hardly hang onto the bike with my arm the way it is. But I tried to keep up with him, and he rode a really good race, but what can I say? He won.

Was there a moment where you thought, "I can win this thing"?
Maybe if it was at lap 18 when he fell and I only had one or two laps to go, but being that it was lap 12 or 13, it was really hard for me to hold on that long and keep on that pace. That's what I'm working on right now, just trying to get my arm better and start feeling better. We'll get better.

It's weird, though, that now you've got the arm problem and the gas problem, and you're doing better than you were before you had these problems earlier in the season.
Yeah, I was healthy at San Francisco, and then got hurt that week. I've podiumed since, but it just sucks that I'm hitting the podium being hurt, and I'm not showing my true potential out there. I can only go like 10 laps and my stomach is hurting really bad, and I can barely do one lap in practice because of my arm, so I'm pretty much screwed either way (laughs). I was healthy at Anaheim I and Phoenix, and then at Anaheim II is where all of the gas problems started. Since then, it's just been gnarly.

But you've done better since you started having problems.
Yeah, that's true. After Anaheim II, though, I don't like to say it, but I had colonics twice, and it really helped for San Francisco. But then I went home and got hurt, and at Anaheim III, I got it a little bit, so then I came out here and got colonics again, and I still got the gas really bad this weekend for some reason. I don't know what it is, but I'm trying to figure it out. I'm not a doctor.

Now that you've been on the podium a few times, do you expect to be up there from here on out?
Yeah, I expect to be up there every weekend. We'll just see from here.