Welcome to the Shift Number Cruncher. It's times like these that remind me of my favorite line from Ferris Bueller's Day Off when Mathew Broderick brilliantly claimed, "Life moves pretty fast. If you don't stop and take a look around every once in a while, you could miss it…." This is what has happened to us here with the Number Cruncher. There were some really cool numbers we went through in the past month, and with the onslaught of the Monster Energy AMA Supercross season, we weren't able to save some time for a Redux. This was a tragedy, as dozens of readers had submitted extremely cool e-mails and photographs of different #114s, #30s and #40s. Before we got too far ahead of ourselves, we wanted to use this week to go back over those numbers and give those contributors their due diligence.
114

The #114 was a fascinating number that drew some cool parallels to Stanley Kubrick's films. It was originally inspired from Justin Brayton's first career podium finish.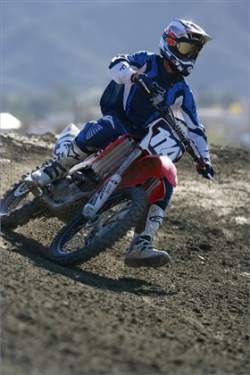 Kim Boyle
Here we have
Kim Boyle
that sent us these Simon Cudby shots of him getting it done with the #114. Kim is formerly of DC Shoes and is a longtime motocross enthusiast.
We also received this super cool letter from Mexico City, of all places: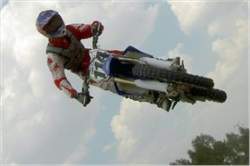 Eduardo Lopez Montero
Hi there.
My name is Fernando Estrada, and I am a diehard MX fan from Mexico City; I thought it would be very cool to see
EDUARDO LOPEZ MONTERO
(Mexico´s GOAT) appear on the #114 Redux.
He has been riding with #114 since I can remember watching him race (circa 1995) to this day, maybe it´s something to do with Bradshaw´s number that year since he was also racing Yamahas.
He has won an incredible 35 Mexican national motocross/supercross championships, from 60cc motorcycles back in 1974 to 2007´s 450cc national sx championship. As well as 125cc national titles from ´81 ´84 ´85 ´86 ´87 ´90 ´92 ´94 ´96 and ´97 to ´06) and also 9 250cc national titles.
I don't think you can confirm these titles over there in the States, unless you talk to former AMA pro racers Pedro Gonzalez, or Erick Vallejo... they were too busy racing in your country, letting Lopez win everything here. Anyway, it would be very cool to see Mexico´s #1 get some recognition over there in the States.
Thanks a lot
Fernando Estrada.
How 'bout that. The Mexican GOAT. Ah, the power of the Number Cruncher.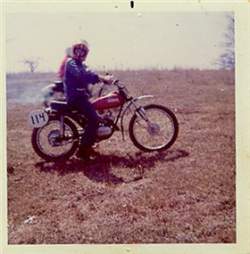 Larry Whitmer
This is what it's all about. Larry Whitmer sent us a note about the #114 Cruncher. He said it reminded him about…"1972 racing a Monark GS125 for Scott Wallenberg's Dad, at Goshen Iron Horsemen MX in Midddlebury, IN. I was only 12 years old. That # was my newspaper route number that paid for my racing back at that early age..."
30

Number 30 came to us on the heels of what many called the greatest supercross race in decades. It was Torco Racing Fuels Jake Weimer battling past a stacked West Coast Lites field to take the first win of his career in Phoenix.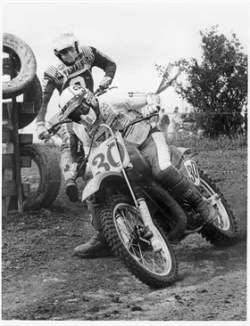 Semics leading Carlquist
Warren Price always comes through with some amazing stuff. For the #30 Cruncher he sent us this cool vintage black and white of
Gary Semics
leading Hakan Carlquist at Austrian 500 GP, Sittendorf, 1982. Hakan was the dude that chugged a beer on the last lap of his last visit to the Namur 500GP, in front of the Monument Café at The Citadelle. It's a shame that race just went away; why didn't they try harder to save it?
It's always cool when we get an e-mail from overseas as well.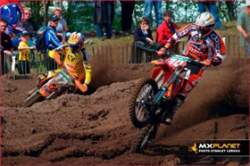 Ben Townley
Hello Andy,
You forgot another great or big 30. This number was
Townley
running in 2004 WC MX 2 and 2005 mx1 world championship. I thought it was worth to mention.
Greetings Xavier Loots.
Belgium.
40
Number 40 was another dedication column. This time around it was Josh Hill getting the accolade with his incredible runner up performance at the Anaheim 2 throw back round. But the big drama from this column was my insensitivity to Greg Schnell. Upon review, I didn't give him enough credit. DC made it right in Racerhead, but I wanted to offer some more personal props for his impressive pro career.
Motocross Journalist, Scott Lukaitis sent us this:
"I have an old # 40 that many Raceway Park regulars from the '80s and '90s will remember. Our friend Richie Rike always had the #40 on his Hondas back in the day. Sadly Richie left us all too soon in his young life but he will always be remembered by his friends."
Regular Cruncher contributor, Rob Harris, sent us this jewel he found on
www.onthepiperacing.com
. Check out the factory box van!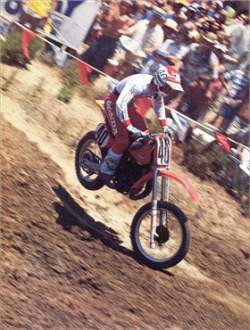 Johnny O'Mara
Although we ran a picture of
Johnny O'Mara
in the O.G. #40 Cruncher of the same year, Rick Conley sent us this one of him at Carlsbad that just has to make the Redux.
OK, guys. I just want to send out some appreciation to all of you readers and contributors. It's been a blast putting this column together every week and the feedback has been nothing short of astonishing. We've been getting so much cool stuff for the Redux that we're going to dedicate a column every other month or so just to them, so keep sending me your stuff.
Stay tuned next week for an all new number.