Between the Motos: Steve Bauer
Last Friday afternoon, Steve Bauer led a pack of big-hearted freestyle jumpers and some motocross fans to Loma Linda Children's Hospital for the annual Big Air Festival. Bauer, a former pro motocrosser himself and a main supporter of the Wonder Warthog Racing program, does it to put smiles on the faces of the many sick children and their families and take their minds off of their tough situations for just a little while. The man deserves a medal.
Racer X: Steve, after checking the photos from Loma Linda that Carl Stone sent over, it appears that your karma is once again good.
Steve Bauer: [Laughs] Yeah, it's my annual soul-cleansing event.
You've been doing that benefit for what, five years now?
This was the sixth year!
Well, it's a really neat thing you do with the Big Air Festival.
It's not just me. I have to give credit to Jeff Tilton. The guy impresses me more every year. He's a super guy and he's so on it. He brings these riders out and the guy is pro-active and never let me down, ever. I have to give it up to him and all the good sponsors, from back when Marty Moates came along and got behind it with No Fear. FMF has always been there, as well as Troy Lee, Mitch at Pro Circuit… It's just a great thing. We all walk away humbled and feeling good. Just to bring a smile to those kids' faces…
I know in our sport that some of the top riders deal with Make-a-Wish Foundation, and MX for Children is a wonderful charity from Seattle that has been helping out and collecting money at the Toronto Supercross. But with what you're doing, this is a rare time where you actually go to the hospital, set up ramps and ride dirt bikes.
Yeah, it's almost surreal when we're there. It's awesome. When I originally got this idea, I told a nurse friend of mine up there and told them I could bring a few guys down and give away some stuff to the kids. For the first two years we visited every kid in the hospital, but there's not the connection there. In the back of my mind I thought about doing something with jumping. The third year I invited Travis [Pastrana] and Mike Metzger, and you know Travis, he's so gung ho and said, "Let's get some ramps!" I said that he was crazy and they'd never go for that. But you know what? That's all it takes—one person with the juice! And sure enough the top guy at the hospital, his son was a freestyle fan. And he gave it the green light and Red Bull underwrote the whole thing as they have every year since, and Travis called Tilt and the boys and it's been fantastic.
If you can picture these guys jumping a 75-foot about 20 feet away from the windows with all the kids' faces pressed against the glass. You got Travis announcing, doing his best to call all the tricks—it was just amazing.
It was also cool to see Zach Osborne there, even though he couldn't ride.
I got to give it up to Zach, and Ronnie Renner, who was also hurt. I take the blame myself for not having more of the Supercross guys out there, but it was bad timing, but Zach Osborne came—and it took over two hours to get there from Corona—and I was just real happy to have him out there.
As a parent yourself, it's got to be tough to see the situation that some of these kids are in. It reminds you how fortunate we are. We may take ourselves real serious from time to time, but when it comes down to it, it's just dirt bikes, and what it's supposed to do is put a smile on your face.
Oh yeah. We all know how good it feels to go riding, how it clears our heads, and these kids don't get that chance. The tough ones for me are the ones who will say, "Oh, I used to ride and I'm a big fan." And but they're just in a tough state. This one kid, last year I saw him and gave him and his family tickets, and I was talking to him this year and he didn't look that great, but he was getting out in a few days. So I told him to call me and I'm getting him hooked up with tickets for San Diego, so that's going to be so good. These are things that without getting out and seeing it, you don't even know it's there.
I know you guys bring in as much swag as you can and hand some stuff out. Do you have some sponsors you'd like to mention? There were a lot of people who went out of their way to do a nice thing here.
Oh yeah, you got that right. Well, TNT—Jeff Tilton's deal—I have to give them props first off, And as far as sponsors go, FMF, Troy Lee, Mitch Payton at Pro Circuit, Live Nation, MX Girls, and oh sheesh, the biggest one of all, Smooth Industries! Mike Koger, he's my man! His stuff is so perfect. We set the whole deal up this year for him to be there!
I know that our houses—and a lot of guys who work here that have children—are all filled with Smooth Industries stuff! Don't you wish they had that stuff when we were kids?
You got that right! I have a Chad Reed trashcan!
My son's favorite pajamas are his Chad Reed #22 from a few years ago. He even got his sleeves cut off because they're too tight. He got some Pastrana pajamas, but you know what, so do I!
[Laughs] If Smooth has some XXLs down there, I might cut off the sleeves and run them myself!
Speaking of sleeves being cut off, have you gotten any feedback of that photo we ran of you in "The Way We Were" feature in Racer X?
Oh I have! I grabbed an issue down there at Anaheim 2 and I was showing that off to everyone I could! Everyone was like "No Way!" But a few people were bagging on me because my elbows were down, but dude, the back tire was flat, so I was landing off a jump or something.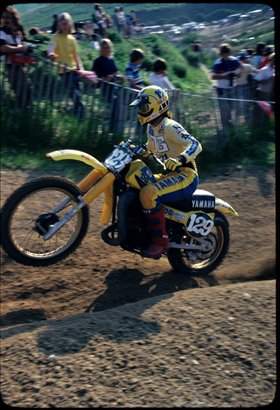 That's Steve Bauer back in the day.

photo: Dick Miller Archives

And it was a 40-plus-two at that point!
And my goggle strap was straight, so that trumps everything! So at least I didn't look like too much of a goon.
Once again, Steve, well done.
Thanks, DC.