Bench Racing Ammo: Brothers Redux
After the great showing by two sets of brothers (Hahns and Bloses) at the San Francisco Supercross last weekend, we dedicated last week's Motosport Outlet Bench Racing Ammo to brothers who race MX. If we left any out we asked you to help us out, and here's what we got:
Racer X,
Too many in your list that never made it to the main stage. You got off to a good start with each rider mentioned being fast, but then you faded. Out of the Seattle area in the '80s were Phil and Mike Larson, both made Supercross mains regularly and had some good finishes. Also, I think out of Michigan, were the Benolkin brothers and I think there was a foursome of Pierce boys with some crazy names like; Kippy, Kappy, Karl & Kraig ... something like that.
Spiwak #36
Don't forget the Bigelow brothers, Kirk, Kris, Kip and Kreg, all who have held national numbers with Kris finishing up 4th OA in the 250 nationals in the early '80s.
Don Mason
You forgot (or maybe never heard of) the four Bigelow brothers from the Michigan Mafia during the eighties. Kirk was the oldest, with younger brothers Kris, Kip, and Kreg. They all held top 100 AMA Pro numbers at some point in their careers...
Jeff Layman
(Note: Kip Bigelow won a +45 moto at this year's AMA/Air Nautiques Amateur National MX Championships at Loretta Lynn's. He went from the podium to the MX Sports trailer so he could use the phone to call his father Don. DC)
Just a quick note, you missed the Larson brothers from Bremerton WA, Phil and Mike.
Scot Steffy
Brian and J.D. Myerscough.
Dwain Walker
How about the Wankets? Pete and Tony are even twins. They typically even had consecutive national numbers they were so close.
Dan Featheringill
The Renners and the Butlers.
Toie Crespie
What's up, here's a few more fast brothers. First from dear old England, Sean Hamblin's ex-bosses at Swift Suzuki Mark and Justin Banks, both GP guys back in the day. James Dobb and his brother Julian; Julian won some British titles in the amateur ranks. Paul Malin's brother Darren was equally as fast as Paul back when they were both kids racing for Team Kawasaki. The French brothers of Christian and Jean-Michel Bayle. Christian also raced GPs and ex-250 world champ Jacky Vimond and brother Denis Vimond. Finally, those crazy waffle eating Belgies Eric and Sylvain Geboers!
Cheers!
Sean de Gruchy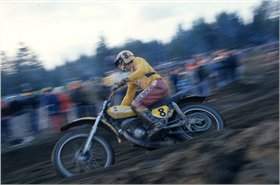 Sylvain Geboers
photo: Dick Miller Archives
Joel and Fred Andrews!
DC Martini
I believe that Greg Bowen had a third at a 125cc supercross in '89, when his bro Keith might still have been racing. Also, Todd Dehoop's little brother Chad was pretty good.
Dave Korte
You were correct in listing Bob and Billy Grossi, along with the Pomeroys, the Sun brothers and the Jones brothers at the very top of your list. What sets them apart from everyone else on your list is that they were ALL factory riders. However, the critical omission you made is one of the best known U.S. pro brother teams, Pete and Tony Wanket. They were known for always earning national numbers each year that were just one digit apart from each other, and for dominating So Cal's CMC circuit in the 1970s. They were especially tough at Carlsbad. Unfortunately, they never got full factory rides.
Jim Myerson
Just thought of the Stacy brothers from the 70s/80s, both Andy and Frank. Not sure about Frank but Andy runs/owns Tuf Powersports in Dekalb, Illinois. Hey, how about a return of the '80s/ "Where are they Now?" section again? I would love to know what these guys are doing now. For instance, Eric McClear, Chris Neal, Ray Sommo, Cliff Palmer, Jason Upshaw, etc…Might be a pretty cool piece of the guys that just didn't quite run at the front during the late 80s early 90s. Thanks.
Burton Lavens
Oglesby, Illinois
Forgot the youngest Tedder, Maxwell.
Wes Trish
One more pair of racing brothers that comes to mind are David and Jeff Beckington out of Michigan (if I remember correctly). They were always front runners in the expert/pro class at the Florida Winter series and did a bit of damage in the East region 125 SX class in the early 1990s.
Shane Dathe
Palm Beach Gardens, FL

Hey, I raced against the Beckington brothers, Jeff and David. Fast and smooth. Also the Davis brothers, Robert and Matt, from Throttle Jockey.
Brian Markovich
You forgot the Dehoops (Todd and Chad). Many know Todd but his younger brother Chad was also a hot shoe back in the day on the amateur circuit. He also raced Todd's Honda of Troy bike at a couple of nationals while Todd was injured (If I remember correctly he did pretty well).
Thanks,
Mark Powers
Hey, great read on the bros. I never knew there were so many out there. Hey, I did notice that the Bowyer brothers (Andy and Clint) are missing! Clint did ride motocross for years. And they are from Kansas!
Amy Hahn
Back in the mid-seventies out here on the west coast we had the Wanket brothers, Tony and Pete, who tore up local CMC and rode occasional Nationals. They flat out flew, I think DG Yamahas 125s and 250s around Carlsbad, Escape Country and Saddleback!
Thanks,
Steve Chandler
At last year's Daytona SX, Mike finished 3rd and Jeff finished 7th in the Lites class.
Tony Alessi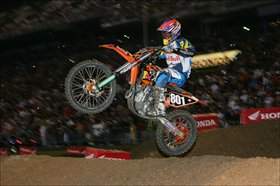 photo: Simon Cudby
Since they are the only pros around our area, the Gills brothers from Mississippi. That would be Dustin and Kyle, although they didn't score any points last year, they are our only local riders that have an AMA Pro License. They are fast brothers that have actually made the mains in AMA MX in 2007. I think they deserve a mention also, although not as notable as your list of other brothers.
James A. Lindberg
Todd & Teddy Maier
Robbie & Ritchie Horton
Ryan Dare
Thanks for mentioning my sons in your Bench Racing Ammo article. I have five sons. With me that makes six Tedder racers! You can check out our website at www.teamtedderracing.com. Click on "Play Monster Video" and turn up the volume for some cool shots and music. Attached is a photo of our traveling circus. See you @ Loretta's!
Matt Tedder Sr.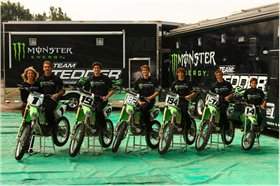 Team Tedder
photo: Courtesy of Tedder
Brock Sellards' older brother Marcus was quite a rider himself back in the day, and so were the Andrews brothers out of Ohio, Fred and Joel. Also, Mark Blackwell won the '71 AMA 500cc National Championship as "top American" and his brother Greg, who was (and is still) very fast, is an executive at Parts Unlimited. Erik Kehoe had two fast brothers back in the day, but I can't remember their names. But I do remember that Pierre Karsmakers had a really fast brother named Toon, and another one named Paul that still works in the motocross industry.
DC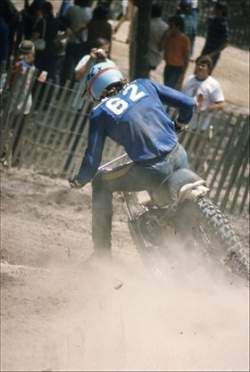 Mark Blackwell
photo: Dick Miller Archives
Dear Billy,
A lot of people may not realize it, but Johnny O'Hannah's long lost brother is Mitch Kumpstein. They had a falling out one year at Lake Sugar Tree and ended up throwing tire irons at one another in the Hodaka factory rig/cattle car. It was so bitter that Mitch changed his name on his birth certificate (though some speculate it was so he could buy beer before he turned the legal drinking age). Johnny ended up in the service, Mitch apparently works for the Cannondale R&D department.
James Derek