Monday Conversation II: Travis Preston
When it comes to replacement riders, it's rare that a team gets an opportunity to grab a rider of Travis Preston's caliber after the season has already started, as normally there are contract issues and things like that to contend with. However, Preston proved to be a perfect candidate for the Monster Energy Kawasaki squad since it was still early in the season and Preston was literally without any major contracts. After nearly a year off of the bike, Preston came off the couch to grab James Stewart's Kawasaki KX450F and put it in the main event at Anaheim III, and he learned a lot along the way.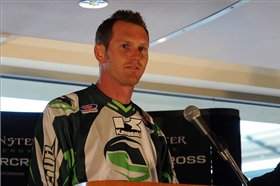 Travis Preston made the main directly out of his Heat and finished the main event coming right off of his couch.
Racer X: That was your first race in almost 11 months. How did it feel coming off the gate for the first time in 11 months?
Travis Preston
: I couldn't believe I finished. I haven't done 20 laps in 11 months. I don't know, I just got in a little zone there. I got really tired at one point, and at about lap 10, I was done. The track was really tough tonight, and I was fighting it, and it was rutty. But about halfway through, I kind of learned some things about the bike, and started riding it in a different gear, and things started working a little better for me toward the end of the race there. I just think it's a matter of learning the bike more than anything – just spending more time on the bike.
What about the Heat, because that was literally your first time coming off the gate since Daytona last year?
You know what? If you were paying attention, like you should've been, I had a good start. I was like third or fourth coming into turn two.
Which must have been total luck because you never get good starts...
I always get good starts.
You do?
No. But that Kawi comes off the gate strong. I came out of the gate good, but then I got tangled up with some guys. I think next week, I'm going to work on my Heat race and hopefully do a little better in my Heat so I can get a better pick in the main, because when you're way on the outside in the main event, you're not going to come around
Chad Reed
and those guys.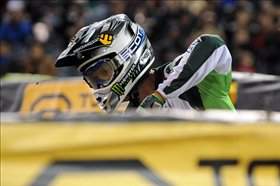 Even after reaching an understanding with the Monster Energy Kawasaki squad, Preston wasn't expecting to race as soon as Anaheim III.
But it seemed like in your Heat race, you were running up front for a while but then dropped anchor a little bit. Did you ride tight?
My arms pumped, yeah. I think I was riding a little bit tight, but in the main event, I learned a lot about the bike, so I think if I'd have known those things in the Heat race, I would've ridden a lot better. I think I was just riding it in the wrong gear all night.
Did anybody yell at you when they came by?
Like when I was lapped because I was going too slow? No, I made sure to get out of the way. I'm not going to ruin
Chad Reed
's day so I can get 14th, you know? So I tried to stay out of people's way. It was fun, though. At the beginning of the race, I was dicing with some guys and got to stuff some people, but my arms pumped up a little bit, so I had to let those guys go and relax a little bit. I was right next
Heath Voss
when he went down, so that was kind of crazy, but I missed that, so that was good.
Does this change your outlook for the next few races? Because talking to Mike Fisher on Friday, he said you were surprised that they wanted you to race this early.
I wasn't planning on racing this race, but I think going into San Diego, I should be a little bit better because of all of the things I learned tonight. And now I know in my mind that I can go 20 laps, and when I do get tired, I can sustain it. I just have to calm down. I'm not doing the big jumps out there like everybody is, but I'm still getting by pretty good.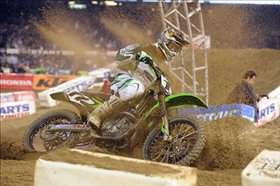 Preston was eating a lot of sand in the sand section at A3.
Did you swallow a lot of sand? Because it looked like you were swallowing a lot.
I took a lot of sand all night, but compared to
Southwick
, it's nothing. It's just one straightaway, so if you look at it that way, it's not bad.
N
ow that you have to race, who's going to do all of your yard work and stuff around the house?
That's a problem. But what it shows is that anyone in America can come off the couch and race supercross. If I can do it, anyone can. I'm just a normal guy that came out here and raced.
Yeah, you just sit there and turn the throttle on the thing, right?
It's the bike, not me. But yeah, it's kind of sad that the house is going to get neglected for a while, but I have more fun racing, so...
So what are your plans for this coming week?
I'm going to work on my starts, and my endurance, but I really need to work on my Heat race. I was in like fifth or sixth, and I should've stayed there, or done better. Getting ninth in your Heat gives you a bad gate pick for the main, so I have to do better.