Monday Conversation I: Austin Stroupe
Austin Stroupe is surprising a lot of people right now. There hasn't been a lot of hype surrounding him coming into his rookie AMA Supercross Championship, but after five rounds, he not only sits sixth in points, but he sits sixth in points despite failing to qualify for the main event at round two in Phoenix, Arizona. In the other four races, though, he has not finished outside the top five, and finished on the podium twice – with the latest at Anaheim III being a second place, which is his best finish so far this year.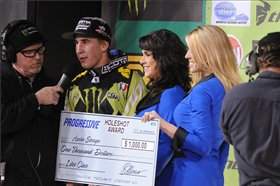 Austin Stroupe turned a holeshot into a career-best second-place finish at Anaheim III.
Racer X: You've come a long way since round two in Phoenix, where you failed to even make the main event...
Austin Stroupe
: Yeah, Phoenix didn't go as well as I'd planned. I just didn't get into a groove. I've been working as hard as I can just to put it up front, and our team's the best, so I've just got to get it going. I'm a little bummed I didn't pull off the win, but it was a good race tonight.
Do you feel like you belong up front now?
Yeah, I feel good. I've been training and riding with Ryan [Villopoto], and I feel like my speed's there, I just need a little bit better conditioning, and I think I should be able to win a race by the end of the season, hopefully.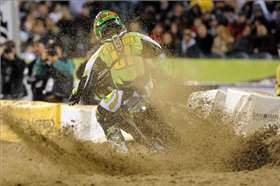 This podium finish was his second of the season.
Was the jump from the amateur ranks to the pros easier or harder than you thought it would be?
It's a lot different. There's a lot to learn, and I think I didn't come in as well-prepared as I wanted to be. There was a lot to learn, but I think in Phoenix I learned enough being on the ground as much as I was. Besides that, I think I've had a pretty good season so far, and some people have had some bad races, so I'm back up there in the points. I'd like to be in the top three in the season standings. That'd be great.
Mitch Payton said after you didn't make the main in Phoenix that he basically said, "Hey, that's going to happen. You're young and you're new to this," and that he thought it might happen again before the end of this season, and he was okay with that. Do you think you might even be exceeding the expectations of your own team?
I think he knows that I can win, and after this race, it puts me up there where I need to be out there trying to win. I think he's pretty pumped on how I rode. Just learning stuff like getting better in practice will make a big difference, and I need to start winning some Heat races so that I can build up to winning main events.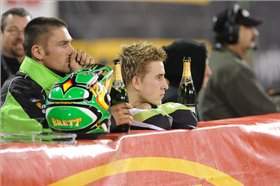 Stroupe (right) and teammate Brett Metcalfe (left) watch the 450cc main event after going 2-3 in their own main.
You've got two more races until the break in the Western championship. Are you focused on making something happen before the break?
Yeah, I want to be in contention at those races, but then during the break, I'll get to start riding some outdoors, and that's what I'm looking forward to – the outdoors.
As a young rider, is it hard to stay patient sometimes?
I want to win bad. I won a lot in my amateur career, and I've raced Dungey a lot. I want to win.