Virtual Trainer: Race Week Prep and Warm-ups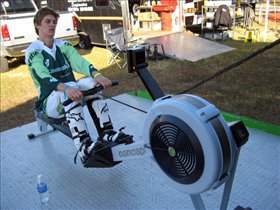 Xtreme Team Green's P.J. Larsen warms up.
Most riders do not fully understand the importance of being properly prepared the week prior to a race, nor do they truly appreciate the significance of a pre-race warm-up. If you struggle with these key components, a great time to get your race-week house in order and develop a pre-race warm-up routine is during the off-season. In this article, Coach Seiji details how to avoid common mistakes made the week before a race and also outlines a complete warm-up routine he uses with his riders on the Monster Energy/Kawasaki Xtreme Team Green. Go to
www.racerxvt.com
to read the complete article.