Hello, everyone, and welcome to the Rev Up. This week's column comes to you through melancholy fingers. Last night pretty much sucked canal water. First I watched the WVU Mountaineers and Bob Huggins get annihilated by Cincinnati, then I watched my beloved Kansas Jayhawks lose to the despicable Kansas State Wildcats. This shouldn't be much more than your standard Wednesday night double-defeat, but it was much, much more than that. Huggins moved over from K-state last year and left his two highest recruits behind in Manhattan. He used to coach for Cincinnati and last night marked the first time he had met them in competition. I guarantee you Bob wished he had those two recruits, and I know for damn sure I wish they weren't at K-State because the pair put on a clinic to end one of the longest streaks in college sports. The record between KU and K-State now reads 19-1. Thank goodness for Supercross, otherwise they'd have a hard time getting me off the bar stool for a couple days. Ah, but we do have Supercross…
What a show, ladies and gentlemen, what a show! Last Saturday night ended up being an incredible race that was watched by a super strong crowd of over 37,000. Throw in CBS's HDTV coverage and we had ourselves quite a weekend of supercross. Sure, things aren't as solid as they could be and, damn, mother nature isn't doing us any favors, but on my walk through the pits last weekend I stopped in the corner and took a couple seconds to soak it all in. It's blowing up, folks, and it's only going to get bigger. Then, as I stood in the cold rain inside AT&T Park shoulder to shoulder with a packed house my thoughts were cemented.
Now, here comes Anaheim 3 and it's time to pour some more coal into the train engines. Both classes have an enormous amount of drama going on. Let's go ahead and get Revved Up for the last trip to the Big A.
Lites
I think everyone was stoked to see Jason Lawrence win last weekend. Like he said, "I've been the fastest guy all year so I don't think my win in the mud was a fluke." Well, son, it's time to put your Yamaha of Troy YZ250F where your mouth is because the weather man says it's going to be sunny and dry in SoCal this weekend. Can he make it two in a row? I think so. Because, in the grand scheme of things, Ryan Dungey has this year's west coast title well in hand. He just needs to be consistent from here on out. And Mr. Weimer, where'd you go? Walk some old ladies across the street, do your recycling, and get right with the Lord before this Saturday night. That luck has to change.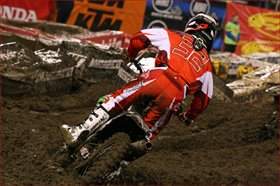 Tommy Hahn was the top brother last Saturday night, finishing second. His younger brother, Wil, finished 9th.
All things considered, the coolest thing with this group last weekend was watching two sets of brothers make the main. As the oldest brother of two, I remember racing at the local races and watching my bros bang bars. That was always pretty cool at that tiny level so I can only image how sweet it would be to cross the line at a supercross, then look back and see your bro give you a chest thump. Brothers are weird. Most of the time you feel like squeezing their head off, but if somebody else ever tried that to them you'd make them wish they didn't. What other motorsport has two sets of brothers in the main event, and two in the top ten?
Supercross
Hate it, or love it, Chad Reed has become the darling of American supercross. And I don't care what anybody says, he earned every bit of it. That dude has been battling The GOAT and Bubba for three straight seasons and finished second more times than the Washington Generals. All that did was make #22 born again hard. I've watched his riding really closely this year and the man is on it. He was on it in 2003, but got off to a slow start. Then in 2004 he was almost unstoppable. He didn't get along with his bike in 2005, then came up about 30-feet short of the title in 2006. 2007 was tough, but it must have been the pill he needed to swallow because the world is his in 2008. Who can stop him?
Davi Millsaps
, perhaps? Davi was on the charge at A2, but he was busting a gut. He threw on the banzai last weekend, but busted his ass. Sooner or later he'll put 20 together and we'll see one big, happy kid on the top of the steps. His washed up, teammate isn't riding too shabby either, huh? Washed up. Yeah right…Kevin's been at this game for a long, long time and people that have been around a while know all it takes is one tiny spark for Windham and he'll make them all look like amateurs.
Then, who is going to be privateer of the week this time? Just about had Jake Marsack on the box last weekend. Maybe Josh (Charles) Summey will give Coach Gibbs something to un-cross his arms about?
All of this uncertainty, but some constants remain. I hate the K-State Wildcats with a passion, and Anaheim 3 is going to be one hell of a race.
Thanks for reading, see you next week.