Between the Motos: Daniel Reardon
"Dan Reardon's toolbox is full. Besides [Ryan] Dungey, he's the most consistent rider out there. He learns from his mistakes. He'll make a mistake one lap and then not repeat it on the next. He can see the entire track and wins are not that far off for him. He's amazing for a rookie." That's Skip Norfolk talking heavy praise from a mechanic who won a multitude of supercross championships with Jeremy McGrath. Currently second in points in the 2008 AMA Western Regional Supercross Lites Series, Reardon and his Torco Racing Fuels Honda CRF250R have a genuine shot at the title. We spoke with the friendly Australian, who is very keen to go racing this Saturday in Angel Stadium.
Racer X: Dan, what were you up to today?
Dan Reardon: We actually went riding. It's been all wet, but we were able to go riding out at Alessi's place in the desert. It was dry and good to ride out there. It's been the only place we can ride at because it's been all wet.
Was there anyone else out there?
The Pro Circuit guys were out there. So was Andrew Short. Actually, there were a bunch of good riders out there.
Stepping back a few days, what did you think about the San Francisco Supercross?
Going into a mud race like that you have to be open-minded. As far as training and things, when you go out in a race like that you don't apply them as much. You have to be more reasonable. It's more of a survival race than a race you hang it out in. I ended up fourth, which was okay. I mean when I got my first fourth place finish [at Anaheim 1] I was happy, now I'm kind of over it. Now I just want to get on the podium. But all in all, it was a pretty good race. I rode tight in the beginning and had to work my way through it all, but I made the best of it. I mean it was a pretty nasty, slippery track.
As you mentioned, you placed fourth overall at the season opening Anaheim Supercross. Being your first true supercross in the United States, were you happy with the result?
Yeah, it's kind of hard to say, you know? You have all these goals and dreams and you get out there to try and put them to play and you don't really know where you're at right away. But it's a long championship, and like I always say, you can't win the championship in the first race, but you can lose it. I finished fourth and was happy.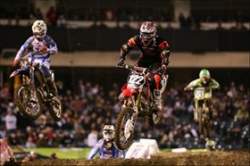 Reardon holeshot his first Monster Energy AMA SX main event at Anaheim 1.

You placed eighth at Phoenix. How was that race for you?
At Phoenix I got a bad start in the final and was way back and had to catch up to the leaders. It was working out well, but then with just two laps to go I had a few dramas. I ran into a lapper and then I didn't jump the triple and lost a few places. I was not happy about it. It's a race I would rather forget about.
But then you bounced back to fourth at Anaheim 2.
Yeah, that was pretty good. I started good, but got caught up in the first turn and got pushed up into the Tuff Blocks. I was all the way back to eighth or ninth, but kept pushing through. I had a good battle with [Jake] Weimer and me and Metty [Brett Metcalfe] had a good race and I beat him. For me, it was one of my best races all year, I just need to put it all together and I think it'll all work out for me.
Skip Norfolk, Jeremy McGrath's mechanic for a number of years, has been watching you closely and thinks you are doing a great job and that wins are not that far away for you. Do you, personally, feel like you're on your way to getting on the podium and even winning races?
I do. In the past I would work so hard and be rushing to get to the top. I was always in a hurry to flip the switch. I'm still learning a whole lot here and things are coming together. I kind of feel it's the same thing here as it was in Australia. I train so hard and work so hard that if things don't go perfectly, I start to question myself. But it all worked out in Australia and I think it'll all work out here. It's just getting all the pieces to fall into place. I'm still learning a lot. I'm learning the pace, learning the tracks and learning the competition. It's difficult because the class is competitive and so packed with riders who are all within a half a second of one another. I'm making it all work and I feel like I'm off to a good start. These guys are definitely quick.
You're second in points to Ryan Dungey. Not a bad place to be with three races yet to run, huh?
Being in second… I don't know… I don't feel like I deserve it. I feel like I've just kind of shown up there. Second is a great spot to be in. I guess I'd feel more deserving if I would have been on the box once or twice. But if you win it, a championship is a championship. It's weird now, you know? Six months ago if someone would have told me I'd be second in this championship, there is now way I'd believe it. Yes, things are going well and I think they're only going to get better. It's just a matter of time.
Can you win the championship?
For sure. No question about it. Supercross is a wild sport and anything can happen. You never know. Everyone knows supercross is my favorite form of the sport and it's not over yet.
You'll be racing in Angel Stadium for the third time in a few days. Are you beginning to feel comfortable in the place?
Anaheim is where I feel the most comfortable. I've been there twice now and I'll feel even more comfortable going there for the third time. I look forward to it. I hope we have a dry day. We've had four rounds so far and two of them have been mudders and at the other, we had a retro track. I think we'll have a good track this weekend.
Are you going there to win?
For sure. I always shoot to be higher. The thing is, obviously, to win. That's my goal: To win. I'd like to win, but I'd be happy with a podium.
Do you feel that you can run with the class leader Ryan Dungey?
I feel that I can. I haven't really had a chance to race him so far. I suppose I'll get the chance to see him and race him. It would be silly to not believe that I can race with him, but he is a great rider. There are a lot of great riders in the series. I just need to put it together and it's bound to happen.
After the San Diego round, you guys don't race again for almost two months. The final round of the West Region will be on April 26 at Qwest Field in Seattle. Is it a pain in the ass to have to wait that long to conclude the series you're competing in?
Actually, I think it's going to be good. It'll give me the opportunity to ride a lot of motocross. I think it'll work out well. There will be time to plan things out. It doesn't bother me at all. You don't forget how to ride the supercross bike. You just get back on the bike for a while before the last two supercross races and you're ready to go. I actually think it's an advantage as it allows you to get ready for motocross.
All well with the team?
I'm really happy with the team. The team is great. The team, the mechanics, the bikes—everything is really good. I'm really happy and feel that I'm in a good spot.