Monday Conversation II: Kevin Windham
Torco Racing Fuels Honda's Kevin Windham is rejuvenated, to say the least. Last year at this time, he literally hated even driving to the race track, much less being there or actually racing. To say he has come a long way since then is an understatement. At the San Francisco supercross, he scored his third-straight podium finish and is the only rider within one race's worth of points of Chad Reed. And he hopes, at the minimum, to keep it that way.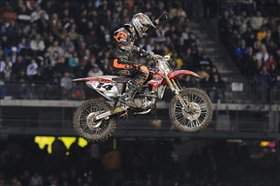 Kevin Windham won his heat race going away, and things looked good in the main until an off-track excursion cost him.
Racer X: You had a good start, and things looked good, but it sort of fell apart there when you went off the track.
Kevin Windham
: The start was decent. I think I was second and made a quick move up into the lead, and man, I felt like tonight was the night. I just had that feeling. I thought I was on my way, and to be honest with you, I rode cautious. The rain started coming down, and I was like, "Okay, I'm not going to worry about the triples," and that was my downfall. Those guys caught up. I had been doing them [the triples] all night, and I let the rain take me off my game. It was such a roller-coaster ride all night, because the track was supposed to be wet when we got here, and then it was pretty good, and then all of a sudden, in the main, it was bad again. I don't know. I wanted to be a little hesitant because I didn't want to screw up, but as it turns out, I jumped off the track anyway, so it came back to bite me.
Take me through your season as a whole right now. This is your third podium in a row.
It's incredible. There's only one guy that's done anything better than me, and that's an incredible feeling. The Torco Racing Fuels Honda is working great, and I think Amsoil and Planet Fitness and No Fear Energy and all those guys for being on board. It's been great. My racing's just awesome. I've been happy. I get home and watch the race on TV, and then I'm ready to go to the next race almost immediately. That's a really good feeling. I'm happy where I'm at, and I haven't ever been this successful this early, so it's a really good feeling. I just hope I can keep it tight enough that Chad [Reed] doesn't step away. I want to keep this thing interesting, and I want to make him fight for it. If it's his for the taking, I want to make him have to get it in Vegas.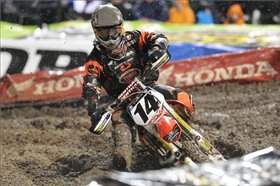 The skies opened up in the main, and Windham says he rode too cautiously.
What do you think you're going to need to do in order to keep him honest?
I really feel like I'm making steps in the right direction. I feel like I'm moving in the right direction to get that done. Unfortunately, he's on his game, and he's got a lot of confidence. I think that he feels like the championship was already given to him – like he got a gift. When you think like that, you have confidence, so I need to get out there and I need to open his eyes a little bit to my skills, and the only way I'm going to do that is to straight-up beat him a couple times. That's tough to do. He's a great rider, and I feel like it's my turn to put a load on him like in '04. Some other guys haven't been so consistent, and before you know it, he's got a whole race on you. I don't like that. I want to try to be the one to keep it close, and I feel like it's up to me. I've got the weight on my shoulders, and I like it. I'm taking a lot of pride in what I'm doing right now, and I hope for the fans' sake that I can keep it close. Chad's a great competitor and a good rider, so I've got my work cut out for me.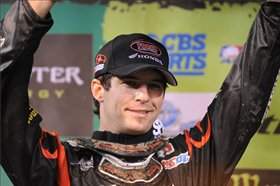 It was Windham's third podium in a row, and he now sits solidly in second in the points standings.
What about the pride in knowing you're proving a lot of the doubters from the last couple of years wrong right now? You know, the people who said you didn't have what it takes anymore...
I totally get it. I totally understand it, and I couldn't agree with them more. Last year, I could not get it done. But I got it worked out. People are quick to put you off the radar, but they're quick to put you back, too. I went from the first race where no one even wanted to interview me, to now I'm like a title contender. That's incredible. I remember seeing Fro [Jeff Emig] do that during his career back in the '90s, and I feel like I'm kind of doing it now. It feels good. I have no regrets. People don't understand that when I go out there and I ride crappy, I'm still giving it my all. It's just that for whatever reason – if my heart's not in it, then it's not in it, so we've got to figure out why. How I rode last year sucked. I was miserable, I wasn't happy, and this year I am, and it takes a lot of work to get that way. Things don't happen by accident. They may for a weekend, but over the long haul, they don't happen by accident. The key now is to hold on to what I've got. I've got a great team with my wife and children and Jeff Spencer and Factory Connection and everyone involved with this race team. We've got a good understanding of what it takes to make me feel like this, and I just want to hold onto it.
Back to the question, I totally get it. I'm an older guy who's coming off of a real lackluster season, so I'll take it for what it is and just enjoy where I'm at right now.