Monday Conversation I: Jason Lawrence
Jason Lawrence has been a pro for quite a few years now. After a successful amateur career, Lawrence struggled at first to be competitive in the pro ranks, but he has steadily improved. Last year, in his first year with the proven Boost Mobile/Yamaha of Troy team, Lawrence showed that he had the speed to run up front. This last weekend in San Francisco, he showed he also has the strength and conditioning to stay up front.

Racer X: So this was definitely a long time coming, huh?
Jason Lawrence
: It was great. I got a really good start, which isn't something I'm used to, really, so when I came out of the first turn in second, I was pumped, and then I passed Stroupe, and from then I was just trying to not crash – to beat the conditions, don't let them beat me. I was just watching that lapboard, man, and it was a long time. I never actually saw the white flag, so it was cool. I came around thinking I had another lap and I got the checkers. I was excited about that.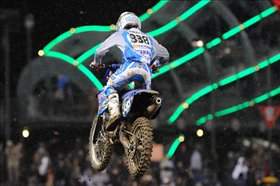 Lawrence mastered the mud in San Francisco.
Take us through the pass on Brett Metcalfe.
It wasn't really a pass, it was just that I made a bobble and he got right next to me. I had an opportunity to make the pass, but he squared the corner and I was a little slow in that turn, so he ran into the back of me and fell over.
How much has Ryan Hughes helped your program?
It's been important. Definitely, a couple of times out there, I think I saved it when I probably would've crashed if I was as strong as I was last year. I definitely owe that to Ryno. It's great. It makes you so much more mentally confident to be in shape.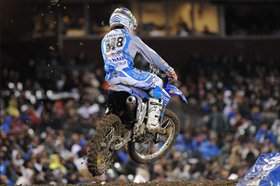 After he took the lead, Lawrence just tried not to let the track bite him.
Now that you have one race down, what does that do to your confidence as well? Because now it's not just about believing you can win, you know you can win.
I hear a lot of people say that, too, that once you get the first one out of the way, you're on a roll, so hopefully that's my deal.

Since this was a mud race, there's probably a contingent of people who may think this was a fluke...
Well, all I have to say to those people is that they need to look at the laptimes at every race. There's never anyone that competes with my speed. Not to sound cocky, but I'm definitely the fastest guy, so all I need to do is just stay smart – don't get hurt during the week and just keep training and keep my head on straight – and I'm going to keep winning races, and hopefully championships.