With a big points lead after just three rounds of racing in Monster Energy AMA Supercross, an FIM World Championship, San Manuel Yamaha's
Chad Reed
doesn't need to win every time he races. Now that
James Stewart
is out with a knee injury, Reed's biggest threat is no longer an individual racer but himself. Surely Reed knows that only his own errors can prevent him from winning big this season.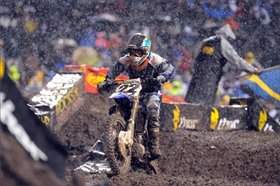 Reedy isn't going to accept 2nd place.
photo: Steve Cox
But while the conservative route may help ensure him a championship, Reed isn't going to accept second place in any race, at any time. And he proved it over the weekend in San Francisco. For years Reed has been saying he likes riding in muddy conditions and can do well in it, but his results have never come together to prove it. With visions of Anaheim 2005, a few of his competitors may have even thought they had Reed right where they wanted him as the skies opened and stayed open all week long leading up to the San Francisco race (and it started raining again just in time for the main events).
In his heat race, Reed led early only to have bike trouble, as his rear brake pedal kept jamming with mud. He was passed by
Tim Ferry
and could have accepted a simple qualifying position for the main. Instead, he threw caution to the wind and decided to go back after Ferry even without complete control of his brakes. In a sign of true grit, he took the win.
But Honda men
Kevin Windham
and
Davi Millsaps
actually logged faster lap times than Reed during the qualifiers. Both could deploy their height, strength and smoothness to full effect on the muddy San Francisco track. They got out front in the main event, and it looked like a red rider would surely claim the evening's victory.
Reed just wouldn't accept that, though. He methodically worked up to third place, and then started jumping the big triples. It was a risk, but one well worth taking since he closed in on the Honda men, and then passed them as they faltered. Once Reed had the lead, he rode pretty darn close to flawless considering how tough the track was—certainly better than the competition that was crashing and flipping and sliding all over the place.
Credit to Windham and Millsaps for holding on for podiums—Windham is building more confidence than he has had in years, and Millsaps has some redemption after bad luck at the last two races.
Ivan Tedesco
, another red rider, rode inspired in the mud, too, even though it's far from his specialty.
Tim Ferry
's two holeshots on the evening were a breakthrough of sorts (providing he can replicate them on a dry track). But the biggest, wildest, most impressive story of the night? Bad Boy Energy Drink's
Jake Marsack
beating a whole bunch of factory boys with a fourth-place finish.