Racer X/Toyota Power Rankings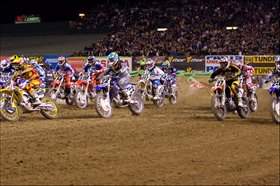 Chad Reed is a unanimous #1.
photo: Carlos Aguirre
There were some major championship implications at Round 3 of the Monster Energy AMA Supercross Series, as
James Stewart
announced he had a knee injury and was going to sit out the rest of the series. This ultimately affects our Racer X/Toyota Power Rankings, moving San Manuel Yamaha's
Chad Reed
into a unanimous first place position with 36 first-place votes. He is followed by Torco Racing Fuels Honda's
Kevin Windham
, and Western Regional Lites points leader
Ryan Dungey
. The biggest jump in our top 25 comes from Team Yamaha's
Josh Hill
, who moved up 12 positions to fourth after his impressive runner-up finish at Anaheim 2. Rockstar Makita Suzuki's
Mike Alessi
jumped up four spots to sixth, and he's followed by Honda Red Bull Racing's
Ivan Tedesco
and Yamaha's
Broc Hepler
, who sits in eighth.
Andrew Short
and
Grant Langston
round out the top 10, both of which dropped three spots. New to the top 25 is Troy Lee Designs/Honda/Red Bull's Gaving Gracyk.
| | | | | | |
| --- | --- | --- | --- | --- | --- |
| | | PTS | # | RIDER | SPONSOR |
| 1. | +1 | 972 | 22 | Reed Chad (36) | San Manuel Yamaha |
| 2. | +1 | 900 | 14 | Windham Kevin | Torco Racing Fuels Honda |
| 3. | +1 | 848 | 28 | Dungey Ryan | Rockstar Makita Suzuki |
| 4. | +12 | 751 | 40 | Hill Joshua | Factory Yamaha |
| 5. | | 737 | 15 | Ferry Tim | Monster Energy Kawasaki |
| 6. | +4 | 728 | 800 | Alessi Mike | Rockstar Makita Suzuki |
| 7. | +1 | 648 | 9 | Tedesco Ivan | Red Bull Honda |
| 8. | +4 | 645 | 60 | Hepler Broc | Factory Yamaha |
| 9. | -3 | 583 | 29 | Short Andrew | Red Bull Honda |
| 10. | -3 | 574 | 8 | Langston Grant | Factory Yamaha |
| 11. | -10 | 544 | 7 | Stewart (3) James | Monster Energy Kawasaki |
| 12. | -1 | 504 | 338 | Lawrence Jason | Boost Mobile/Yamaha of Troy Yamaha |
| 13. | +10 | 490 | 51 | Stroupe Austin | Monster Energy/Pro Circuit Kawasaki |
| 14. | -5 | 443 | 30 | Weimer Jake | Torco Racing Fuels Honda |
| 15. | -2 | 409 | 118 | Millsaps Davi | Red Bull Honda |
| 16. | +2 | 353 | 122 | Reardon Daniel | Torco Racing Fuels Honda |
| 17. | -3 | 326 | 123 | Metcalfe Brett | Monster Energy/Pro Circuit Kawasaki |
| 18. | +1 | 317 | 100 | Hansen Josh | Gibbs Racing Yamaha |
| 19. | -4 | 290 | 12 | Vuillemin David | Rockstar Makita Suzuki |
| 20. | | 258 | 25 | Ramsey Nathan | San Manuel Yamaha |
| 21. | -4 | 246 | 114 | Brayton Justin | MDK KTM |
| 22. | -1 | 231 | 24 | Summey Josh | Gibbs Racing Yamaha |
| 23. | -1 | 176 | 27 | Wey Nick | MDK KTM |
| 24. | +1 | 95 | 32 | Hahn Tommy | Xtreme Team Green Kawasaki |
| 25. | new | 89 | 273 | Gracyk Gavin | Red Bull/Troy Lee Designs Honda |
Total number of votes 39
Carlos Aguirre, Linda Ardehali, Vince Arimitsu, John Ayers, David Bailey, Cameron Baird, Sean Beaucar, Jason Berry, John Bodnar, Chris Bond, Andy Bowyer, Danny Brault, Erv Braun, Paul Buckley, Jimmy Button, Dave Castillo, David Clabaugh, Davey Coombs, Steve Cox, Tim Crytser, Simon Cudby, Jeff Emig, Mike Farber, Chris Favro, Jason Fleming, Ernesto Fonseca, Chris Ganz, Tony Gardea, Steve Giberson, Michael Holigan, Ryan Holliday, Jason Hooper, Frank Hoppen, Steven Hudson, Chris Hultner, David Izer, Eric Johnson, Jeff Kardas, Kevin Kelly, Allison Kennedy, Jim Kimball, Scotty LaLonde, Stephan Legrand, Paul Lindsey, Mario Marini, Steve Matthes, Nick McCabe, Shan Moore, Rupert X Pellett, Sondra Peters, David Pingree, Dave Prater, Jason Reed, Michael Rigdon, Brian Robinette, Pat Schutte, Alan Selk, BJ Smith, Bryan Stealey, Denny Stephenson, Carl Stone, Michael Stusiak, Cliff Talley, Jean Turner, Billy Ursic, Scott Wallenberg, Mel Walz, Matt Ware, Jason Weigandt, Wes Williams, Billy Wood, Chris Worden, Brad Zimmerman