Between the Motos: Josh Hill
Josh Hill isn't following the traditional path to motocross stardom. The Oregon rider was snagged out of the amateur national scene, like many others, and thrown into the Lites class to prove himself. Josh showed potential, landing on the podium at times, but he always seemed out of place on the smaller bike. So Josh took matters into his own hands by buying a 450 and showing the Yamaha management that he could ride the bigger bike. They gave him a chance and he has already rewarded them with a second-place finish in the opening rounds of the Monster Energy AMA Supercross series. The future looks bright for this oversized youngster.
Racer X: Your ride at Anaheim 2 was impressive! How did that feel?
Josh Hill: Thanks, yeah, it felt great. I finally got a good start and just worked my way forward. I didn't do anything to out of the ordinary.
I know you ride with Reed a lot but were you surprised that you could keep his pace as long as you did?
I wasn't really surprised that I could keep his pace. I ride with him quite a bit and I can usually ride his pace. I was actually pretty disappointed that I couldn't keep it up the whole moto. I didn't get tired but he was making a little bit of time on me here and there so I just backed off and settled for second. That was pretty good for me at the time.
Now that you've gotten a second, how much harder will you push to get up there and race for a win?
I'm just going to stick to my same program. I think my program is pretty good. I'm just going to do my riding and training and stick with what has been working for me.
You have to feel pretty confident about the way you are riding right now. If you push a little harder or if Reed has a bad start you could get a win! There hasn't been a first-time winner in the series since 2003.
I know; that is definitely the plan. That is what I want to do. I think I can do it. If I just stay on my program, ride the way I can, don't get distracted and don't do anything stupid I think I'll put myself in a good position. I don't want to win just because he gets a bad start. I mean, that would be cool too, but I want to be a contender for the win no matter what.
Your decision to ride the 450 was bold. Do you think you've proved the skeptics wrong?
I think I hit my peak on a 250F when I was sixteen. I don't think I got too much faster on it after that. I got too big and I just wasn't riding it that fast. The 450 was way easier and way better for me to ride so I just decided to ride that.
Did you really go out and buy your own bike?
Yeah, I still have it. It's like the community bike right now. If we want to go riding in the hills somebody takes it out there. It gets used for sure.
So, you are staying on the 450 for good?
Yeah, I don't ever want to ride one of those 250Fs again. Hopefully I won't ever have to. I am all set to ride a 450 outdoors and I don't think that will change. I obviously rode it way better in the last couple nationals last year than I did the 250F all year. I think Yamaha has the same thoughts as me.
How much are you weighing now?
I'm 5'11" and about 172 pounds. It's not that heavy but I'm just too tall I think. In the off-season I was down to, like, 167 so I could have ridden a 250F. I just like the 450 better. But then I started working out and put some weight on. I got buff [laughs].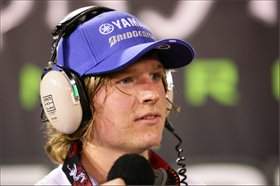 Hill chats with Supercross Live!'s Jim Holley and Jason Weigandt after the A2 main event.

I've heard some people say that you had a girlfriend move in and she's going to screw up your whole program. What do you say to that?
She's not too bad. She keeps me on it. I don't think she messes anything up at all. The only problem is that I haven't had any time to hang out with my buddies. I need to find some time to hang out with them because I'm with her in my free time. They are probably getting bummed that I ditch them to hang out with her.
Are your parents still down here in California?
Yeah, they are down here staying in the motorhome. My little brother is training to get ready for Texas and all that. They stay at Pechanga because I just have a little track home and my trainer and a friend stay here with me. I can only fit two cars in my driveway so it's pretty packed.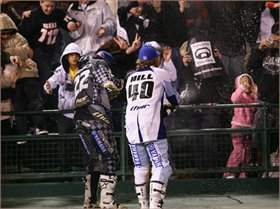 Chad Reed shows Josh how to spray the bubbly.

You and Jason Lawrence ride together quite a bit. How is that working out?
Yeah, we ride together a lot. But he has his program with Ryan [Hughes] and I have my own thing going on with my trainer, so we don't really do the same things at the track. We ride at the same place a lot but we don't so the same things. I have a buddy from Oregon, Pete, that trains me now.
What about the scuffle that you and Reed got into at Alessi's house?
It wasn't that big of a deal, really. Our lines came together really hard in one corner during a moto. I wasn't mad about it but I think it made him pretty mad. I don't know… we just got into it. It was no big deal. I don't want any enemies on the track so I'm totally over it. We just had hot tempers for a second and that was it. It's old news.
Well, you are riding great. Keep it up.
Thanks.