Rev-Up: Power For the '80s
Hello, everyone, and welcome to the Rev Up. Ah, the '80s. I don't care what you say, the eighties was the coolest decade to grow up in! From President Ronald Reagan to "Diamond" David Lee Roth, to Dave Miller Concepts, the '80s was a gilded decade in human history.


But in our neck of the woods, there was an event that has stayed with us throughout our entire lives. Every single motocross fan that was alive enough to read at the time remembers what went down in Anaheim stadium on that magical night in 1986. I had only been racing for about four years or so at the time, but I vividly recall snatching my
MXA
from the mailbox. You guys remember the one with Ricky Johnson on the cover with big yellow text that read, "I still can't believe it!"? Up in the top right there was an incredible KX60 that Dave Miller of "DMC" fame had hand built for Ezra Lusk. I had laid eyes upon the diminutive works machine a few months prior at the World Mini Grand Prix. I guess the bike was the equivalent of the $15,000 110cc four-stroke machine we have around nowadays. But, it was different back then. The mid-eighties were such a unique and special time in our sport. The fashion, the hair, the tracks, everything was just the coolest.
Remember the Troy Lee Designs plastic visors everyone used to wear? Remember Pripps Plus Energy Drink?" I'm talking about the days of "Hammerin" Hank Moree, Frankie Brundage, Rick Simmet, Eric McClear, Jack Ricks, and more. But the epicenter of the entire decade seemed to be that glorious night in Anaheim. Now, we sit on the cusp of the throwback event, 22 years after David Bailey raised a closed fist over the 18-foot finish line table top. What an awesome idea. Let's get Revved Up about what we can expect to see this Saturday night.
Lites
Remove the names Ryan Dungey, Broc Hepler, and Jason Lawrence and insert Jeff Matiasevich, Eddie Warren, and Donny Schmit and you'll see what this class looked like in 1986. I have to say though, as unforgettable as the premiere class was in 1986, the 2008 class of Lites competitors is on course to become almost as legendary. In the opening two rounds we have seen a pair of five-rider freight trains that stayed locked together, trading paint all the way to the checkered flag.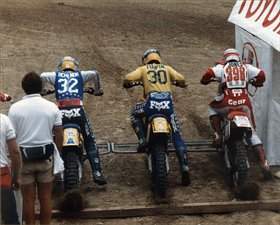 The '80s
photo: Scott Lukaitis
Rockstar Energy/Makita Suzuki's
Ryan Dungey
has been the most consistent and holds on to a cushion in the points, but as we've seen—and as he knows all too well – there is no safety zone in the divisional Lites classes. The series is too short to warrant a bad weekend. These cats have got to keep it locked tight, brass knuckles and flashlights. As for a prediction with these animals, I'm going to go with "The Iceman" to be cooler than Val Kilmer and emerge as the
Top Gun
.
On the other hand, the current "Maverick" in this class,
Jake Weimer
, could take that momentum from Phoenix and be tougher than Nick Nolte over the course of
48 Hours
this weekend. And I have to throw a shout out to the Hahn boys, who have been harder to catch than the
Blues Brothers
so far in 2008.
Supercross
Well, ladies and gentlemen. Two rounds in and Chad Reed and James Stewart are still tied in series points. It's yet to be determined who is tougher so far. I liken the dual to a Paul Hogan in Crocodile Dundee vs. Eddie Murphy in The Golden Child. Who has the bigger knife in this fight? Mick Dundee always carried some heavy steel, then again the dagger Chandler Jarrell was able to not spill a drop of water and get his hands on was a pretty nasty shanker as well. And hell, let's throw those two together and take a look at the fact that since Chad Reed has Come to America, he has hammered his way to become one of the top five most winning supercross riders of all-time. His Appetite for Destruction in 2008 is stronger than ever, but James has answered the call and came into the series in better shape than Clubber Lang. I tell you, if #7 gets the holeshot I pity the fool that tries to catch him.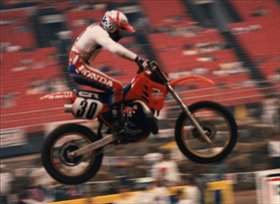 Larry Brooks in the '80s
photo: Lonnie Oldag
OK, all '80s shtick aside, there was some really great racing in this class last weekend. The heat races were off the chain! As the 2008 Monster Energy AMA Supercross, an FIM World Championship arrives at Round 3, there are some dogs that are ready to bite. I'd look for
Ivan Tedesco
, who always kills it at Anaheim, to take a little extra with him around the throwback course.
Mike Alessi
is slowly starting to stretch his legs with these boys as well. As for some boys that need to get on the stick, I'll be rooting for
Davi Millsaps
,
Nick Wey
, and David Vuillemin to ride a little harder.
Now, grab a knee, and I'll tell you what's gonna happen. We're gonna see a brutal take out move, ala, Rick Johnson and Scott Burnworth. Somebody is going to get gnarly and huck the sand pit, like "The Little Professor" did when he got hyped mid-way through. And we're going to see a knock-down drag-out battle for the win. Our sport has a penchant for making the racers step up to the task. I think the ghosts of #6 and #5 are going to be feeding the boys a little extra juice to put on a show for the crowd and maybe we can hear Anaheim get as loud as it did on that nostalgic night in '86. I hope it gets crazy, and the boys make Weege fly into a Larry Huffman-inspired frenzy. This one is going to be cool!
Thanks for reading, see you next week.