Monday Conversation: Jake Weimer
Torco Racing Fuels Honda's Jake Weimer got his break riding for the team as a rookie a couple years ago, and at the time, he was kind of a team project. They knew he had potential, and they hoped they would be able to help bring it out of him. Since then, he has seen steady and constant improvement. Last October, he won the main event on night two of the U.S. Open, but doubters were quick to point out that he did so because the top five from the previous night were on the ground off the start. However, last Saturday night, Weimer shut the doubters up by not only winning his first ever AMA Supercross Lites main event, but winning one of the most action-packed main events in recent history, fighting off phenom Ryan Dungey to grab the checkered flag. We caught up with him after the race, and it really hadn't sunk in yet.
Racer X: You've never won an official AMA Supercross before...
Jake Weimer: No, Steve, I haven't. What are you trying to get at?!
What was going through your head when you had to fight for it like you did late in the race?
I honestly stayed pretty focused and pretty calm. I never really got worked up and nervous. I stayed pretty calm and stayed focused, and it was pretty good. I was pretty happy the way everything worked out, running around in third and just kind of taking my time. It let me get warmed up and get the feel of things, and then [Ryan] Dungey made a mistake, and I got by him, and then Hepler went down, and I tried to ride smart from there. It's huge for me, obviously – the first win. It's big.
Take us through fighting off Dungey in that turn before the triple on the last lap.
I tried not to even think about it. I mean, I saw the white flag, but I tried to just think of it as another lap. It is what it is. I might lose, I might win, so I just was trying to do my best and try and be smart. I did the best I could and the best that I knew, so it worked out, obviously.
After tangling with Dungey in that corner, you still hucked the triple, and he didn't. Were you completely confident you were going to make it?
No [laughs]. I knew I'd come close enough, though. I knew I was going to come close enough that it wouldn't be a big deal, but I downsided that beauty. I was good.
You missed the main event last week in Anaheim. Did that relieve the pressure for this race, or make it worse?
That's a hard question. I don't know.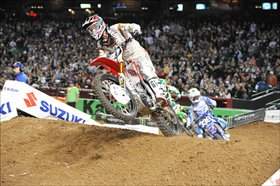 It was a battle for the entire 15 laps.

Well, some guys might say, "All right, well the championship's no longer a concern, so I can just go out there and be a spoiler now..."
Yeah, as far as the championship goes, it definitely took a little pressure off, because my goal this year was to win. That's what I wanted to do. Anything short of that, I wasn't going to be happy, so obviously it takes a little bit of that pressure off, but at the same time, now I don't have the excuse of, "Well, I was just playing it smart, so I sat back and got third because I want to get the points." Now, at this point, there are no excuses. I just need to go out there and wing it and do what I can do. The whole shoulder injury, though, from round one, it's not good. Obviously, I can ride and do what I need to do, but it's probably a lot more painful than what people realize. It's bad.
Is it a dislocation of your right shoulder or a separation?
It's separated, and I tore my labrum. The labrum, it's like, you got the ball in the socket there, and it's like the seal, so it's really sore. It hurts bad. I really only rode like one day this week, just to make sure I could ride, and I could, so I decided to come out and see what I could do on the weekend. I mean, I felt good in practice, and I rode really good in my qualifier even though I got a bad start, so I was happy with the way I rode all night.
What does this win mean for the rest of the series? You wanted to win, but now you have to kind of expect it, right? Because you know you can...
No, I don't think so. I don't think so. It's honestly not a surprise to me. I think it's probably a surprise to a lot of people out in the stands. "Oh, Jake Weimer won?!" But it's not a surprise to me at all. I've always ridden supercross fairly well, and maybe I've never shown my full potential, but coming into this year, I've been riding really well and fast at the practice tracks. My confidence has been getting good, and my endurance is good, so it's not a surprise to me at all. I don't think that I need to expect to win. At this point, it's just proof. I can win. I thought I could win, but now I know I can win. Next weekend, it's the same: Focus on the start, then after the start, focus on the first lap, then after the first lap... I'm not going to put pressure on myself that I have to win, but obviously winning is what I want to do.